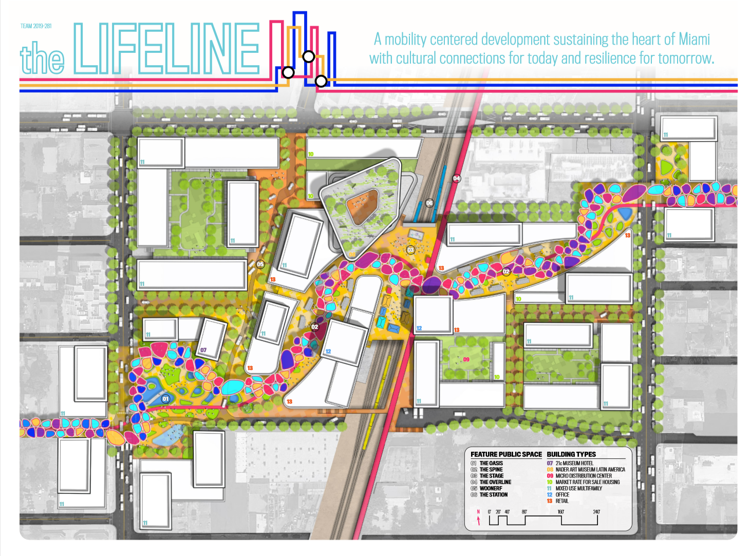 A team of five University of Cincinnati graduate students was chosen as a finalist for the national 2020 Urban Land Institute (ULI) Hines Student Competition for their proposal on how to solve housing issues, food insecurity and more in cities across the country.
The ULI Hines Student Competition allows graduate students the opportunity to form teams of five and take part in an idea-driven exercise in responsible land use. The students on each team must be working toward degrees in at least three different disciplines.
The UC team was comprised of Caroline Errico, Master of Architecture; Stacy Felchner, Master of Business Administration and Real Estate certificate; Todd Funkhouser, Master of Architecture; Robert Peebles, Master of Architecture; Chrstian Umbach, Master of Community Planning and their academic adviser, Conrad Kickert.
Over the course of two weeks, the teams must brainstorm and create a development program for a real, large-scale site in a North American city. The site for the 2020 competition was Miami, Florida.
"It was an incredibly intense sprint," said Errico, the group's team leader. "We as a team really had to work together to make decisions and design agreements quickly in order get everything done in time."
At the end of the program, the teams present their proposals with graphic boards and narratives that include designs and financial data. There is no expectation that the plans will be executed — this is solely an ideas competition. The UC team was one of four finalists out of the 113 teams that participated and was awarded a $10,000 prize.
"It was incredibly exciting to have our proposal selected and to move onto the final round, especially against teams from several prestigious and well ranked schools," Errico said.
The ULI Hines Student Competition is part of an ongoing effort to get young people interested in bettering their communities and raising awareness of the need for multidisciplinary solutions when it comes to development and design challenges.
"Every team member brought their own skills and thoughts to the table, and the final project is so much better as the result," Kickert said. "This project has shown me that in order to truly improve our cities, we need to work across disciplines, get out of our silos and comfort zones, and seek a greater sum of our parts as students, teachers and scholars."
Errico said her biggest takeaway was the invaluable insight she gained into other disciplines.
"This competition challenged me to expand my thinking to a larger urban scale and consider space in a manner beyond my graduate discipline," Errico said.
The UC team produced "The Lifeline," which worked toward connecting the cultural life of Miami, while still utilizing equity and resilience to sustain life. The three main pillars were elevating mobility, sustaining habitat and celebrating culture. The plan boasts "a colorful expression of public life at the convergence of mobility networks." The Lifeline's goal was to connect Miami's cultural assets for all to enjoy.
Unfortunately, COVID-19 caused some issues for the finalists. Presentations that were supposed to be done in person were rescheduled to be virtual, and the Lifeline team members had to make the tough transition from collaborating in the same room for days on end, to being scattered to each of their homes to finish the competition.
"Switching from our drawing table to a virtual screen further brought out the inventiveness of the team's members — from navigating how to collaborate on drawings [and] overcoming various internet issues to delivering a flawless final presentation to our nationwide jury," Kickert said.
Despite the challenges that collaborating remotely brought about, Errico is extremely proud of what the team was able to produce.
"At times participating in this competition was exhausting, stressful, and asked a lot of all of us," she said. "We had to balance along with all of our other full time academic and professional responsibilities — but it was most of all exceedingly fun and totally worth it."