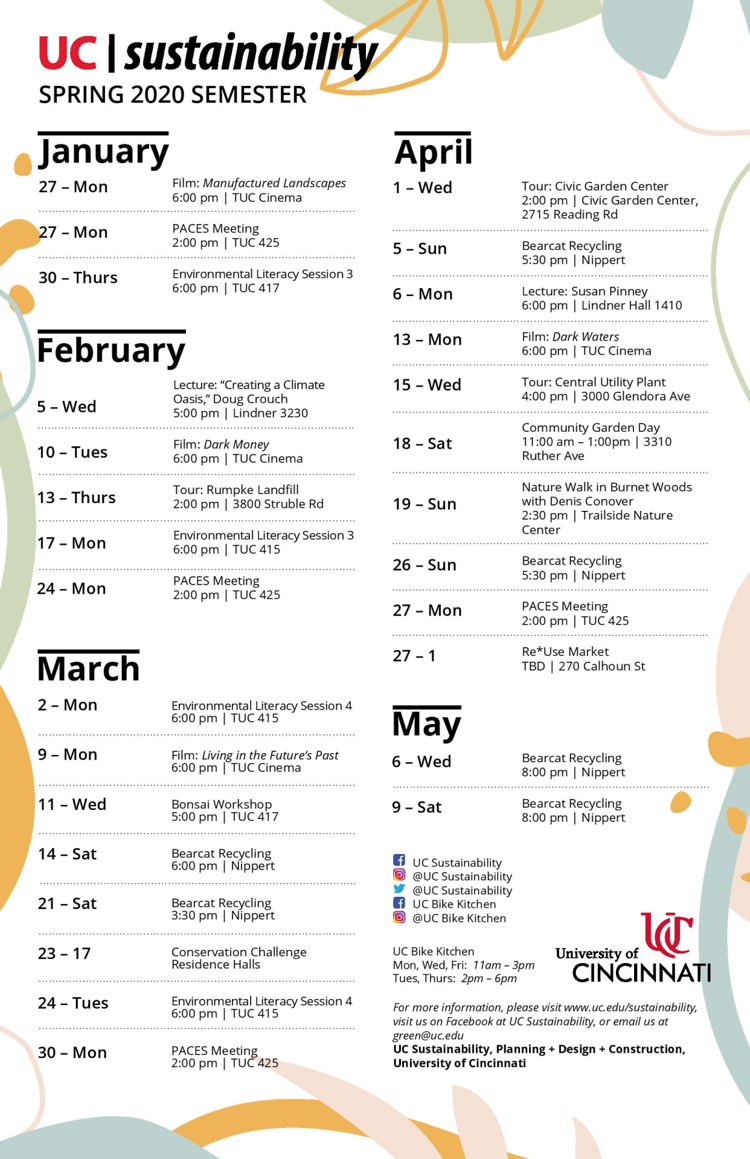 The University of Cincinnati's department of sustainability will host a variety of events throughout the semester to spread environmental awareness on campus. The organization works to create and enhance the culture of avoiding the use of natural resources to maintain an ecological balance.
Here's what's going on around campus this semester:
February
"Creating a Climate Oasis" Lecture
Wednesday, Feb.  5
The university will host environmentalist Doug Crouch for a discussion about his philosophy of engaging in individual and community actions to positively affect climate change. The lecture will take place in Lindner 3230 at 5 p.m.
Film: "Dark Money"
Tuesday, Feb. 10
The TUC Cinema will host a film screening at 6 p.m. featuring "Dark Money,"a 2018 documentary detailing the influence of cooperate money and its impact on American democracy. The political thriller exposes the threat of rigged elections by following a local journalist working to expose these unlawful deals.
Tour: Rumpke Landfill
Thursday, Feb. 13
If you wish to see first-hand what happens when you throw something away, take a field trip to the Rumpke Landfill to see the local impact of trash in Cincinnati. To RSVP for this tour, email green@uc.edu to reserve a spot.
March
Film: "Living in the Future's Past"
Monday, March 9
This 2018 documentary features Academy Award winner Jeff Bridges as he presents scientific findings on a variety of living creatures across Earth. The film shows how major climate and environmental changes may emerge in the coming years and how one can come to understand the environment. The screening will take place at 6 p.m. in TUC Cinema.
Bonsai Workshop
Wednesday, March 11
Visit TUC 417 from 5 p.m. to 6 p.m. to create little trees that mimic their life-size counterparts. Bonsai is a traditional Japanese art form that involves putting miniature plants in pots to resemble full-scale trees. Let your creative side show and then bring home your Bonsai to give the feel of the outdoors inside.
PACES Meeting
Monday, March 30
Head over to TUC for an informational meeting with the president's Advisory Council on Environment and Sustainability (PACES), an all-university committee that focuses on the development on engagement on environmental issues. The meeting will at 2 p.m. in room 425.
April
Civic Garden Center Tour
Wednesday, April 1
Visit this local nonprofit horticultural organization working to encourage community engagement through environmental education and hands-off activities like gardening and other school programs. The Civic Garden Center is the only resource of its kind in Cincinnati and works to development of community gardens around Cincinnati. Meet at the UC Bike Kitchen at 1:15 p.m. to attend the tour.
Dr. Susan Pinney Lecture
Monday, April 6
Dr. Susan Pinney — a professor at the UC College of Medicine in the department of environmental health — will present her work with the Center of Environmental Genetics and Cincinnati Children's Hospital Medical Center researching epidemiology and other factors about public health that are influenced by the environment. The lecture will take place at 6 p.m. in Lindner Hall 1410.
Film: "Dark Waters"
Monday, April 13
TUC Cinema will feature this 2019 thriller based on the true story of local environmental attorney Robert Bilott as he follows the story off the unexplained deaths of workers at chemical plants in West Virginia. The film will be shown at 6 p.m. Monday night.
Tour: Central Utility Plant
Wednesday, April 15
The Central Utility Plant is UC's co-generation power plant that works to distribute energy to campus in a safe and healthy way. The plant is located right near campus and the tour, starting at 4 p.m., is open to anyone that is interested in seeing where the power comes from.
Community Garden Day
Saturday, April 18
The organization invites any and all UC students to join them at a Ruther Avenue garden to work as a community to plant trees, flowers and more to brighten up the city. Get your hands dirty and help the local ecosystem one plant at a time from noon to 2 p.m. Saturday.
Nature Walk in Burnet Woods with Denis Conover
Sunday, April 19
UC professor of biological sciences Denis Conover will guide this tour around Burnet Woods and identify diverse species in the area. Meet at Trailside Nature Center for the hour-long tour starting at 2:30 p.m.