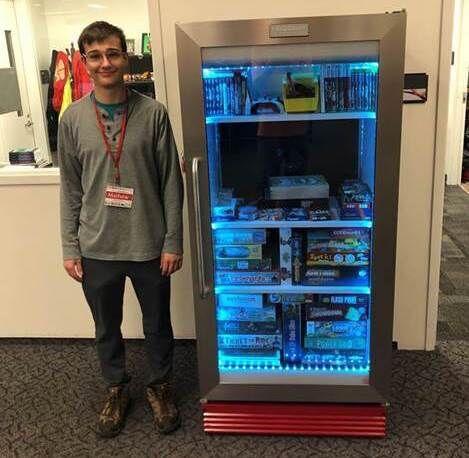 Through a new sustainability awards program, UC Sustainability has introduced a new avenue to award environmental activists on campus. The program, which officially launched last semester, is designed to reward anyone in the UC community with a six-plus-two who makes an outstanding effort to help make the campus more sustainable. 
The awards program was inspired by a student working in the Langsam Library in 2019. The library needed a bookshelf for board games but did not have the resources to buy or build a new one. Several students went to the UC surplus, found an old refrigerator with glass doors, and retrofitted it into a shelf for the library's board game system. 
"They solved all these problems: they kept that refrigerator from going into the landfill, and we're able to have a great place to display all the games. The UC libraries shared that [story] with us, and we thought it was such a wonderful idea. [It made us] realize we really don't have a great platform to celebrate this," said Erin Lefever, the assistant sustainability coordinator at UC. 
There are three awards up for grabs this semester: one for students, faculty and staff. Awards are given out based on nominations, which can be submitted on campus link now through March 12. Awards will be given out on April 16, aligned with UC's Earth week. 
The sustainability awards program was designed with an open mind, and the criteria to win is flexible. Student projects are a great example of something that would consummate an award, according to Lefever. 
"[In the past, students have done] rain work competitions with Ohio EPA, where they create a plan to mitigate stormwater runoff," Lefever said. "These [plans] don't actually get implemented, but they're really unique projects. That's one thing to know: it doesn't actually have to happen, it could just be a hypothetical plan that students came up with."
Lefever suggests that staff members could implement a new recycling program or create a reusable coffee mug system on campus. Faculty could be nominated for including climate change research in their curriculum or inspiring students to live more sustainably. 
"There's so many different things that people can do on campus to be recognized," Lefever said. 
For UC members who don't know how to begin making sustainable choices, Lefever recommends going to monthly PACES (President's Advisory Council on Environmental Sustainability) meetings. 
"Anyone can come, and it's really just a way for people to give updates on whatever's going on campus related to sustainability," said Lefever. "It's a really cool way to have faculty, staff and students all in the same room. That doesn't happen very often. It gives people the opportunity to connect." 
The plans for how to award the three winners are to be determined. 
Celebrating sustainability can sometimes be a catch-22. Traditional marks of celebration such as confetti and gift giving can be paradoxical to what the program is encouraging. 
"A lot of times, these one-time giveaways and stuff are not very sustainable at all," Lefever said. However, the wastefulness of celebration isn't the only deterrent for Lefever.
"COVID definitely plays [a role in how we celebrate]," Lefever said. "When we were thinking of this, we imagined a big event where we could be outside in April and invite all these people and make a big event out of it. But now with COVID, there's a 95% chance it will be virtual."
Despite the challenges COVID-19 is causing the new program, Lefever is hopeful students will have strength through adversity. "It's interesting because whenever there's a big issue, that's usually when people can come up with really innovative solutions," she said. "COVID is a really terrible issue that we're facing right now, but maybe it'll spark some really cool new ideas and solutions that have never been thought of before."