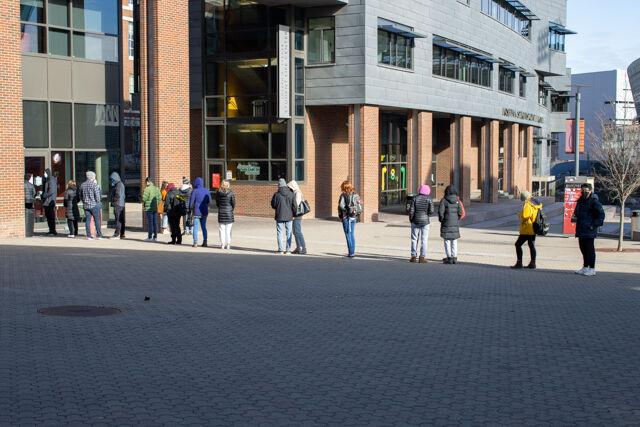 On Jan. 4, University of Cincinnati (UC) students were alerted by the UC COVID Response Team that the first two weeks of the spring 2022 semester would be online. While many students saw it coming, reactions were mixed on social media from UC students, family members and alumni alike. Many were okay with the transition, but worried that the whole semester would be moved online. The News Record spoke with UC students about their reaction to the transition online and what it means for their semester. 
Sarah Dietrich, a fourth-year English and communications student, initially thought it "took them long enough" when they first received the alert. 
"Given that a large number of students just traveled to Dallas to support the team at the Cotton Bowl while the Omicron variant of COVID is spreading so quickly, I don't know how the university could make any other call when students' health and safety are at risk," she said. 
COVID-19 case numbers in both Dallas County — home to Dallas, Texas — and Hamilton County, Ohio, seem to be higher than ever.  
As of Jan. 10, Dallas County reported 49,415 new COVID-19 cases since Dec. 28. From Dec. 28 to Jan. 10, Hamilton County reported 23,095 COVID-19 cases, representing the biggest spike since December 2020 during and after the winter holidays. 
Meanwhile, Fourth-year psychology student Isabel Peffer feels torn on the situation, especially after the Cotton Bowl in Dallas. 
"I don't get why 20,000 people can go to Dallas, but I can't go to class," she said. "I think people should do everything they can, like get vaccinated and wear masks and limit exposure to at-risk people, but after two years, I think we've done what we can, and the rest is inevitable." 
Dietrich and Peffer are additionally worried about online learning and what it could mean for their final semester. 
"I struggled to stay motivated for [online] classes and told my mom over the summer, if we have another semester fully online, I'm probably going to drop all my classes and just work," Dietrich said. 
Peffer feels similarly. 
"I am worried mostly about lacking communication with classmates and teachers as it's my senior year, so a lot of classes are capstone-related, and I need to work in groups," she said. "I'm also worried two weeks will turn into a whole lot longer with the way COVID is going." 
As for online learning, Peffer said that she doesn't "really comprehend anything from class anymore." 
As someone who postponed a few classes to make sure they would be in person, Dietrich is worried about the quality of their semester. Dietrich has struggled with online learning in the past, as have many other UC students. The repeated switches between online and in-person learning makes it difficult to catch on to a system that best assures a consistent quality of education.
"I'm going into this semester wondering if I just paid $5,000 to tank my GPA and add a sixth year onto my time in undergrad," Dietrich said. 
Many students were left wondering if UC could have notified students earlier than Jan. 4. Peffer believes that UC did what it could. 
"I think it was worth waiting because maybe things could've gotten better," she said. "But they didn't, so at least they gave it a chance. A week is a decent amount of time." 
However, Dietrich disagrees. 
"It's not like things were just getting bad during winter break," she said. "Given how Thanksgiving and then the winter holidays created a massive spike in COVID cases last year, I wish the university had addressed these concerns sooner with students." 
They note that the late notice was "unfair" to university faculty and staff who may have had to make changes to how they teach with less than a week until classes started.  
"It feels disingenuous, and like they wanted to get our tuition before dropping the ball last minute that we aren't getting what we signed up for," Dietrich said.