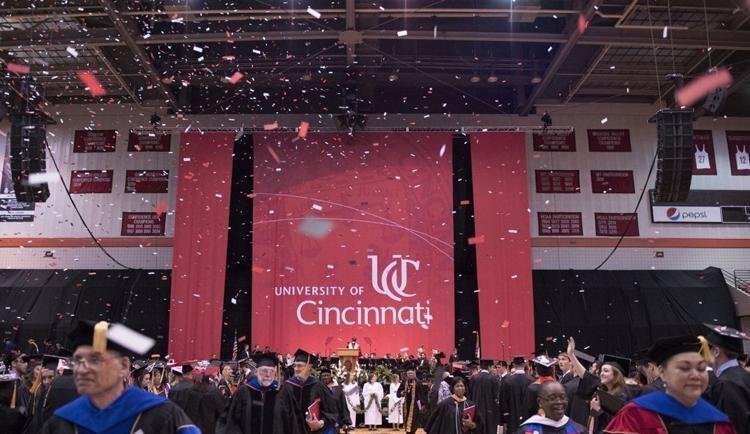 Students at the University of Cincinnati (UC) are calling for in-person graduation after officials opted to once again hold commencement virtually. 
An online petition started by UC students has garnered nearly 5,000 signatures in support of allowing in-person graduation. This also follows a recent decision by Ohio Governor Mike DeWine to increase indoor and outdoor capacity for sports and entertainment venues.  
The petition calls for the university to hold an in-person ceremony per college at Nippert Stadium and to make virtual attendance free for those not comfortable going in person. 
"The University of Cincinnati has an obligation to properly celebrate their graduates the same way they celebrate their money-making sports teams," the petition reads.  
Commencement for the spring semester is currently being held through a mix of virtual ceremonies and other related activities. 
"At this time, COVID-19 restrictions and limits on mass gatherings remain in place to help minimize the spread of the virus. While we wish we could all be together to celebrate, the safety of our students, guests, faculty and staff is of utmost importance to us," the university's website states. 
During a Feb. 24 meeting of the Undergraduate Student Government (SG), Student Body Vice President Karl Dierking said there's a lot of frustration among graduating seniors at the university. 
"The senior year of a lot of the students that will be graduating in spring [2021] has not been at all what they imagined it was going to be," he said. 
Dierking added there were about the same number of people in attendance at Nippert Stadium during the American Athletic Conference championship game as there would be during a student-only commencement.  
Student Body President Logan Lindsay told senators that he "wholeheartedly" disagrees with the university's reasons for holding ceremonies virtually. 
Lindsay spoke out against the university's decision during a Feb. 23 meeting of the UC Board of Trustees. 
"On Dec. 15, the University of Cincinnati requested that 7,830 spectators be able to attend the championship football game," Lindsay told trustees. 
"The message that is being sent is loud and clear, that the institution has not invested the same level of effort to this new wave of alumni," he said of the upcoming graduating class. 
Lindsay said his administration has met with the university's Office of Student Affairs to reiterate student concerns and during that meeting officials committed to assessing the possibility of holding in-person activities, he said. 
"As elected representatives for the student body it is our responsibility to hold this institution accountable," he said. 
Officials are currently reviewing options to hold an on-campus ceremony for graduates as well as the possibility of hosting a limited number of guests. 
"As we continue our collective efforts to safeguard our campus and wider communities amid the COVID-19 pandemic, all of us would like established certainty around the final shape and form of our Spring 2021 Commencement ceremonies," Vice President of Student Affairs Debra Merchant said in an email to students March 1.  
"At this time however, current and near-time circumstances around public health are dynamic and require careful consideration," she added. 
Lindsay said reasons given by the university for holding a virtual commencement include concerns that an altered version of graduation might upset students as well as concerns over the new variants of the coronavirus. 
Some student body representatives expressed concern that the university was prioritizing sports and profit over their students' experience. 
"It kind of makes the university seem like a little bit of a business in my eyes," Senator-at-Large Raphael Hicks said. 
On Wednesday, SG is set to vote on a resolution bill that opposes the university's decision to host spring 2021 commencement virtually.