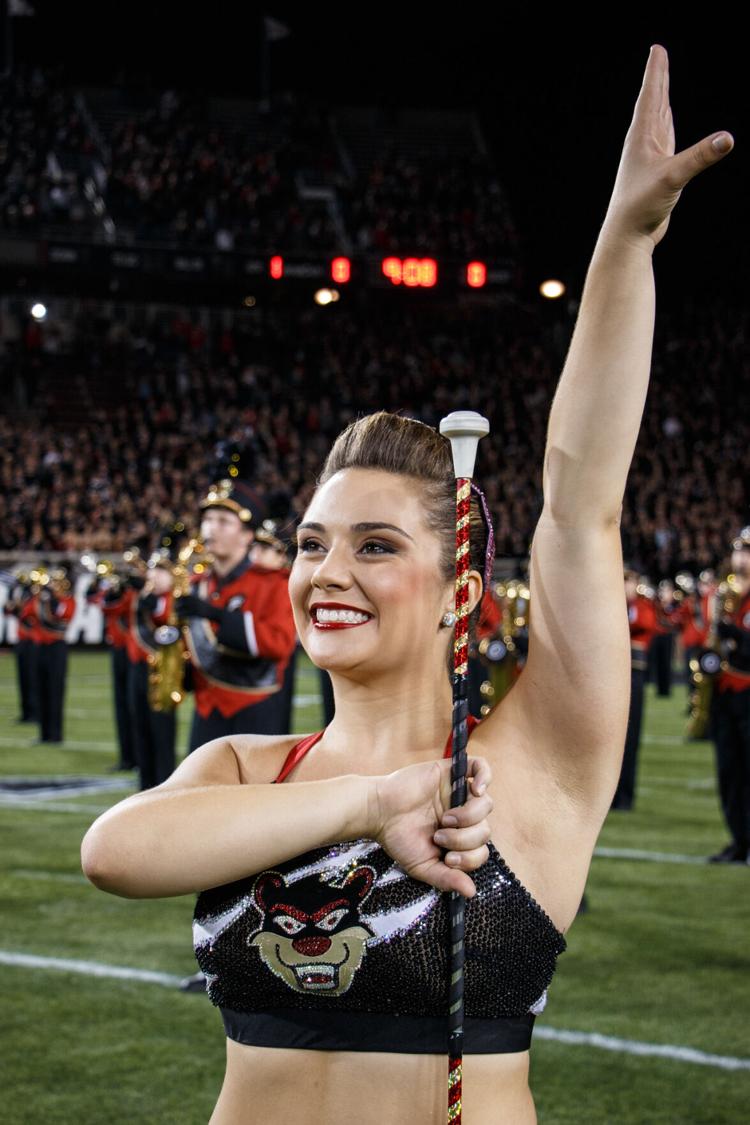 Anita Ney, a fourth-year health sciences student, started her journey of twirling in the third grade. Over a decade later, she became the Collegiate Fantastic champion representing the University of Cincinnati (UC) this year.
When Ney was younger, her family moved to several different places in the U.S. Before her family settled in Clinton, Ohio, Florida was where her twirling career began.
At the age of nine, she originally wanted to get involved with twirling due to all of her friends in elementary school being a part of an after-school program called "Let's Twirl." When she finally was able to join the following year, none of her friends decided to keep up with the program, but this didn't stop her from pursuing her passion for twirling.
"I've learned a lot from twirling. I've learned a lot of self-discipline and time management, but it also gives me the opportunity to make friends and have long-lasting friendships all across the country," Ney said.
Although she loves twirling, her road to becoming a champion wasn't easy. In her very first competition as a child, she still remembers her mind completely going blank on stage while performing. Instead of being discouraged, she used her negative experience to drive for motivation and determination to achieve her dream of becoming a champion.
Ney has competed in numerous twirling competitions throughout her life. She's had many opportunities to travel internationally and went to Croatia in 2017, Norway in 2018 and France last year with Team USA. Team USA isn't an Olympic team, but it's the closest international competition level that would resemble an Olympic sporting event.
When it comes to training, Ney gives her all. During marching band season, she practices with her team six to eight hours a week. Outside of group practice, she carves out four to five hours of her own training. When marching band season is over, she sets aside 10 to 15 hours to practice on her own time.
Ney has had moments where she wasn't sure if she wanted to continue with her twirling career, but she always reminds herself of the main reasons why she couldn't live without doing an activity that brings her so much joy.
"It's kind of like a way to express myself and get out any feelings that I have," Ney said. "I think with any sport, there's always times you can easily get discouraged and feel like there's a lot of work, but the payoff outweighs the stress."
All of the stress that Ney endured throughout the years paid off earlier this month when she won the Collegiate Fantastic competition. She competed against over 60 contestants from 44 different schools and ranked as the overall winner.
The traditional competition that was supposed to take place was an opportunity for college athletes to take honor in representing their school and to share their personal twirling experience in the community with friends and family. Due to the pandemic, a group of judges brainstormed together and came up with the Collegiate Fantastic competition that was a safe way for college students to represent their schools, but in a safe manner.
The collegiate fantastic was a virtual competition that was open to twirlers from any organization that consisted of sending in a video of a personal performance and statement that went in for judging.
"They set up the competition kind of like March Madness brackets, which is completely different than anything we usually do in twirl," said Ney.
According to Ney, after the first bracket, there were about 50 or more people to a bracket of 32 and then the sweet 16 bracket, eight brackets, and then the final four.
"Winning was very exciting personally, but I also had a lot of pride being able to represent my university and then bringing that win back to UC into our band program," she said.
In the future, Ney plans to attend medical school. Once she's done with performing and competing as a twirler, she would love to be a twirling coach or judge.