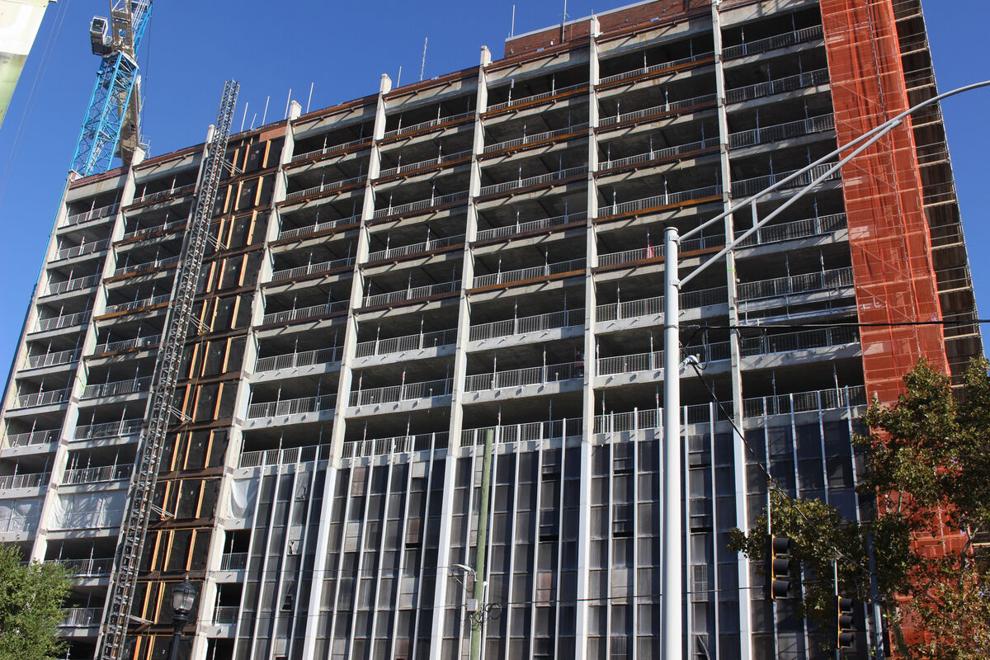 The University of Cincinnati (UC) has long been renovating, expanding and adapting its campus as they continue to grow in enrollment numbers. This is done to accommodate the growing number of students choosing to live on campus and ensure that UC provides modern spaces for students to learn and grow in. 
One of the most notable construction projects happening at UC right now is the multimillion-dollar renovation of Calhoun Hall. The decades-old UC dorm is not housing any students this year, but its neighboring dorm, Siddall Hall, is still up and running.
Siddall is currently filled with students and RA's who were met with the neighboring construction when moving into their home for the year. Seeing how close it all was to Siddall was a deterrent for many students when considering living there this year. First-year finance student Lexi Koller was one of them.
"Siddall was not my first choice to live in," said Koller. "It was actually my roommates, and I's last choice, but by the time our housing timeslot opened, it was one of the only places left."
Like many students, Koller was nervous about the impact of living so close to a construction site. She had worries of noise issues, unpleasant views of debris and more.
"My first thought was that I hoped my room was not facing the construction," said Koller. "Instead, I really hoped I was on the other side of the building facing west. Fortunately, my dorm faces west, away from construction."
Koller has been able to make the most of her living arrangements this year. So far, she feels as if she's had a fairly normal college experience despite the strange setting for her residence hall. 
"Living right next to the construction does not bother me that much, as it really doesn't affect my schoolwork or leisure for the most part," said Koller. "I understand why they still had to put people in Siddall because of the lack of another place to house people in. Overall the construction isn't that bad, and I don't mind it."
Koller has chosen to take an optimistic approach to the situation. For her, having her first year on campus and in a dorm hall is a special opportunity. Having to make a few sacrifices for it doesn't cause much stress for her. But that doesn't mean she hasn't encountered a few small hiccups along the way.
"I think the fact that there are not people living in Calhoun Hall has affected my experience because there really isn't anyone else living near Siddall," said Koller. "Everyone mainly lives on the east side of campus, in halls like Daniels or Dabney. In a way, it is kind of nice living away from the other main freshman dorms, but at the same time, it would be nice to have more people living near Siddall."
Another frustration Koller remarks on is having access to the off-campus community. With the construction, UC has had to block the staircase between Siddall and Calhoun Halls that most students would use to get from campus to Calhoun Street. Now, students have to take a detour route.
"The main frustration I have faced is getting onto Calhoun Street. The stairs that go directly up to Calhoun Street in between Siddall Hall and Calhoun Hall are closed," said Koller. "Instead, I have to go out and around Siddall Hall and cross Calhoun Street at the crosswalk at W. Clifton Ave. It doesn't take that much longer, but it is very frustrating knowing I could get onto Calhoun much easier if I could take the stairs that are closed."
Despite her minor frustrations, Koller still finds the bright side in her new home. After all, she's only here for the year, so finding ways to put a positive spin on it is all she can do.
"One thing that has been nice is the fact that MarketPointe is normally not busy at all since few people go out of their way to go there to eat," said Koller.