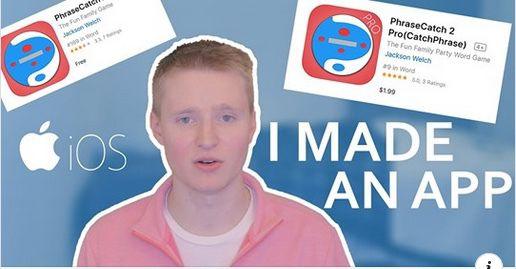 A student at the University of Cincinnati has developed a mobile game aimed at giving students on a budget something fun to do with friends.
Fourth-year information technology student Jackson Welch said he decided to develop the game, PhraseCatch, out of a culmination of boredom and curiosity while on co-op in San Antonio.
"I was really bored, I didn't know anybody there and I wanted to basically create an app because it's been something I've been talking about [doing] for a while," he said.
The idea originally came from a game on Jimmy Fallon's Tonight Show entitled Catchphrase, said Welch, where celebrities partner up and work against the clock to guess different phrases. While similar games do exist on android and iOS, the problem is that most of the phrases get stale and repetitive, he said.
Welch was able to design his app in such a way that the phrases are kept fresh and randomized, making the experience more unique each time someone goes to play. "I wanted to create an app that had constantly changing categories," he said. "Because once you learn the words, the game becomes very static."
"It's a unique spin to a popular game and all the apps on the store don't do that," Welch added. "So, this is kind of a way that I could contribute."
The game was initially made exclusive to android but has since become available on iOS with approximately 15,000 downloads on the platform since its launch in September, he said.
PhraseCatch currently has a rating of 4.4 stars out of 5 on the App Store.
Welch has also released a paid version which allows players to create their own phrases.
"It's a fun game to do on a Friday night if you don't want to go out and spend money," he said.
Apart from the creation of this app, Welch said that he has also been approached by teachers interested in utilizing it in the classroom. "I'm creating a second app stemming into a spin off that is designed for students and teachers to be able to create study guides," he said. "Which I never even intended for it to be used like that."
"It's really cool to be able to see how far the reach of this has gone so far," he added.
The app is being entered into the IQ E-Pitch Competition put on by UC's Lindner College of Business, where Welch could receive a cash award if the app is selected by a panel of judges.
"It's just a cool experience for me to be able to create [the app] and to have students and friends and family download it, and see other people using a product that you created," Welch said.