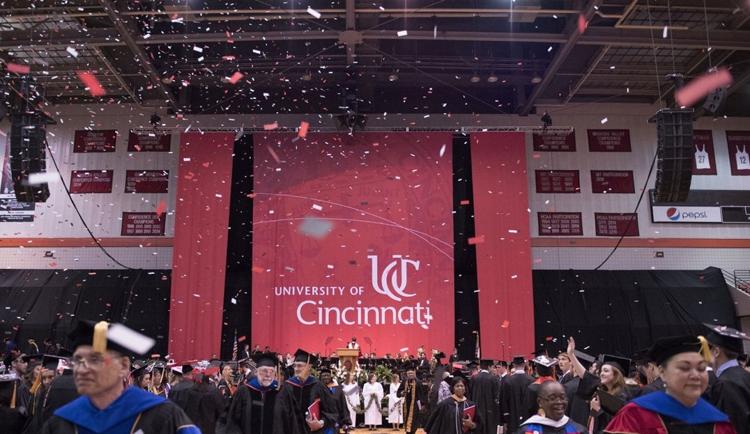 "It's just how it is, there's no one to get mad at because it's out of everyone's control. Its's just unfortunate."
Brendan Prendergast is a senior pursuing a B.A.S in journalism at The University of Cincinnati and his final semester is not going how he expected.
Every semester, seniors wait to hear their names called during commencement to officially obtain the degrees they have worked so hard to earn. It is the only thing standing between them and their future endeavors.
Until the unexpected happened and brought all future plans to a halt. On March 10, The University of Cincinnati announced that all in-person classes would be suspended until April 13, due to the coronavirus pandemic. Three days later, on March 13, UC announced that classes would remain online through the end of the spring semester.
Prendergast said when he first received the email it "didn't hit him immediately." He didn't believe that his final semester as a college student would take place at his home in Cleveland. "It wasn't a very happy moment, it just sucks," Prendergast said.
The coronavirus has caused shutdowns and restrictions on campus that are impacting student life. Seniors who were expecting to graduate in May 2020 have notably been impacted. Currently, graduation is one of the many things that have been put on pause.
"I really hope they keep their word and just postpone it, even if we can't do it for a year." Kayleigh Brown, a senior pursuing a B.S. in psychology with a minor in biological sciences, says. "I'd be heartbroken to not get to walk at commencement after working so hard for four years."
Another senior in fear of missing out on her college graduation ceremony is Allison Bailey. She is pursuing a B.A. in film and media studies with a triple minor in marketing, political science and paralegal studies.
"Not being able to graduate on May 1, like originally planned is upsetting, but it is nice they didn't cancel graduation completely," she said. Bailey also says she hopes she still gets her chance to walk.
While the commencement ceremony has been delayed, there is no delay in the graduation of these students.
Senior Assistant Dean for the College of Arts and Sciences Lisa Holstrom said, "There will be no delay in graduation, degrees will be certified, and diplomas will be mailed." As for the commencement ceremony Holstrom said, "Faculty and staff across the college are heart broken." "It's just not a necessity for UC or even for Ohio universities, almost every U.S. high school and college student are in the same situation," she added.
During these difficult circumstances, UC is still trying to give these seniors some type of celebration to commemorate their hard work.
"UC is planning a celebration via social media on May 2," Holstrom said. "Advisors are working on some surprises, and we are working on some sort of virtual A&S ceremony on WebEx. It won't be the same, of course, but we do plan to read names and have the dean make a speech."
Along with graduation being up in the air, other senior events have been canceled entirely.
Bailey had a podcast through Bearcast Media called "AVHD." AVHD is a podcast that she co-hosts with her friends where they discuss all things film and media related. She describes AVHD as her "passion project." It is also a part of her senior capstone. Due to the lack of equipment outside of campus, Bailey and her co-hosts had to suspend AVHD completely. She said it will be difficult to complete her senior capstone now that AVHD is no longer being produced.
"A lot of work was going into it and it stinks that a lot of it won't really show anymore," said Bailey.
In addition to her podcast, Bailey said she will also be missing out on senior farewell and graduation festivities.
"Honestly, I really am upset about it," Bailey says. "It was something that a lot of us have been waiting to be a part of for the last four to five years and it was taken away from us. A lot of us are trying to find ways to accept that."
Like Bailey, Brown is also left disappointed from the cancellation of important events for her senior year. Brown is a member of Theta Phi Alpha and will miss her last sorority formal, senior sendoff activities, and her induction into Phi Beta Kappa — an honorary society — that Brown says she worked very hard to get into. In addition to her sorority events she will also miss her University Honors Program graduation party. Brown says missing these celebrations is "devastating."
"I can't even really put into words how heartbroken I am," Brown said. "Most days I'm just numb, but every so often the sadness will hit me in waves and I'll just cry."
There are other issues to address aside from the cancellation of senior year events. As the unemployment rate continues to rise in the U.S., with currently around 13% of Americans out of work, students are concerned with finding jobs.
Brown said she thinks the transition alone from college to post-college life will be very difficult since there isn't anything to signify the ending of her schooling, such as a graduation. She knows the amount of people applying for positions in her field has increased significantly.
"LinkedIn tells you how many people applied for a job," Brown said. "It went from 20 to 50 people applying to each, to 200 plus people applying to each."
She added that she is preparing herself to accept any job offer, even if it is something she does not want to do.
Bailey is also concerned with finding a job after graduation. She said college graduates will have to compete with one another for the limited positions that are available once businesses begin to reopen. This makes an already difficult process even more challenging for these students.
As these seniors cope with their missed opportunities and the stress of what is next, they reflect on their college experiences at UC over the past few years.
Although Brown says she feels like her senior year was ruined, she said, "I try to remind myself that I did have a lot of great experiences in my previous years and that I can try to make up some of the things I missed for the rest of senior year when this is all over."
It helps, Brown and Bailey said, to remain positive.
"We have a lot to be thankful for, and my five years at UC were amazing," Bailey said. "I am really excited to see what the future holds."