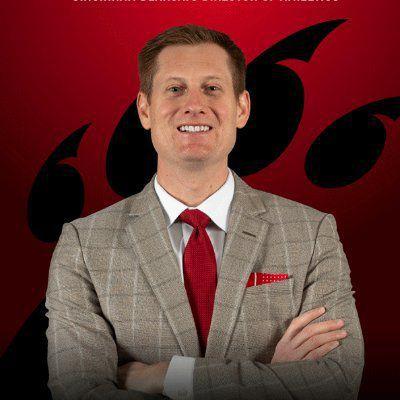 The University of Cincinnati's new athletic director, John Cunningham, addressed the university's Undergraduate Student Government (SG), answering questions from student senators about the future of UC Athletics.
Introducing himself to SG at its weekly senate meeting Feb. 5, Cunningham highlighted his experience in collegiate athletics, along with the changes he plans to bring to UC's athletic programs.
Cunningham was chosen to replace former UC Athletic Director Mike Bohn late last year after Bohn left UC in November for a position as athletic director at the University of Southern California.
Previously serving as deputy athletic director for the University of Minnesota and Syracuse University, Cunningham said he first became interested in collegiate athletics halfway through pursuing a law degree at the University of Nebraska.
As he's only been in the position for just over a month, Cunningham says he is currently working to introduce himself to the university's stakeholders like student government and learn as much as he can about the current state of the athletics department.
"There's a lot of learning that needs to take place," he said. "But I'm starting to take it all in and it's been a lot of fun."
Cunningham also touched on trying to change the story of UC Athletics – referring to the Big 12 Conference's decision not to include UC in 2016.
"But that's not our story," he said. "Our story is since 2000, we've made 15 bowl games and 14 men's basketball NCAA tournament appearances."
In answering questions from student senators, Cunningham addressed the university's use of subsidies in funding its athletic programs.
The News Record has previously reported that UC's athletic deficit increased by over $3.5 million in 2017, costing each student approximately $1,200 that year alone.
Cunningham's predecessor, Bohn, also struggled with the university's rising athletic deficit during his tenure as UC's athletic director.
"We have to be very honest about it and transparent about it," said Cunningham, noting that the subsidies make UC the department's largest donor.
"This doesn't happen without that subsidy," he said. "We cannot compete on this national level."
Because of this, it's crucial that department's funds be spent appropriately, he added.
"We have to be stewards of every dollar that we receive from this university," he said.
Yet Cunningham defended the subsidy by saying the success of a university can also be decided by the success of its athletic program, noting the department's unique capabilities as a marketing tool for UC.
Touching on the state of funding for women's athletics, Cunningham said that with limited resources the department must be fair in the way it allocates those resources to different programs – though the amount of funding given to each program will not be equal.
Ultimately, Cunningham said that he wants to ensure the well-being of student athletes. One of his first priorities is to renovate the women's volleyball locker room.
"It's just a matter of making sure that we're putting the effort in," he said. "Once we do that, then everybody will get more and have more…I want [students] to leave Cincinnati saying that it was absolutely the best place in the country to go play sports."