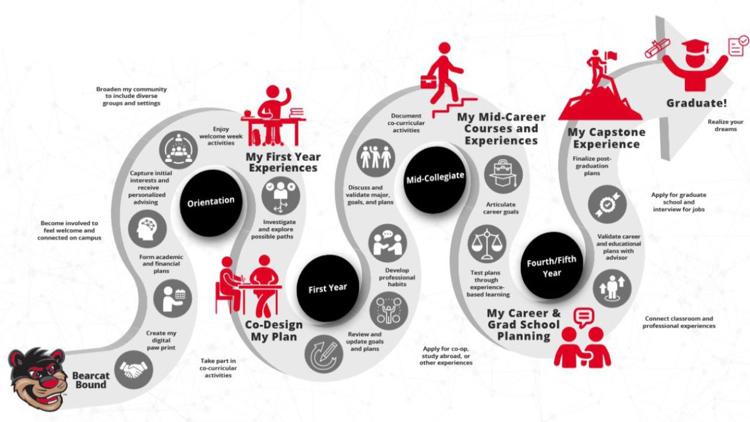 University of Cincinnati has begun rolling out a new initiative that will get first-year students thinking about their post-graduation plans from day one.
The "Bearcat Promise" is a new effort by the university to help students be confident in their decision for their future and be focused on a career plan. The program is designed to help young students figure out their own unique and customized path. The process will be "tech and human supported," according to Caroline Miller, vice provost of enrollment management.
The program begins for students at orientation, where first-year students will be given a time to map out their "My Graduation Plan," in which course lists and progress checks will all be made available to them. Each student's plan changes as necessary when they switch or drop courses, change their major or other scenarios that may change or alter their path to graduation.
First-year students in the College of Business, the College of Engineering and Applied Science, the College of Design, Architecture, Art and Planning (DAAP) and Blue Ash started this process during summer orientation. Other colleges will follow this fall.
As a part of the initiative, students will learn how to implement the degree they are working for outside of the classroom. UC President Neville Pinto has advocated for the implementation of new initiatives like this to help students get involved with career-related activities as part of the university's strategic direction.
Beyond choosing a major, students will have a more solid idea of the purpose their degree can serve. The program will incorporate fundamental learning outcomes for career education and will focus on learning about soft skills, such as communication and leadership, and hard skills, such as writing or math and how each student can incorporate them into their education and careers. 
Miller said she is hopeful the "Bearcat Promise" will assist students in these various skills of professionalism.
"In focus groups with employers, they tell us UC students have a strong knowledge base and hard skills, but they lack some of the soft skills," Miller said.
The incoming freshman class is another record-breaking number of students who will all have the opportunity to test-drive this new initiative. The university has found this to be a necessary addition so students can be prepared for work outside of their formal education and will boost confidence so students will be ready to utilize their degree in the real world.