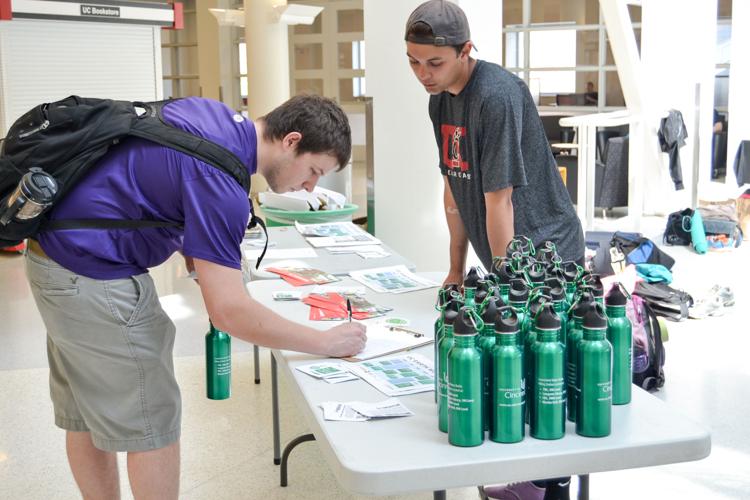 The University of Cincinnati has released a new climate action plan outlining the university's future sustainability efforts.
More than a decade since publishing its original climate action plan, UC continues its pursuit toward carbon neutrality.
"The original climate action plan created our office of sustainability and helped launch our bike kitchen, among other things, and a lot has changed in the last decade," said Daniel Hart, director of sustainability. "It seemed an appropriate time to reevaluate our sustainability efforts and set a new blueprint framework."
UC has earned a gold ranking from the Association for the Advancement of Sustainability in Higher Education (AASHE.)
While the 2008 plan was explicitly for climate action, the new plan is about both sustainability and climate action. The plan also lays out sustainability elements dealing with culture and how to incorporate sustainability into social avenues on campus.
To develop a new framework of action, the Office of Sustainability spent two years meeting with different students, faculty and staff, food services as well as other groups to figure out how to integrate their goals into the plan.
The extensive 95-page plan outlines the university's efforts in 14 categories, some with flexible deadlines, other with end goals by 2030, 2050 or 2075.
Goals include:
Education — Increase accessibility to courses dealing with sustainability and creating ecologically literate graduates.
Research — Increase and expand sustainability research opportunities
Campus Engagement — Empower students, staff and faculty to practice sustainable efforts and integrate sustainability in various programs, groups and organizations inside and outside of the classroom
Engaging the Greater Cincinnati Community — Build opportunities for collaborations with the city and community outreach
Planning and Administration — Develop sustainability efforts for events and a "Green Office" designation program
Buildings — Continue to create green buildings through renovations
Landscape — Protect and enhance green space on campus
Water — Conserve and utilize water efficiently
Energy — Reduce use and cost of campus energy and lower greenhouse gas emissions
Transportation — Expand programming to encourage bike use and increase multimodal transportation
Food and Dining — Increase the amount of food-procured sustainably within a 250-mile radius
Purchasing — Purchase from sources that cause the least negative environmental ramifications
Waste — Reduce waste through repurposing and recycling
Reduce Greenhouse Gas Emission — 45% reduction by year 2030, 80% by 2050 and carbon-neutral by 2075
In addition, UC has signed on in conjunction with the city of Cincinnati to reduce its water waste by 50% before 2030.
"One of the beautiful things about this plan is anyone can pick and find a topic of interest to them," Hart said. "We have tables that lay out our priorities and next steps, along with our implementation worksheets which set the steps and plan out how to put it into action."
Now, UC Sustainability is working to spread word of the new initiatives and goals created by the plan. To do so, it is looking for different groups and individuals on campus to steward and shepherd the ideas.
"One of the most tangible ways for students to get involved is through the president's advisory council made of students, staff and faculty," Hart said. "This is one of the best formats for students to interact and a huge focus for us is putting this plan into action, such as some have done with the Sustainable Fashion Initiative and our student workers at the UC Bike Kitchen."
UC also now provides students the opportunity to earn an Environmental Literacy Certificate of Achievement through participation of the office of sustainability's co-curricular educational and engagement series. Students are required to attend four specified discussion units and can work to complete the certificate all throughout their UC career. 
"There is so much students can do to champion sustainability and to create a better world," Hart said. "To me, that is what I see sustainability as being a part of — working to build and design a world as efficient as possible."