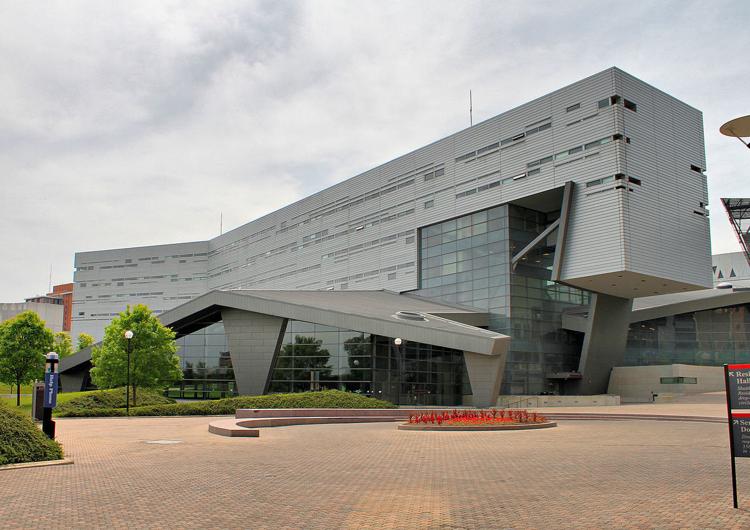 The University of Cincinnati's Campus Rec Center (CRC) is constructing a 30-minute workout area that will help students to create time for fitness in an increasingly busy world.
This spring semester, CRC plans to unveil a strength and cardio intensive workout area aimed at convenience, which will allow members to incorporate health and fitness into their already busy schedules.
Currently under construction on the CRC breezeway, the area is the newest addition to the more than 200 cardio and strength workout areas and nearly 200,000 square feet of recreation space offered by the facility.
With time being a precious commodity — making it hard for some to get out and go to the gym — it was important that CRC adopt an area for people with such time restrictions, said Kim Schmidt, director of the center in an email to The News Record.
"For that reason, our desire was to create an easily accessible, full body workout area for students and members that didn't require a significant time commitment," she said.
This new workout area will consist of 20 additional strength and cardio workout machines. To make it more welcoming for new members, the area will be located near the member services desk, according to Schmidt.
"The CRC is a great facility which has many features that our students and members love, but it can take time to navigate the building and by its very nature, can be intimidating for some individuals," she said.
Schmidt also noted that the space will offer its own changing and storage area.
"We realize that some individuals are at the beginning stages of their fitness journey and we wanted to create an area where they could feel comfortable in a more private area," she said.
Research shows that those in the early stages of developing a workout routine are less likely to be physically active when faced with stress.
While the new space offers a very intensive and compacted workout, each piece of equipment will have a one through 20 intensity setting with instructions for how to use it. CRC staff will be on-hand to assist anyone having difficulties with operating the equipment, according to Schmidt.
Each station will be time limited with a green-light, red-light system that will give members only 60 seconds to complete as many repetitions as possible before moving on to the next workout.  The workout area will also offer walking desks for those who really do not have time to break away from the office or library.
"After all, some exercise is better than no exercise," Schmidt said.
The university plans to unveil this new space as early as February, just as the spring semester is kicking into full gear.
"My hope is that the entire campus community will benefit from this new space," Schmidt said. "Whether it's someone who wants to begin working out or an individual who exercises regularly, my hope is that everyone will see how this new space can benefit them and their desire to be more physically active."