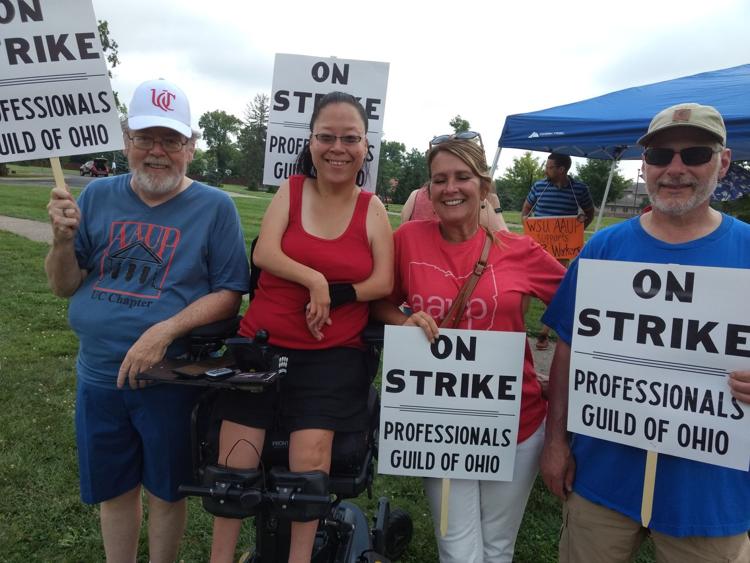 Professors at the University of Cincinnati are raising concerns that the institution's long flawed budget model is hindering their ability to serve students.
The UC chapter of the American Association of University Professors (AAUP) launched its Fight for 51% campaign last year to address the growing debt and declining revenue retention for the university's colleges under the university's current budget model.
Since the university adopted Performance-based Budgeting (PBB) in 2010, revenue retention at the colleges decreased to 43% in 2017, according to the AAUP's website. As part of its campaign, the AAUP is asking that revenue retention be restored to 51%.
Despite record enrollment, faculty at the College of Arts and Science (A&S) often receive mixed messages from the university about their performance, said Ronald Jones, president of the UC chapter of AAUP.
A&S is UC's largest college housing approximately 19% of the university's student population, according to the 2018 Student Fact Book.
Each year, financial decisions are made by the president, provost and senior vice president for administration and finance, said professor Amber Peplow, who acts as budget committee chair for both AAUP and faculty senate.
This small group of administrators gives each college its threshold of university funds, which is then expected to pay back to the university through revenue or budget cuts, she said. Any extra money the college has at the end of the year is split with the provost's office.
Although PBB is meant to allow colleges to grow out of their financial issues, performance is measured on a strictly bottom-line basis, she said. "And that's really limited for an educational institution, and especially one as large and diverse as UC," said Peplow.
"In a $1.3 billion budget, we have an enormous amount of entities that are vying for money," added Jones.
While A&S has been the hardest hit by budget cuts, this affects all of UC's colleges, he said. "And they do recognize that there are issues with the current funding model," said Jones.
PBB has been attributed to a $1.5 million deficit at A&S last year, along with the departure of four deans in less than a decade.
"Things [have] gotten to the point where if you can't make it work, you can't run the college," Ken Petren, former dean of A&S, previously told The News Record. "I fully admit that I couldn't handle the budget … But I also pretty firmly think that there isn't anyone who can handle this budget. It's a ratcheting effect that has run its course, and now there's no way out."
The university is currently considering recommendations for a new budget model, said UC representative, M.B. Reilly in an email statement to The News Record.
Transparency is more of an issue than the current budget model, says Chris Campagna, English professor and associates council chair for AAUP.
The university is not operating in a way that adheres to faculty values, he said.
"[The campaign is] really not for faculty, it's for what we see as what the mission of our university is and really higher education in general," Campagna said.
While faculty senate – under UC's collective bargaining agreement with AAUP – does have some level of say in the budget process, many faculty members don't believe they have a voice, said Jones.
However, concerned faculty can turn to university governance bodies like faculty senate for budget transparency and input, Reilly said.
Faculty senate representatives are given a chance to provide feedback to the administration on budget issues during committee meetings which they may communicate with other faculty, said Cynthia Ris, professor of English and faculty senate chair.
"We are trying to promote what we think we need to do at this university, which is to keep things transparent," Ris said.
Even still, Peplow says she is concerned about the university's level of transparency with faculty regarding the budget, adding that measures are being taken within faculty senate to address this issue.
"The budget and priorities committee is reviewing right now and gathering information regarding shared governance and the budgeting process to determine if there is enough transparency," she said.
Faculty senate will make a determination at the end of this school year as to whether recommendations should be made to change that process, she said.
While AAUP's campaign has so far received positive response from other faculty, it is still trying to spread awareness around the university.
"It really is an advocacy campaign for the health and well-being of the university," Jones said.