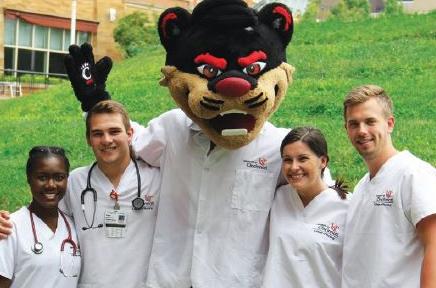 The University of Cincinnati College of Nursing recently received the 2019 Best Schools for Men in Nursing Award from the American Association for Men in Nursing (AAMN).
The purpose of the award is to recognize nursing schools or colleges that have provided significant efforts in recruiting and retaining men in nursing, according to the AAMN. The award honors universities that provide men with a supportive academic environment and those who educate the public about the contributions men make to the nursing profession.
"Our college as a whole focuses a lot on diversity and inclusion and equity," said Gordon Gillespie, professor and associate dean of research at the College of Nursing. "This to us reflects that the efforts that we're doing are noteworthy, and that we're doing things in the right direction."
Reviewers of the award application concluded UC's program met or exceeded all areas of the evaluation. Criteria included climate assessment, chapter activities, recruitment activities, strategic planning and percent of male students admitted over the past three years.
UC's chapter of AAMN was officially recognized in September 2010, according to Jeff Trees, associate professor and advisor to the organization. The organization works to promote men in the field of nursing and men's health by educating and raising awareness on campus and in the community, he said.
Trees credits a large part of enrollment increase at the College of Nursing to the dean, Greer Glazer.
"Dean Glazer is very into not only getting minority males, but minorities in general, to increase at the college," said Trees. "I think with the leadership from the dean shows that they're very in tune with trying to recruit minorities such as men."
And although the organization focuses on men in nursing, UC AAMN welcomes nursing students of all genders from all backgrounds. Gillespie, along with two female and two male nursing students involved with AAMN, flew to Orlando, Florida, to receive the 2019 Best Schools for Men in Nursing Award.
"Even though it's called 'men in nursing', we don't discriminate against any gender," Gillespie said. "The college actually paid their travel expenses to attend that conference to receive the award, which shows the commitment that our dean has to promoting diversity, inclusion and equity."
Only one in 10 nurses are male, said Gillespie. However, more men are increasingly attracted to the profession, as evidenced by enrollment in the UC nursing program.
Male admissions increased from 48 in 2016 to 63 in 2018 in the undergraduate program, while graduate school admissions increased from 47 in 2016 to 81 in 2018. The six-year undergraduate graduation rate in the male student population was 91%, exceeding their female counterparts.
"[The award] has given us some opportunity to do programming and action planning to make our environment even better than it currently is and to ensure that students continually to feel welcome," Gillespie said.