Members of local and statewide nurses' unions held an informational picket outside the UC Medical Center Tuesday evening in response to the hospital's termination and disciplinary actions against unionized nurses.
Ohio Nurses Association (ONA) officials said in a statement that the picket is in response to the Medical Center's "prolific attempts to silence the nurses' voice" after it disciplined Michelle Thoman, president of the Registered Nurses Association (RNA), ONA's local chapter at UC, and fired Jennifer Donaldson, RNA vice president. Thoman worked on the specialty surgery floor, and Donaldson worked in labor and delivery.
UC Health did not respond to The News Record's request for comment on the picket. UC Health spokesperson Amanda Nageleisen said in a statement to media outlets earlier this summer the union issued false statements regarding Donaldson's termination, not naming the nurse. 
"After a lengthy investigation, we found that the nurse in question, working in labor and delivery at UC Medical Center, chose to leave her patients to go to a break room to film a live social-media video," Nageleisen said. "This nurse did not perform the appropriate handoff of care and abandoned her responsibility to monitor the fetal heart rates of the patients in her care." 
"The nurses' union is grieving the unjust discipline of Thoman and termination of Donaldson, with the Medical Center delaying grievance hearings on four separate occasions citing 'unpreparedness' and claims of an evidentiary video that has since, according to the Medical Center, been overwritten and therefore unviewable," according to a statement from the Ohio Nurses Association. "The video was to support the Medical Center's dishonest and ludicrous accusation of patient abandonment against Donaldson."
RNA secretary, Kelly Hickman, said the best-case scenario would be for Donaldson to be reinstated and for Thoman's disciplines to be lifted.
"We're here because the hospital administration has decided to attack the voice of the nurses at the UC Medical Center," she said. "They've done that through attacks to our union directly. You have to get rid of the disciplines that are bogus, but the big picture is that they need to work with nurses and the nurses' voice to help better the conditions at the [UC Medical Center]."
Bob Cousins, deputy executive officer of labor relations for ONA, said the medical center has intimidated nurses and made them afraid to advocate for themselves.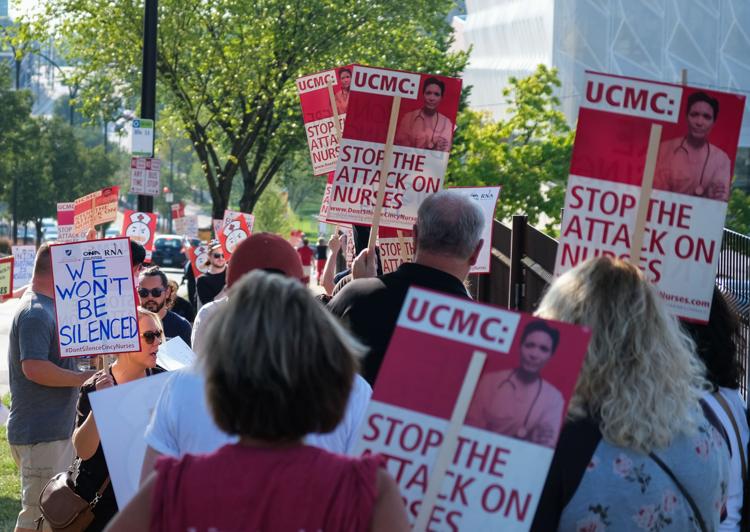 "Just recently we had a local union meeting, and some of these nurses work 24/7 so some of the nurses have to call into these meetings," Cousins said. "We actually had managers calling and listening in on the membership meeting. That's intimidation."
A grievance hearing is set for Thoman to take place Sept. 11. Cousins said this hearing has been rescheduled four times.
Cousins expects termination to be the next step for Thoman, as she already received a final written notice.