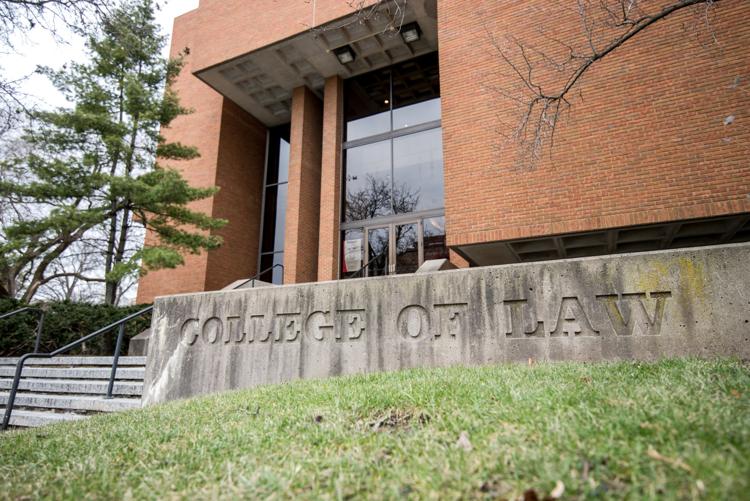 Imagine a person in prison, claiming to be wrongfully convicted, relies on you as their last resort to free them from injustice. You pour over hundreds of pages of case files and trial transcripts, call witnesses and try to find new leads in the case and write DNA petitions and public records requests. You do everything you can think of to get a fair outcome for this person. Now imagine 25 people are relying on you to investigate their case. This is what a normal year looks like for an Ohio Innocence Project student fellow. Their job is to not only know 25 cases like the back of their hand, but they must swim upstream against the raging river of Ohio legislature and law enforcement to win justice for the forgotten in society. 
The Ohio Innocence Project (OIP) is a law firm that operates under the University of Cincinnati Law School, working on cases of men and women claiming to be wrongfully imprisoned in Ohio for crimes they haven't committed. Each summer, around 20 law students are accepted as year-long fellows at the OIP. On top of their regular classwork, they are paired with another fellow, and each team is assigned about 25 cases.
The OIP has helped exonerate 30 wrongfully convicted Ohioans since they joined forces with UC in 2003. Together, these 30 people spent over 600 years in prison for crimes they didn't commit.
"It's difficult because it can be really tedious [work]," says Dallas Guttman, a current student fellow in her second year of law school. "... You're dealing with people who have potentially spent decades in prison for something they haven't done." 
A former reporter from San Diego, Guttman always wanted to pursue law but was waiting for the right moment. When she and her husband moved to Cincinnati, she felt the transition was the perfect time for her to enroll. She chose UC Law School because of the OIP and began her fellowship in June.
Another California native and OIP fellow, Marquez Gibson, considers himself anything but traditional. "Growing up, I was raised by a single mom in poverty," he said. "I always felt like things were unfair. People are getting exonerated everywhere. This is a systematic issue." 
Gibson joined the army instead of going to college when high school was over. His initial plan was to go into social work after his service, but a political science course he took during his undergraduate studies shifted his career path. As homework, he read "Just Mercy," a novel by civil rights attorney Bryan Stevenson. In 2017, Gibson heard Stevenson give a speech about his work as an attorney representing underprivileged people. This was the turning point for him. The OIP is what brought Gibson from West Virginia, where he obtained his two bachelor's degrees, to Cincinnati where he would pursue a career in criminal defense. 
Former UC chemical engineering student, Bennett Herbert, had law on his radar for a while before attending a luncheon hosted by the OIP. At the event, Herbert listened to exoneree Ricky Jackson speak about his experience in prison. Jackson was convicted of murder-robbery solely based off one eyewitness. He served 39 years of his life behind bars and was freed in 2014 by the OIP. 
"There have been a few key moments in my life that all led to this passion; that luncheon was one of them," said Herbert. "It changed my life, how I thought about things, my heart."
Within the past 15 years, the OIP has examined anywhere from 10,000 to 15,000 cases, according to Brian Howe, current staff attorney, who was a fellow himself from 2008-2009. "I'd never lost sleep over a case until I started working here. There's a lot riding on these cases, and usually it's the performance at a hearing or a brief that can determine if an innocent person dies in prison or not. It should keep you up at night," said Howe. 
Law students keep perspectives fresh on cases that seem to hit dead ends, he says. "I can't tell you how many times we've been in the early stages of a case, and a new group will come in and see something the last group didn't." Fellows only work with the OIP for a year before new ones take their place. Constant change is a challenge, says Howe, but also a way to be as effective as possible.
"I wanted this job above every other job," says former fellow and recent law school graduate, Samantha Kovacevic. Her fellowship lasted from the summer of 2018 through the spring of 2019. She graduated this May, and now, she is a staff attorney at the OIP, something that she describes as her dream job. Her role is much different than it was when she was a fellow. She is responsible for two teams, or four students. They take the notes, read the trial transcripts, and make the important contacts, much like she did when she was in their shoes. If they have an idea or a question during their work, they use her as a resource. 
While Kovacevic worked with the OIP as a student fellow, she visited the Ohio prisons, where her team's clients were housed. This is not possible during the pandemic; however, it was something that moved her back then. "That was the highlight for me because you get to really see that there's a person behind all the paperwork." Her first visit brought her to tears. "I had to go to the bathroom, and I lost it. Not only them, but their whole families are locked up too." 
This grueling fellowship isn't only emotionally taxing. Students must keep track of the assigned cases, which involves hours of work on top of their academic load. 
"[Each case] is in a varying stage of progression," said Gibson. "Some have motions that have been filed and court dates set. For others, we are doing research that is determining innocence." Gibson shares that among the pile of 24 cases he shares with his partner, three of them are from the '80s. "I like to focus on these cases because the window is closing."
According to Guttman, people generally trust society, especially those who defend justice for all, like defense attorneys, prosecutors, judges, and police. 
"I came in with rose-colored glasses," she said. "Even when I started, I would say 'I don't know how this person is innocent.' My partner would say the prosecutor was lying in court. And I'd say, 'no way.'"  
OIP fellows must be on their guard as they investigate cases, knowing that nothing is out of the realm of possibility. It's grueling work for some but necessary to help those who have gone unnoticed for too long. 
"Once a week for two hours, you work the phone lines," said Herbert. "Any of your inmates can call you on your cases. They will help out with information, or sometimes they just want to chat and get their minds off things. Talking with them is always nice." Herbert says his staff attorney trusts him and his partner to decide how they want to move forward with their cases.
Undoubtedly, this job is no walk in the park. The OIP is often the last resort for prisoners claiming to be wrongfully convicted, according to Howe, since they no longer have a right to an attorney once their direct appeals are over. 
"The word 'justice' has a completely different meaning to me now than it did a few years ago," said Herbert. "That said, I still have hope that this change can happen." 
Herbert says he sees progress when documentaries and podcasts bring awareness to the public about the criminal justice system's downfalls. "In 2010, people may not have had these as a reference point," he said.
"This is just the beginning of the movement," said Gibson. "We'll see over the decades steps to create a more fair criminal justice system for everyone."
"So far, it has been really great," said Guttman. "It is difficult. Sometimes it feels like you're not doing enough. It breaks my heart to know there are people in prison that have been forgotten, but organizations like [the OIP] are indispensable."