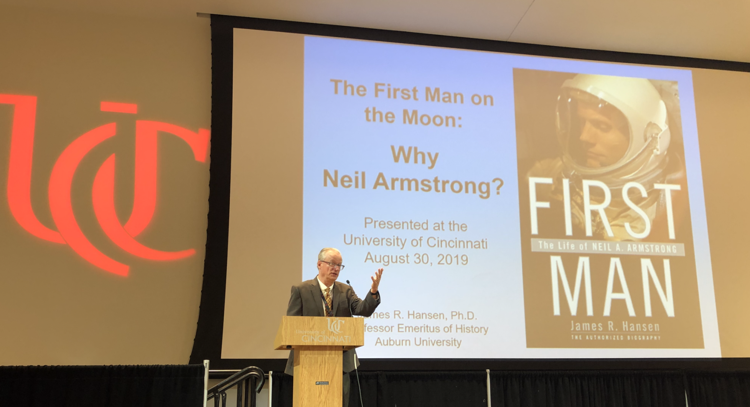 The University of Cincinnati Aerospace Department of Engineering & Engineering Mechanics honored former UC professor Neil Armstrong and celebrated the 50th anniversary of the first lunar landing as well as the department's 90th year last weekend.
"When Neil Armstrong chose to teach and conduct research at UC, he said what he liked most was the enthusiasm of its faculty and students," said Dr. John Weidner, dean of the College of Engineering and Applied Science. "Minus the press conferences and parades, I made a similar observation and decision after interviewing for the dean position this past spring."
Beginning Aug. 29, the "Next Giant Leap" celebration began as the children of Neil Armstrong, Mark and Rick, conducted the coin toss at the UCLA football game at Cincinnati using a special coin made specifically by the U.S. mint for the 50th anniversary of the lunar landing.
The department unveiled and gave tours of two new labs in Rhodes Hall Aug. 30. The first is a flight simulation lab in which students learn how an airplane flies and how to operate the simulator.
Tom Black, assistant professor of aerospace engineering, uses the lab to teach flight mechanics. Black was a student of Armstrong's and after more than 1,000 hours of flying he continues to tell stories about the famous astronaut.
The second is the Intelligent Autonomous Systems Lab, which focuses on robotic technologies for aerospace and other applications. The lab supports interdisciplinary research through projects such as robot collaboration, human-robot interaction, virtual reality, space robotics and spacecraft control techniques.
"Aerospace engineering and engineering mechanics alumni, faculty and students have consistently made a world of difference through science and innovation," Weidner said. "More efficient and cheaper flights, satellite controls, and ultrasonic imaging are just a few of the areas where our faculty and students are leading the way."
Students and faculty from the department highlighted their discoveries in a panel titled "Human Space Exploration – from Apollo on to Mars," as well as in a research showcase.
Jim Hansen, author of "First Man: The Life of Neil A. Armstrong," which inspired the 2018 film directed by Damien Chazelle, addressed attendees during a dinner Friday evening.
Lastly, two films about the life of Neil Armstrong were screened in the TUC MainStreet Cinema: "Armstrong" and "The Armstrong Tapes."
"We were fortunate to have a dedicated group of faculty, staff, alumni and a student who have all worked tirelessly for the past year to put this event together," department head Kelly Cohen said.