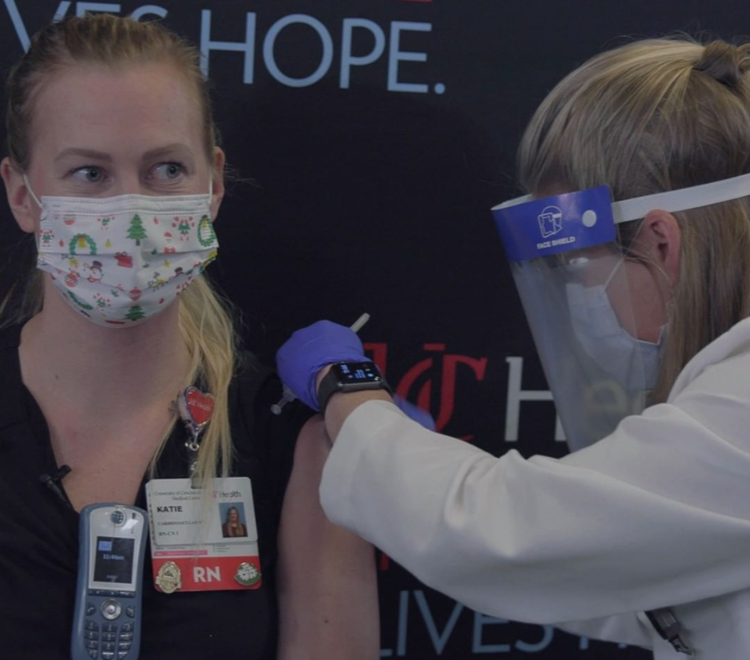 UC Health, the University of Cincinnati's affiliated healthcare system, administered Greater Cincinnati's first COVID-19 vaccines.
Frontline healthcare workers within UC Health's intensive care and emergency departments were given the first dose of the vaccine Dec. 14, according to a press release.
Katie Walz, a registered nurse in the UC Medical Center's intensive care unit, was the first person inoculated in Cincinnati, the release states.
"This is an historic moment for our community, our region and the nation," Richard Lofgren, president of UC Health, said in a statement. "Our role as one of the very first recipient sites for the vaccine underscores the unique and critically important role that UC Health plays in our region and treating those who have been most significantly impacted by the virus."
The healthcare system administered doses of the Pfizer vaccine, which received emergency use authorization from the Food and Drug Administration on Dec. 11.
The vaccine contains a small amount of messenger RNA from the SARS-CoV-2 virus which instructs the body's cells to produce a distinctive spike protein. That protein triggers an immune response against the virus.
UC Health is the only vaccination distribution site in Southwest Ohio, the release states. 
Officials are expecting additional shipments of the vaccine in coming weeks.
According to the Centers for Disease Control, frontline healthcare workers and residents of long-term care facilities are the first in line to be inoculated while vaccine supply is limited.