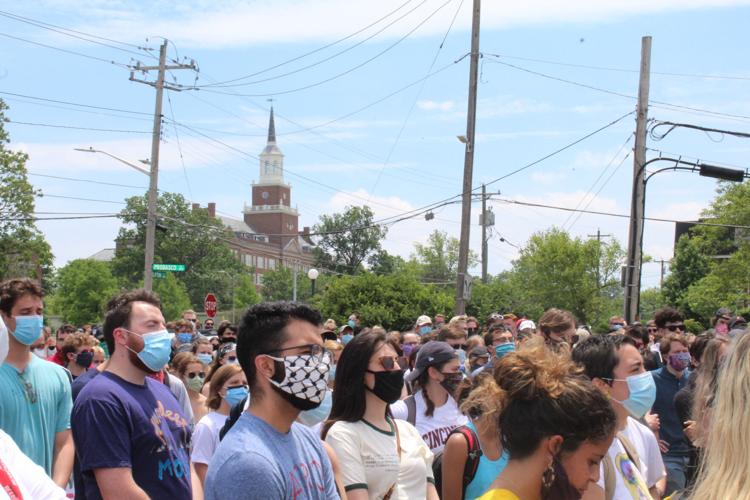 The University of Cincinnati (UC) has yet to publicly respond to calls for change for racial equity by UC's Black community.
On July 9, The Black Round Table, a coalition of multiple Black organizations on campus, put together a set of ten demands to enact change and racial equity on campus and for the Black community. 
UC's Student Government (SG) released a set of ten demands of their own in an open letter that was posted the following day demanding changes be made within the institution to better address the concerns that UC's Black community is facing.
These demands were developed during the ongoing nationwide protests over systemic racism and were directed specifically at the UC administration and trustees. The same series of protests, which were ignited by the deaths of George Floyd and Breonna Taylor, have inspired earlier statements by figures in the UC community.
"To members of our Black community, please know we hear you," said UC President Neville Pinto in an open letter posted on June 3 in response to the early stages of the nationwide protests. "We stand in solidarity with you to end this horrific cycle. We recognize our imperfections as an institution, and we remain committed to creating an environment in which all members are treated with dignity, respect and care."
SG's letter called for a public statement to be made about the demands within 48 business hours, however, there has still yet to be any public acknowledgement.
Director of African American student affairs for SG, Janice Rotich, expressed disappointment with the lack of public acknowledgement by the university. Rotich, who was one of three authors behind the letter, said that Dr. Bleuzette Marshall, the vice president of UC's Department of Equity, Inclusion and Community Impact, had privately reached out via email and the two parties planned a meeting for July 24. When asked for comment, UC's public relations department forwarded the email by Marshall, but made no further comment.
Despite this gesture by the university, Rotich remained firm in the need for public acknowledgement by Pinto and the university.
"We are not going to stop demanding for that, we want that public statement," said Rotich. "The lack of a public response speaks volumes to the narrative that UC is not a home for Black students, and it is unacceptable that they are maintaining this silence amidst the cries of its Black students."
Members of SG are questioning UC's lack of action and Pinto's earlier statements.
"You want to believe that your president and your university believes in those statements that they make," Raphael Hicks, SG's Senator At-Large said. "However, it is very hard to uphold the validity of that statement with such a lack of response. It is very difficult to believe that our president wants to address these concerns."
Hicks, who was involved with writing the letter, felt that UC was sending the wrong message with their silence.
This sentiment was one shared by all three creators of the letter.
"It's one thing to stand with us, it's another thing to fight for us," Rotich said. "It's one thing to say that you're with us, but it's another thing to actually be with us."
The demands laid out by SG and the Black Round Table specifically addressed these imperfections that President Pinto had alluded to, yet the demands have been ignored by the university and the safety and interests of the Black community have been casted aside.
No response from UC's administration is causing some within the bearcat community to question the "Next Lives Here" slogan that the university has adopted.
"The environment we are in is very hostile at the moment," Hicks said. "There is a lack of support for our centers and organizations, and a lack of response to multiple different situations that have arisen in our community without a real commitment or real action. I think it's great that you want to say these words, but what action are you putting behind these words."
Equity and Inclusion Co-Chair for SG, Camryn Morrow, who also partook in writing the open letter, also questioned the motives behind the UC slogan.
"If next lives here, who does this include?" Morrow said. "Does this include Black students and students of color? What steps are being taken so that these students feel safe and valued and that this campus is truly our home."
The slogan also conflicted with the continued presence of the McMicken name despite UC's attempts to distance itself from the slave-owning benefactor, said Rotich.
"Let's move into the next and let's move past the past," Rotich said. "It is unconscionable to subject Black students to take classes in a building that memorializes an individual who raped and enslaved their ancestors."
The presence of McMicken's is causing some students to question where they fit within the UC community.
"Black students face trauma from the university's long history of injustice and inhumanity that continues to impact their experiences," Morrow said. "Black students have to show up every day not just as a University of Cincinnati student, but as a Black individual, and the trauma that comes along with that is something that they carry with them every day."
This is not the first time that the university was met with demands to address, as President Pinto described, imperfections within the institution.
After the 2015 shooting of Samuel DuBose, the student activist group named Irate 8 created a set of 10 demands that UC needed to make to address racial inequity issues in the bearcat community. The Irate 8's demands were acknowledged after persistent pressure was applied.
Along with the set of demands, SG also created a way for others to voice their support, and this support has stretched not just nationally, but globally. The digital form has been signed by individuals from both Switzerland and the United Kingdom, Rotich said.
"People across the world are recognizing that this university was not meant for Black students, and these students are fighting for their right to be on campus and for their welfare on campus," Rotich said. "The world is watching, and we are waiting."
The letter drafted by SG also gave the administration a deadline for August 24 to create a detailed timeline and plan for how the demands would be implemented. Despite no response from the administration thus far, SG has decided to stay firm with that deadline.
Hicks also expressed that these demands came from a place of love rather than hate or anger, and that he wants to see UC be better because he knows it can be.
"We want this place to be our home, but home is not always happy so sometimes you have to have these hard conversations," Hicks said. "We know that there is so much potential at this university that truly speaks to that 'Next Lives Here' aspect. Truly, next can live here, but there are issues that we need to address and address them now."
As the fall semester approaches and the next batch of bearcats begin to call UC home, current UC students are waiting to see if the institution will make the changes many are rallying behind.