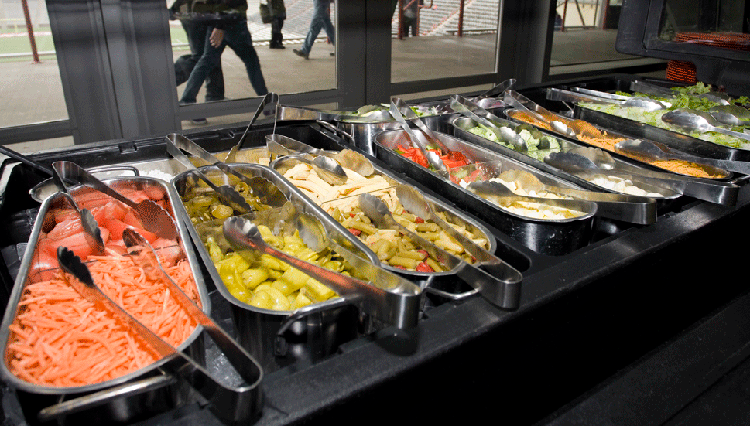 The University of Cincinnati's dining halls saw 99 health code violations throughout UC's four main dining halls throughout this fall semester, according to Cincinnati Health Department data.
The MarketPointe dining hall connected to Siddall Hall received 39 violations during a routine audit Oct. 22, the third-highest number of violations of any dining establishment in Cincinnati from Oct. 19 through Nov. 19.
Violations ranged from food being unprotected from contamination to food being held at improper temperatures, improper date marking, unclean facilities as well as the presence of insects, rodents and other pests in the dining hall. All violations reported were minor, and the dining halls passed under specific conditions.
On the Green at Marian Spencer Hall received 25 violations Oct. 23, CenterCourt at the Campus Recreation Center (CRC) saw 24 violations Oct. 29 and Stadium View Café saw 11 violations Oct. 23. Just in this semester, UC's dining halls have already has surpassed last academic year's 72 violations.
37 of the dining hall health code violations have been reported as corrected by the university, either during or after routine inspections and audits.
Health inspectors observed customers reaching bare hands into bags of bread or bagels in MarketPointe, which the health department views as contaminating the entire package. Mold was present on iced tea dispenser nozzles during the audit.
UC Food Services is staffed by more than 300 employees throughout the dining halls as well as other food locations on campus — all of whom are certified by the U.S. National Restaurant Association and receive as-needed training, according to Todd Duncan, vice president of campus services.
"We always take the necessary steps quickly whenever there is an issue, whether that's a food container that needs to rest more deeply in ice, a sink that needs sanitizing, or our practice of washing even pre-washed lettuce and produce so that even if there's a pest hiding in the lettuce, the food is clean or needs to be discarded," Duncan said. "My son goes to school here and my daughter will. I've had a UC meal plan myself for 16 years. So, what happens here is very important to me, and the staff and I work to get it right."