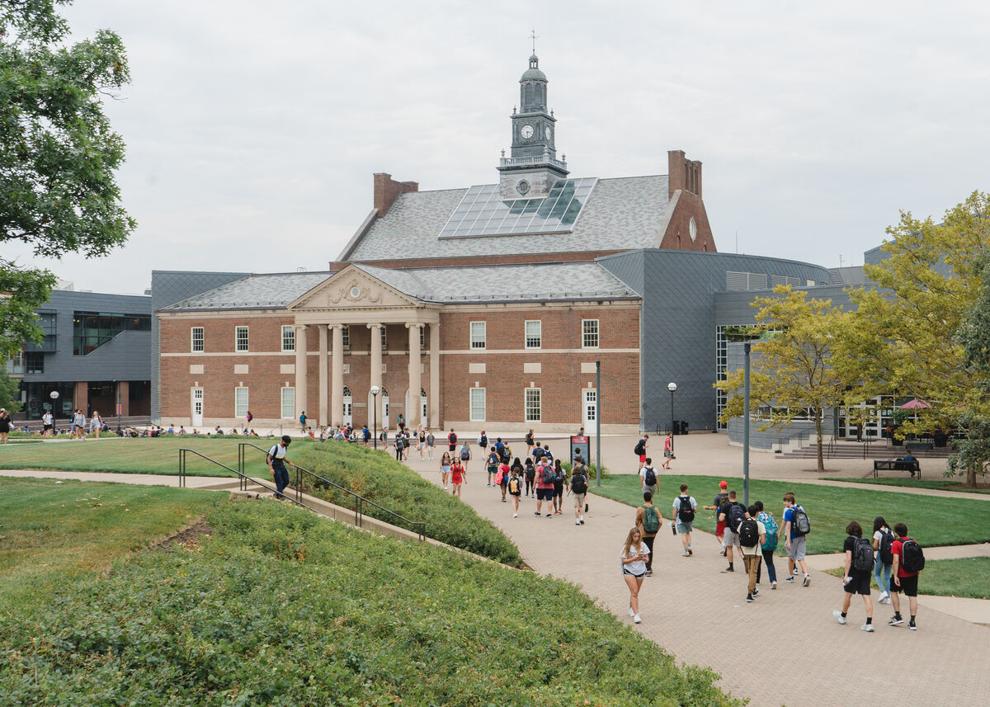 Of the many majors offered at the University of Cincinnati (UC), the foreign language programs may be some of the most unique. Each language program is a unique blend of culture, grammar, history and vocabulary of the language. The language programs at UC provide students with an excellent foundation to allow them to achieve their higher goals of what learning a language can provide, and this past year, three UC students were selected as finalists for the U.S. Department of State's Critical Language Scholarship Program. 
The U.S. The Department of State's Critical Language Scholarship Program is a study abroad opportunity for American college students to study languages to help the United States engage with other countries. Selected students will spend eight to ten weeks abroad studying one of 15 possible languages in the program. 
At UC, the representatives are Kylie Boyer, a second-year master's student in women, gender and sexuality studies; Lily Stiefel, a third-year Asian studies student; and Adam Elzarka, a third-year science and liberal arts student.
Each of these students, though not explicitly language majors, will be able to take the language skill they have learned – both in and out of UC – across the world as they refine their skills and immerse themselves in a new culture. 
Boyer is expanding her language knowledge in Korean. Her choice to do so is inspired by her grandmother, whose first language is Korean. Boyer originally received her undergraduate degree from Kent State in global communications, where she also obtained a certificate to teach English as a Foreign Language Certification. 
Boyer is excited for the opportunity to expand her breadth of knowledge about Korea. As UC does not have a Korean language program, most of the work has had to have been on her own terms. 
"My Master's Project research was centered around Korean television and feminism," Boyer said. "Language is incredibly valuable, because you get to learn about culture alongside the language, and the more people know about another culture, the more they are tolerant of people's differences." 
Boyer's favorite word in Korean is "영미" (Yeong-mi), which translates to "eternal beauty."
"[The word is] my mom's middle name," Boyer said. "It's mostly used as a name, and less so as a word on its own, but I still love it." 
Stiefel will be using her opportunity within the program to broaden her knowledge of Japanese. While Stiefel's program will be virtual, she still is grateful and ecstatic for her chance to refine her skill. 
"I am really looking forward to the language partner aspect of the program. All students are required to meet twice a week with a language buddy, which gives us the chance to practice informal conversation, learn about the culture and study vocabulary/grammar specific to our interests and hobbies," Stiefel said. "I definitely want to become more confident in my ability to hold casual, everyday conversation with native speakers."
For Stiefel, this opportunity also represents the magnitude of her hard work. Stiefel is a first-generation college student and being able to show others in a similar situation what they can achieve is exciting for her. 
"Coming from a small, rural Midwest town, I didn't have much access to many academic opportunities while growing up," Stiefel said. "I am just beyond ecstatic for this opportunity, and I hope I am able to inspire students from similar backgrounds to apply for nationally competitive awards, it is so important to not underestimate yourself."
Stiefel's experience with the Asian Studies department at UC has laid the groundwork for her to be able to excel in this program. Stiefel believes the value of studying language is that students exist in a more global world today more than ever. 
"I believe a machine will never be able to capture the ever-shifting cultural and situational nuance required for proper translation or interpretation," Stiefel said. "Because of this, language study opens the doors to countless growing career and business opportunities in almost every field."
Elzarka's main language focus is Arabic. "I was fascinated by the complexity and richness of the Arabic language as the slightest mispronunciation of one word can mean another; for example, 'khalaf' means 'to disagree,' and 'khallaf' means 'to have a child,'" Elzarka said. "Arabic is also simple in the sense that more than a hundred words can come from a root word."
Elzarka will be studying in Morocco. "I knew studying in Morocco would be a new challenge; Darija, Moroccan Arabic, is so different phonetically from the Arabic that I am familiar with, but I am up for the challenge," Elzarka said. 
Elzarka is an inspiring physician-policymaker; his future plans are to use his skills in Arabic to help to work within the refugee community. 
"From working clinically with Arab-speaking patients to talking at a regional stage with community leaders, learning the language will strengthen my future work," Elzarka said. "However, as most refugees in America don't speak Arabic, I will also benefit from my time in Morocco as I will improve how I navigate different cultural nuances."
Elzarka's favorite word in Arabic is "سلام" (Salam), the Arabic word for "peace."
"In life, we have our ups and downs, and I think a true state of contentment comes from feeling at peace," Elzarka explained. "A common greeting is to say 'السلام عليكم' (assalamu alaikum) which means 'peace be upon you.'"
Elzarka can't wait to expand his interpersonal relationships with people outside of the United States as well. The chance for new memories and new adventures is a driving force for Elzarka.
The valuable education these UC students will bring from their time in the program will help to continue establishing the diverse nature of UC. Whether it be relationships, grammar or cultural knowledge, the experiences these students have will create life skills they will carry with them for a lifetime. 
"Learning languages helps you form deeper connections with people from different backgrounds," said Elzarka. "Speaking a language that someone understands opens you to their mind, but speaking someone's mother's tongue opens you to their hearts."