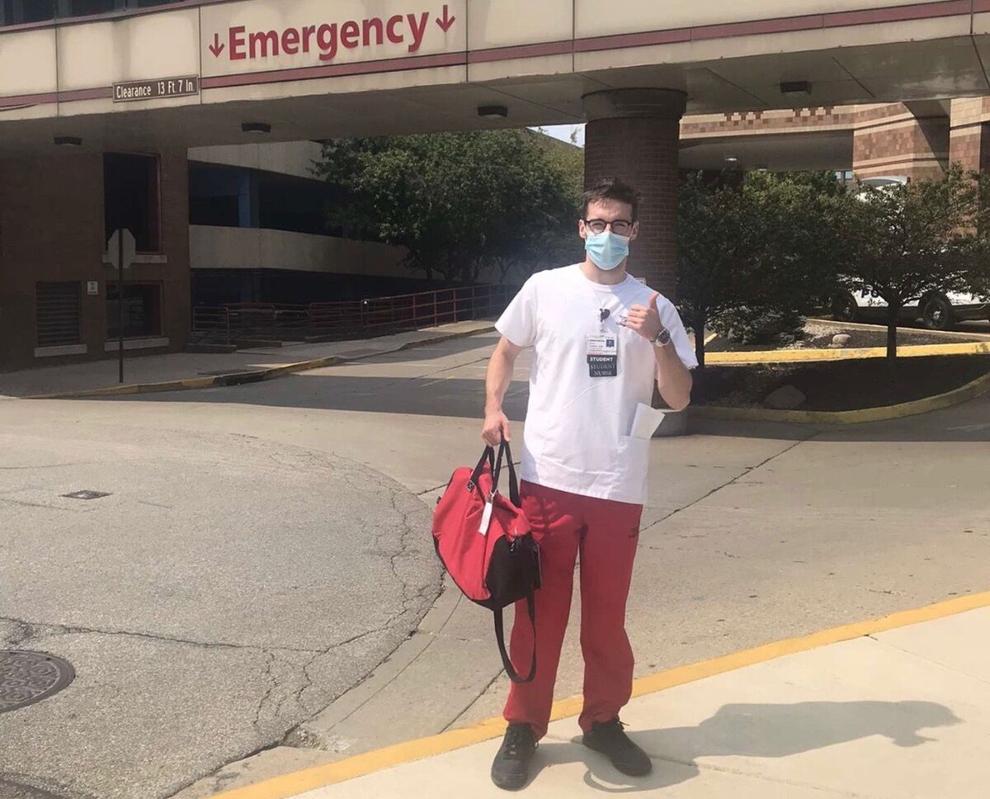 Every year, hundreds of nursing students at the University of Cincinnati start clinicals — an opportunity where they can gain hands-on healthcare experience and learn from top-notch physicians and caretakers from across the world.
In 2020, nursing students like Chris Kenney are serving on the front lines.
"When COVID-19 hit in the spring semester, they shut everything down and sent us home, which worried my friends and me because we did not know what was going to happen with clinicals," Kenney said. "We transitioned to online clinicals. That was the best we could work with, but also it was nowhere near what a real clinical simulation is like. Right now, clinicals are just about the same, except we are required to wear a mask at all times in the hospital and face masks when working directly with patients."
Kenney spends his Mondays and Fridays in online classes for eight hours. On these days, he usually meets up with a small group to study and work on assignments together. The Indiana native is also really involved on campus, spending time with his fraternity brothers, actively participating in clubs such as Student Nursing Association and Men in Nursing.
On Wednesdays, he arrives at his assigned hospital rotation at 7 a.m. and does not leave until 4 p.m.
"Students wear a mask when they arrive at the hospital; the hospital then supplies them with a surgical mask," Jean Heiskell, UC's visiting instructor of clinicals, said. "They have to social distance, wash their hands and wear a face shield that the hospital furnishes."
For the protection of the students, nursing students in clinicals do not work directly with COVID patients.
"We have COVID patients in the hospital, but for our protection and the patients, we are not being assigned to those patients due to how contagious it is, and one slip up could infect us," Kenney said.
Though nursing students do not work directly with COVID patients, there is always the possibility that they may contract it. Currently, two nursing students have tested positive for COVID-19 and are in the quarantine process.
"Students go to multiple locations for their rotations, not just around UC's campus," Heiskell said. They go to places like Clermont County and West Chester."
According to UC's College of Nursing website, there are more than 10 clinical sites for students to receive hands-on experience.
"I have always been a hands-on person." Kenney said. "Being able to work in the hospital really helps us learn the most because every nurse I have met with talks about how nursing school can only teach you so much, but you will never be able to learn about how to communicate with patients from every tiny detail from a textbook."
Tuesdays and Thursdays are Kenney's off days, which are usually spent relaxing.
"The College of Nursing does a great job of telling us that we need to study, but not to the point where we are overworking ourselves," he said.
His additional classes this semester, such as Caring for Adults, Gerontological Nursing and Genetics are all helping him prepare for a career in nursing.
"I have always wanted a job that would both challenge me, allow me to help 'fix' people and be there by the bedside to help them in whatever way it may be, and have a job where I wouldn't be hunched over a desk staring at a computer," Kenney said. "I also liked the aspect that healthcare is universal, so I have the ability to have a job wherever I would like to go."
Between the support from people in UC's College of Nursing, attending clinicals during a pandemic and everything in between, Kenney is constantly feeling reassured in his passion.
"There wasn't a specific time in college that really clicked with me that nursing was right for me, but actually, it is just reinforced over time," he said.