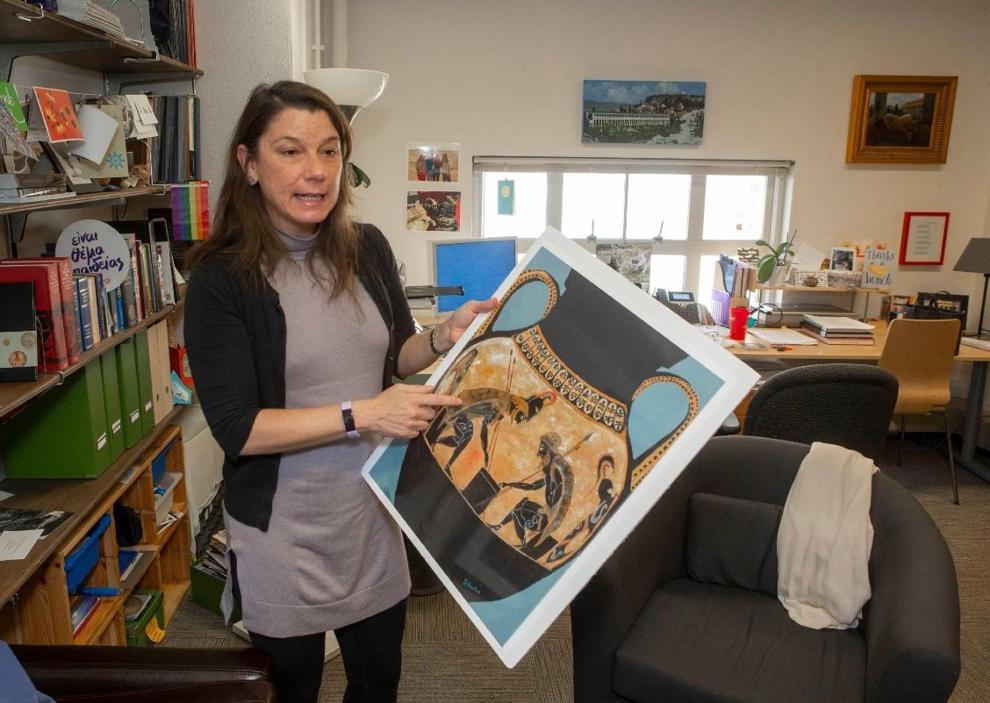 A University of Cincinnati classics professor gave the moving, opening night lecture to the Archaeological Institute of American during its annual conference in Washington, D.C., in the first week of January.
Ceramics specialist Kathleen Lynch kicked off the conference with her speech titled "Conversations with a Pot Whisperer: Archaeological Ceramics and the Stories They Tell." The Archaeological Institute of America is the largest and oldest archaeological association for archaeologists around the world.
Lynch is a professor of classics with a specialty in Greek archaeology and ancient Greek pottery ceramics. She started out at Boston University for her undergraduate as a biology pre-med major. However, Lynch began taking classes focusing on ancient Greece and Roman archaeology and fell in love with the topic.
She soon discovered the difference between her biology and archaeology classes — she did not have to know the exact answer in archaeology. "We can only assess evidence and come up with logical analysis and I found that way of thinking incredibly stimulating," she said.
Lynch graduated from Boston University with a biology degree. The summer after her graduation, she went on a study abroad in Greece and Turkey, which made her realize that she wanted to do more. After taking crash courses to learn Greek, Lynch was accepted into graduate school at the University of Virginia for archaeology.
While working on a project in Athens, Greece, a colleague asked her if she would be interested in studying pottery for the Cincinnati exhibitions of Troy.
"I actually worked for the excavation at Troy, run by the University of Cincinnati, before I was an employee of Cincinnati," she said. Lynch has been at the University of Cincinnati since 2002.
She has the opportunity to live the best of both worlds — teaching archaeology and mythology classes while also spending every summer in Greece, Turkey or Italy to work on her research.
Lynch's main excavation is in Athens, Greece, at the Athenian Agora and she currently has another project in Gordian, Turkey.
The University of Cincinnati recently excavated at Troy and team is working to finish their publications. The first person to excavate at Troy for UC was Carl Blegen, the namesake of UC's classics library.
Lynch has dubbed herself the "pottery whisperer."
"The pottery speaks to you, it tells you stories," she said. "You can look at it and it's telling you a story about the people who used it and the people who made it."
During Lynch's lecture at the Archaeological Institute of America conference, she told a series of stories of how pottery can help people understand not just the archaeology, but the people who used it. Pottery can tell researchers about real people, their behaviors and interests. She spoke of how the pottery had provided insight that would otherwise be invisible — it opened up a new angle that others would have ignored.
"I can tell you about how the rise of democracy was accomplished by a kind of wine drinking party," she said. "These things go hand in hand because the wine drinking party is a way of bringing people together and getting to know each other."
Lynch hopes in the future she can write books for the general public. She believes there are a lot of lessons people can learn from the past that will be interesting to those of today. She also wants to help young women in the archaeology field by mentoring, supporting and offering advice in any way that would help them succeed.
"I think that it's an interesting prospect that at the graduate student level, male and female ratios are pretty one-to-one," she said. "But once you get to my rank, there are many fewer women."