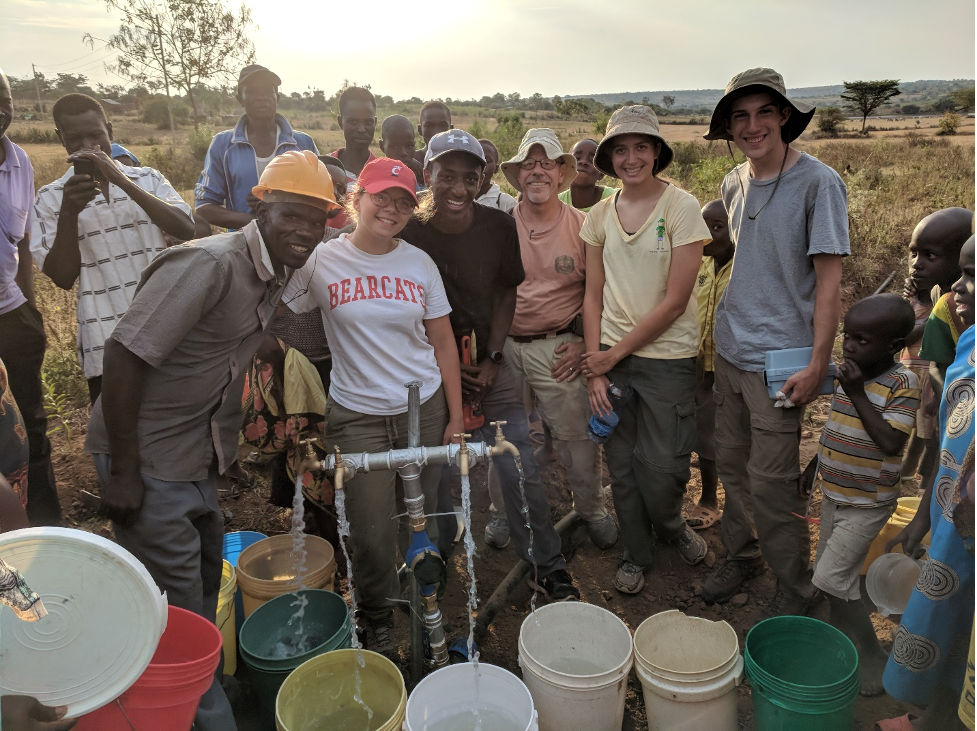 There are Doctors Without Borders, Libraries Without Borders and even Clowns Without Borders, but are you aware of their engineering counterpart? Engineers Without Borders USA is a nationwide organization that uses engineering projects to empower domestic and international communities to meet their basic human needs. The University of Cincinnati Chapter of Engineers Without Borders (EWB-UC) has adopted the aims of its parent organization. 
"The most important way we achieve those goals is by listening to community members about what their needs are, rather than imposing what we want to do on them," said Esther Hughes, former president of EWB-UC. "We base our projects off of the demonstrated needs, and then travel to the community to assess for different ideas and data for addressing those needs. We then work with professional engineers to create designs for various projects."
Since the organization's creation in 2006, EWB-UC has helped four international communities with issues ranging from education to water system design and installation: Otho Abwao, Kenya; Burere, Tanzania; Roche, Tanzania and Nyambogo, Tanzania. 
The club takes around two international trips each year, according to Nabil Djafi, the organization's president. Like Otho Abwao, Kenya and Roche, Tanzania, some places only need water system design and installation. Others, such as the communities of Burere and Nyambogo in Tanzania, need sanitation projects and schoolhouses and the design of water systems and their installation. 
In addition to their international travel, EWB-UC makes two domestic trips each year through Habitat for Humanity, an international organization that builds houses for those in need. So far, EWB-UC has taken two trips to Winston-Salem, North Carolina, as part of Habitat for Humanity's Collegiate Challenge program. The organization has also done five local ventures, including Rock the Block, a neighborhood cleanup day organized by Habitat for Humanity, and a Biofilter Enhancement Project. 
EWB-UC has around 40 to 50 members at any given time, though that number can swell to 80 before implementing large projects. The top three majors that make up the organization are all a part of the College of Engineering and Applied Science: environmental, mechanical and chemical engineering. Students do not need to be in a specific major or have any previous experience to join, said Djafi. 
"We benefit from bringing different perspectives in," Djafi said. "A future goal is to bring in more business and political majors to help analyze how we manage politics in communities and how we establish micro-economies around our systems."
Structurally, the organization is made up of six groups. The first three are project committees that manage and design EWB-UC's current international endeavors. The fourth committee oversees the club's domestic volunteer events, like their trips with Habitat for Humanity. The final two committees focus on grant writing and banquet planning for funding and their end of the year banquet/fundraiser.  
The organization allows students to acquire hands-on experience, international engagement, and communication and design skills — qualities that employers in just about every field look for when hiring. The on and off-campus volunteer hours that EWB-UC members receive are a bonus along with these skill sets. 
"Because the work we do on our projects at weekly meetings (on-campus or virtual) directly impact international communities, every meeting's hours count as off-campus hours," Hughes said. "We continue to work remotely and have been successful in continuing to assess and design projects."
The COVID-19 pandemic has made some changes to the organization beyond their meetings becoming virtual. Two of the EWB-UC's trips in the spring of 2020 were canceled. Nonetheless, Djafi has hopes that members will be able to travel this August, though the worldwide distribution of the vaccine will play a significant factor in achieving that goal.  
"An argument can be made for any of our trips having large impacts," Djafi said. "Assessment and monitoring trips are just as important as implementation trips. All of them are needed for the organization and projects to succeed."