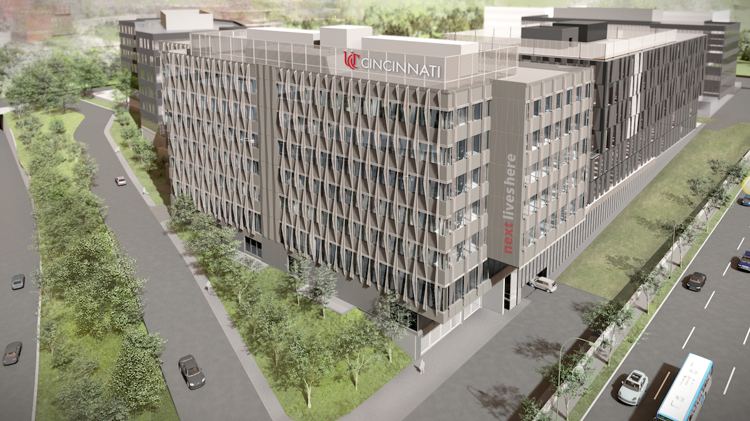 The University of Cincinnati is creating a research space for students and faculty from different disciplines to connect with local stakeholders, a new addition to the Cincinnati Innovation District.
The new 180,000 square foot Digital Futures Building – adjacent to UC's 1819 Innovation Hub – will serve as the first phase of Terrex Construction & Development's approximately $200 million Uptown Gateway project.
A key piece of UC's Next Lives Here strategic direction under President Neville Pinto, the university is leasing this new building to serve as the headquarters for its Urban Futures initiative.
"On this campus we don't have a space that is just reserved for research, not based on what your background, or major or discipline is, but based on what are the problems that need to be solved," said Patrick Limbach, vice president for research at UC.
The new Digital Futures Building will be focused on just such problem-solving, he said.
"I think the other thing that the president has been very intentional about from the get-go…this is a place to come to UC and let us help you solve your problems," Limbach said.
Expanding the university's research prowess has been a major focus of Pinto's administration. Since he took leadership of the university in late 2016, research spending at UC has increased by about 8%, according to the university's annual financial reports. Last year the university spent approximately $160.6 million on research alone, according to the reports.
As a Carnegie R1 institution – the highest classification from the Carnegie Classification of Institutions of Higher Education – the university has "a special mission" to address and solve problems not just within the community, but state and nationwide as well, said Limbach.
The new space is also meant to allow for teams of researchers to take on a "transdisciplinary" approach to problem-solving, said Jennifer Krivickas, associate vice president for research at UC.
"It has been very intentional that we want each team to be a transdisciplinary team," she said. "I think it's just going to provide students with new perspectives and new opportunities to actually make an impact somewhere."
Among the disciplines expected to be doing research in the new space are sociology, environmental studies and medicine. The space will be open to students so that they may get involved with "community partners" to work on projects with them and possibly even obtain an internship position, said Limbach.
While acknowledging that renting the space will be costly, Limbach says state and federal research grants will be enough to cover the building's operating cost.
"And so, as they're doing the work, it's sort of the building's paying for itself, plus paying for the research," he said.
As the building will be owned by Terrex Construction & Development, the costs associated with the space are not as high as if the university was constructing the building itself, although UC is paying the company $10 million to meet research needs, he said.
While no official date had been given thus far, the Digital Futures Building is expected to be unveiled in summer 2021.