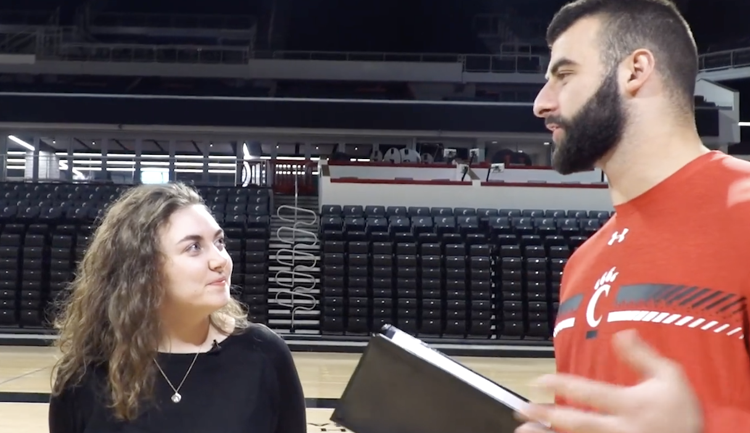 The University of Cincinnati Department of Athletics has partnered with Undergraduate Student Government (SG) to launch an awareness campaign and a pledge to end sexual assault on campus.
SG had been in contact with UC Athletics on a monthly basis after releasing a video for Sexual Assault Awareness Month in April, a public service announcement (PSA) where athletes and other students encourage students to join them in their pledge to stop sexual assault on campus.
 "One of the things we are excited to carry with us into the fall is our partnership with UC Athletics," said Abbie Smith, undergraduate student body vice president. "We're working with them right now to plan a few different things for sexual assault awareness and prevention."
The video is set to play during a timeout of the Miami (OH) football game Sept. 14 as well as one more game in the future. At the games, screens will show an announcement to the crowd, which will invite more people to share the video on social media and take the pledge.
Mike Bohn, director of athletics, emphasized the importance of the overall health of its athletes and students as well as the role the department plays in the personal lives of students.
"When a senate and its leaders ask for help, we help and stay in alignment and associated with what they're focused on," Bohn said. "We want to bring awareness to [mental health]. We are committed to all Bearcats being safe, happy and stress-free."
SG has plans to switch gears after the fall semester and continue to raise awareness for mental health into the basketball season. UC's Student Athlete Advisory Council has approached SG particularly interested in working together on the American Athletic Conference's "Powerful Minds" campaign for mental health, according to Chandler Rankin, undergraduate student body president.
Smith acknowledged how helpful the entire athletic department has been in the movement, allowing SG to reach a different audience.
"It's been really great to help us reach a larger area of campus and use their huge platform to stand up for things that are important for you to see and experience," Smith said. "They've been really wonderful to work with, and we're looking forward to watching what the impacts of those awareness campaigns will be."