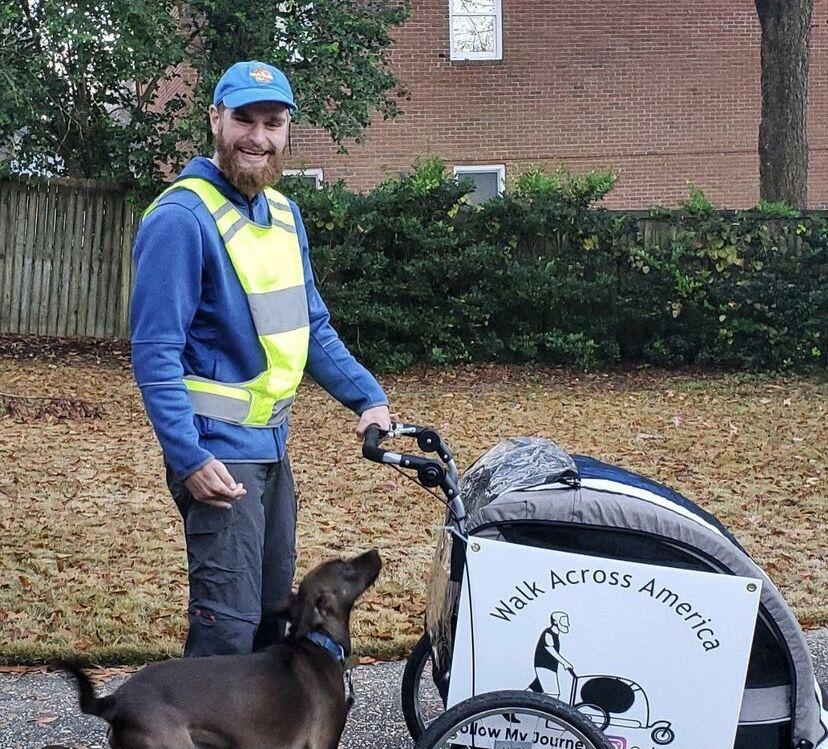 After two years of deep contemplation and six months of disciplined training, recent University of Cincinnati (UC) graduate Mark Dudek announced his newest endeavor. "I will be attempting to walk across America!" he wrote humbly in an Instagram post in November. The 39 comments on his dramatic post matched his energy: "Legendary sh-t," commented one follower. "You're an animal," said another. 
As legendary and animalistic Dudek's trek might appear, his motivation to walk the width of the southern states is sentimental. "With all of the negativity surrounding the country in 2020, I strive to show that, although still flawed, we live in a great country," he said in that same Instagram post. Walking at an average pace of three miles per hour from Hilton Head, South Carolina, to Los Angeles, California, is proving to be an intimate way to understand the landscape of the United States and the people in it. 
Since Dudek began his journey on Dec. 6, 2020, he's encountered no shortage of sticky situations: a stomach bug in Mississippi, an unpredictable polar vortex in Texas and rationing a mere four gallons of water through 90 miles in the hot desert in California. For most of his hike, Dudek has been camping in a two-person tent, just enough room for him and his gear, wherever he can pitch it. Some nights he opts for "stealth camping" at an unestablished wilderness site. "I would just wait for the sun to go down and sneak into the woods, hoping I wasn't on someone's property," said Dudek. 
Dudek walks somewhere between 25 to 35 miles a day, steadily increasing his daily mileage as his body adapts to rigorous walking. "My body doesn't feel great a lot of the time," he says. 
When inclement weather strikes, he turns to the Warm Showers or Couch Surfing apps to stay with locals, and if he needs a mental break, he'll book a motel for the night. "I'll probably get a shower every three or four days," Dudek said. 
"Luckily, I have a safety vest, but man, oh man, some people [get] mad at me," said Dudek. "I've probably got the cops called on me five or six times." 
The worst of the 911 dials, Dudek says, is when a concerned Georgian reported that "some crazy guy is pushing a wheelchair down the road," referring to the cart Dudek uses to carry his food, water and shelter equipment. "I think it's mostly safety concern, not a negative thing," he said, revealing his optimistic disposition Dudek has maintained his entire hike. 
Not everyone reacts to Dudek's unusual getup with fear; Dudek says he's gotten more positive responses than concerning ones. A sweet couple from Texas repeatedly offered Dudek a down-jacket during the unprecedented storm, and when he couldn't accept because it would add too much weight to his cart, they begged him to stop at a store three miles away to warm up. The owner of an itsy-bitsy chicken restaurant called Wing Shack in Butler, Georgia, cooked Dudek a "feast" of wings and onion rings on the house and let him sleep in his restaurant after he closed for the evening. 
"Don't get me wrong, there's a lot of bad stuff happening in the country, but yeah, my faith in humanity has been restored," he said. "There's probably been over a thousand people who have offered me help in some way. I need to repay that generosity." 
Before Dudek embarked on this trip, he started a GoFundMe for two charities: Autism Society and Inner City Youth Opportunities (ICYO). Dudek's motivation for donating to Autism Society roots from working at IMPACT, an organization that integrates adults affected with Autism into campus lifestyle, while he was an undergraduate student. Dudek has raised $6,739 out of his $10,000 goal, from GoFundMe and cash donations from people he's met on the road. Dudek says any money he raises beyond his goal will go to IMPACT.  
"People are doing a lot better stuff than I am, I'm just walking," he said.