George Elliston (1883-1946)
When one hears about the George Elliston Poetry Room in Langsam Library, they might assume the room's namesake is a man. In reality, Elliston was a woman who was born in the late 19th century and spent the majority of her early life living in Covington, Kentucky, according to UC Libraries. After high school, Elliston launched her career as a journalist for the now-defunct Cincinnati Times-Star. Unlike most female journalists at the time, Elliston reported on gruesome crimes and other hard-news topics. In 1907, she married Augustus Coleman, and the couple moved to St. Louis. Months later, Elliston returned to Cincinnati without her husband, and she resumed her career as journalist. She also managed to purchase some property under her married name, and she spent most of her remaining years in a log cabin in Morrow, Ohio. Elliston wrote poetry in her leisure time, and her work was published in newspapers and magazines across the country. When Elliston died, she bequeathed roughly $250,000 to UC, which was used to create the George Elliston Poetry Trust Fund. Today, the fund is used to sponsor a yearly poet in residence.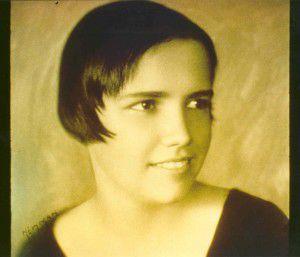 Louise McCarren Herring (1909-1987)
Known as the "mother of credit unions," Louise McCarren Herring was a savvy businesswoman who used her compassion to aid Americans through some of the worst years of Great Depression, according to UC Magazine. A Cincinnati native who spent most of her life in Pleasant Ridge, Herring graduated from UC with a degree in engineering and commerce in 1932. She quickly made a name for herself by acquiring a position at Kroger's corporate office. One year later, she launched the Ohio Credit Union League, which was responsible for founding roughly 500 credit unions. Herring believed credit unions needed to exist to protect Americans from high interest rates and form a system to protect consumers from severe debt. She later became the youngest delegate for Ohio at the first conference of the Credit Union National Association (CUNA), where she became a national figure for the credit union movement. From there, she went on to serve as Ohio's first credit union supervisor and founded the National Deposit Guaranty Corp. as its director. Herring also got married and raised a family while working to ensure the success of credit unions. She was inducted to the National Cooperative Business Association's Hall of Fame in 1983, and CUNA annually awards the Louise Herring Award to credit unions across the country.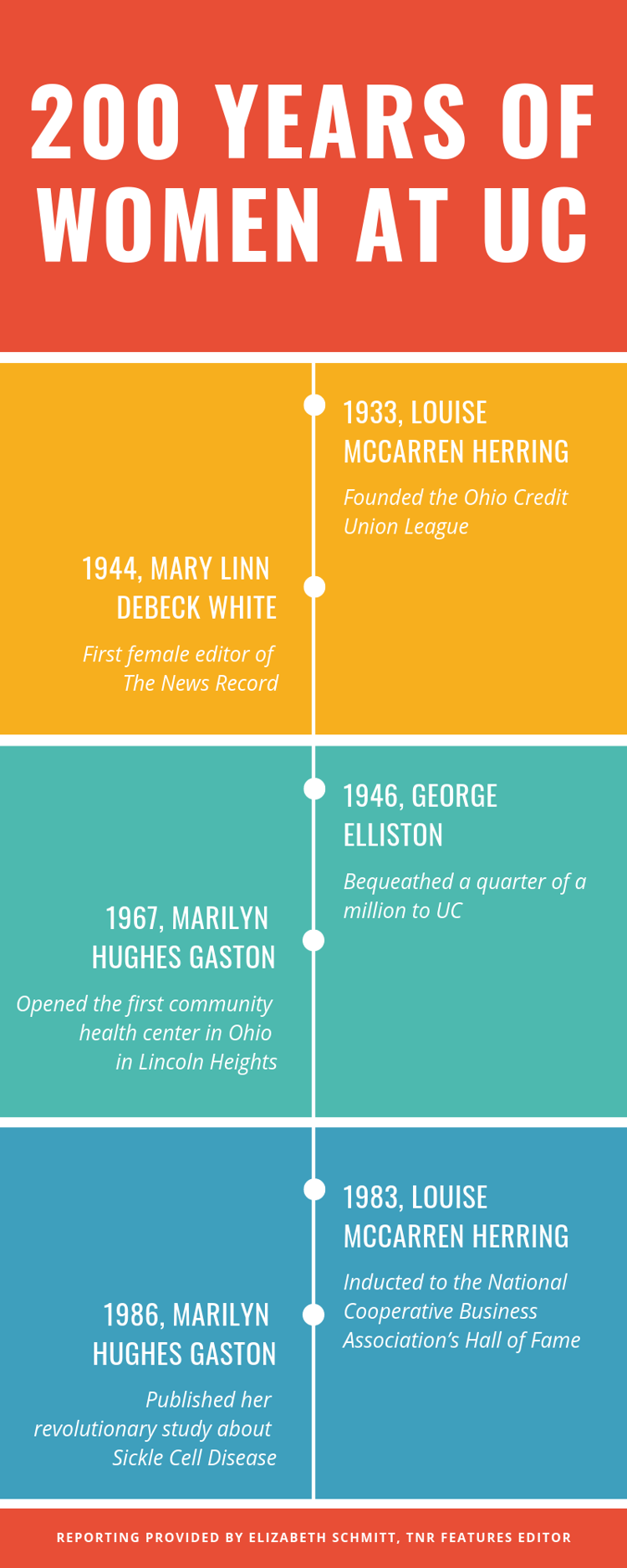 Mary Linn DeBeck White (1922-2006)
Mary Linn White (nee DeBeck) served as The News Record's first female editor in 1944 before going on to have a lifelong career at The Cincinnati Post, according to UC News. White graduated from the College of Arts and Sciences in 1944 with a degree in economics. She was known for her fearless news coverage, and as a student journalist, she worked tirelessly with her staff to put together newspapers overnight and get the word out by morning. Her daughter, Lora Linn Swedberg, told UC News that White had "a passion for journalism, and I use that word correctly. She lived and breathed it." White's work ethic and desire to cover hard-news topics served her well, as she wrote for publications like Newsweek. In 1995, she was inducted to the Cincinnati Journalism Hall of Fame in recognition of her long career at The Cincinnati Post, from which she retired at the age of 84. White came back to UC in 2005 to celebrate both the introduction of the university's journalism degree and the 100-year anniversary of The News Record. "Frankly, I envy every student who will be privileged enough to come into the new journalism program," she said in a UC Magazine article. "I wish I could be born again."
Marilyn Hughes Gaston (1939-present)
A Cincinnati native who grew up in an impoverished area, Marilyn Hughes Gaston overcame poverty to become a doctor who has made important contributors to the understanding of sickle-cell disease (SCD). She first attended Miami University, where she obtained a degree in zoology. There, she was told she would be better off as a nurse. Yet as a proud African-American woman, she pushed her doubts aside and pursued her dreams. She went on to receive a medical degree at UC's College of Medicine, where she was one of just six women in her graduating class — and the only African-American woman. Her determination paid off when she began an internship at Philadelphia General Hospital. There, she became fascinated with SCD after treating a child with the disease. After completing her pediatric training at Cincinnati Children's Hospital, Gaston began practicing medicine in Lincoln Heights — a predominantly black neighborhood. From there, she began specializing in SCD at the National Heart, Lung, and Blood Institute after her husband accepted a faculty position at Harvard. In 1986, she published a study that completely changed the method in which infants receive treatment for SCD. Gaston has received numerous honors, having been the first African-American woman to be promoted to assistant surgeon general and rear admiral in the U.S. Public Health Service Commissioned Corps. She has also received the Scroll of Merit and Lifetime Achievement awards from the National Medical Health Association, and the UC College of Medicine etched her name on a scholarship that funds two minority students each year.