Clarice Reid (1931-present)
Growing up in the segregated education system of Birmingham, Alabama, Dr. Clarice Reid experienced much adversity as she navigated a system that was fundamentally designed against her. As a young African American woman, Reid felt enormous pressure from her parents to excel. "Knowledge was power that no one can take away," Reid said in an interview with UC Magazine.
Still, she went on to earn a bachelor's degree in biology from Talladega College, a historically black school, in 1952. Then, in 1959, she became the third African American woman to graduate from the University of Cincinnati's College of Medicine. She went on to complete her pediatric residency at Jewish Hospital with pediatric training at the children's hospital. From 1962 to 1968, Reid was the only African American pediatrician with a private practice in Cincinnati.
Reid left Cincinnati when her husband landed a job in D.C. "When I left Cincinnati to follow my husband to Washington, I had no idea what I would be doing professionally," Reid said. "All I could do was talk about how I didn't want to leave my job at Jewish Hospital as director of pediatrics and lose my identity. But as I moved on, I found identity in challenging new jobs that I never imagined."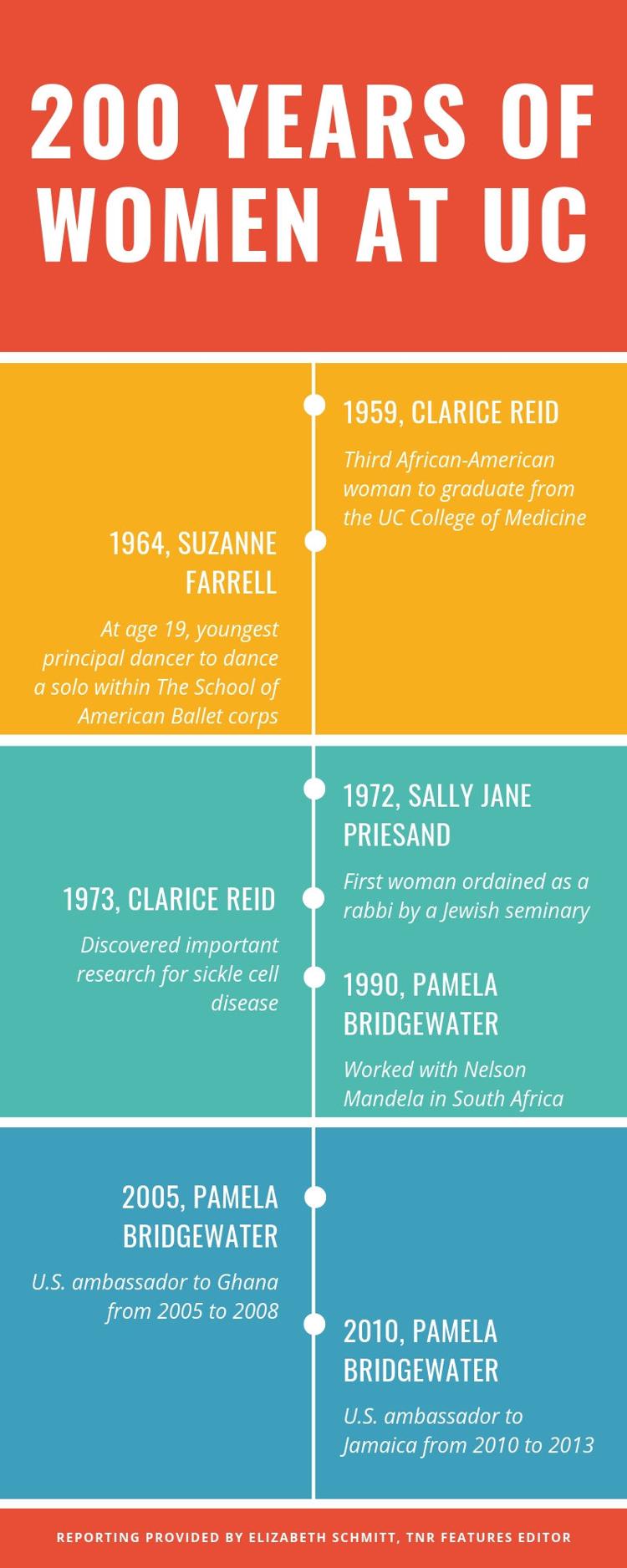 Reid started a career in federal service as a medical consultant at the National Center for Family Planning, Health Services and Mental Health Administration. In 1973, she joined the National Heart, Lung and Blood Institute in the national sickle cell disease program, where she made important breakthroughs in sickle cell disease research, which she regards as her greatest accomplishment. "[It] totally transformed the management and care of patients and impacted directly on the quality of lives of patients with sickle cell disease," she said.
Suzanne Farrell (1945-present)
From Mount Healthy to dancing under George Balanchine in New York City to choreographing for performances at the Kennedy Center, Suzanne Farrell has made a clear impression on the world of dance.
Born as Roberta Sur Fiker, Farrell later changed her name after picking a name at random out of a phone book, according to her autobiography, "Holding on to the Air: An Autobiography." Farrell began to dance when she was eight, attended Ursuline Academy and studied ballet at the College-Conservatory of Music.
After receiving a scholarship at age 15, Farrell moved to New York City to dance at the School of American Ballet. At 19, she became the youngest principal dancer to perform a solo within the corps.
Farrell and George Balanchine formed an intimate relationship, and Farrell was often referred to as one of Balanchine's greatest muses. The New York Times described Farrell's dancing as "grand, impulsive, remote, rapturous." Her stage career was long, full of trials and full of unprecedented fearlessness.
In 1987, she made her natural transition from dancing to choreography. Now, at 74, Farrell teaches dance at Florida State University, imparting the Balanchine technique onto the next generation of dancers.
Sally Priesand (1946-present)
Leaders of faith are often thought to be male figures, but Sally Priesand challenged that notion. A Cleveland native, Priesand attended Beth Israel-West Temple, a Reform Judaism congregation, and showed commitment to her Jewish faith at an early age, according to a biography by the Jewish Women's Archive.
In high school, Priesand decided she wanted to become a rabbi, and in 1964, she began taking classes at UC, which held a joint undergraduate program with Hebrew Union College-Jewish Institute of Religion (HUC-JIR). After graduating UC, Priesand was admitted to HUC-JIR's rabbinic school.
In 1972, Priesand became the first woman ordained as a rabbi in America by a Jewish seminary, which set the precedent for many female leaders of faith after her. After becoming ordained, Priesand found it challenging to find a congregation that would hire her due to her gender. She moved from congregation to congregation, often making choices that were best for the women who would come after her.
"I realized I was not going to be able to have a career and a family," Priesand said in an interview with The Washington Post. "My career always came first. And you know what? I'm not really sorry about that. Because I know all the people whose lives I've touched are part of my extended family."
In 2006, Priesand retired as a rabbi, but she continues to inspire women by providing support and guidance.
Pamela Bridgewater (1947-present)
For many, becoming a diplomat seems like a pipe dream, but for Pamela Bridgewater, that dream became a reality.
Bridgewater is originally from Virginia and earned her bachelor's degree in political science from Virginia State University in 1968. She then earned her master's in political science from UC, according to a biography by Black Past.
After teaching political science at universities across the nation — including Bowie State University, Morgan State University and Voorhees College — Bridgewater joined the Foreign Service in 1980. There, she served as an analyst and diplomate in the Bureau of European Affairs, the Bureau of Oceans and Environmental Affairs and the Bureau of Intelligence and Research.
Then, in 1990, Bridgewater served as a political officer in South Africa, where she worked closely with Nelson Mandela as apartheid drew to an end, according to UC Magazine. She went on to become the first African American woman to be appointed to serve on the Consul General in South Africa.
In 1996, she became a deputy chief in the Bahamas and served as the U.S. ambassador to Benin, West Africa, in 2000. She became integral in shaping the region's foreign affairs, serving as the state department's special coordinator for peace in Liberia. She became the ambassador to Ghana from 2005 to 2008 and U.S. ambassador to Jamaica from 2010 to 2013.