This the second installment of an ongoing series paying homage to women who have influenced the University of Cincinnati and surrounding community. The first installment can be found here.
Mamie Smith (1883-1946)
The Blues Queen has no apparent connection to UC, but UC Clermont helped sponsor research to prove that Mamie Smith was born in Cincinnati. She began touring the nation in 1910 with an African-American musical troupe, according to a biography by the African-American Registry. In 1912, she married singer William Smith and moved to New York. For many years, she worked as a cabaret dancer, pianist and singer until she performed in the musical, "Made in Harlem" produced by Perry Bradford. Her career soon took off, and she became the first African-American female singer to record vocal blues. The record "Crazy Blues" sold more than a million copies, leading to many more recording deals and the rise of the "race records" market. With her newfound fame and fortune, Smith lived a comfortable life in Harlem, where she later passed away in 1946. Smith paved the way for female blues and jazz artists in the years to come, and Cincinnati is proud to be the birthplace of the Queen of the Blues.
Ada Hart Arlitt (1890-1976)
In 1925, Dr. Ada Hart Arlitt became the first teacher of the UC Nursery School and a prominent figure in early childhood psychology, according to the center's website. The center serves as an early childhood practicum site for students on UC's campus as well as a research center for faculty and students. Arlitt was born in New Orleans and received her undergraduate degree from Tulane and then received her Ph.D. from the University of Chicago. After teaching as an associate professor in educational psychology at Bryn Mawr College, Arlitt came to Cincinnati in 1923 to become the chief psychologist of the Mental Hygiene Clinic. In 1924, she was invited to UC to develop a program in child development for the School of Household Administration and accept a position in the psychology department. She is regarded as a preschool pioneer and produced research that became prominent in child and adolescent psychology. After her death in 1976, Arlitt bequeathed roughly $250,000 to UC for the preschool program, which now is called the Arlitt Child and Family Research and Education Center.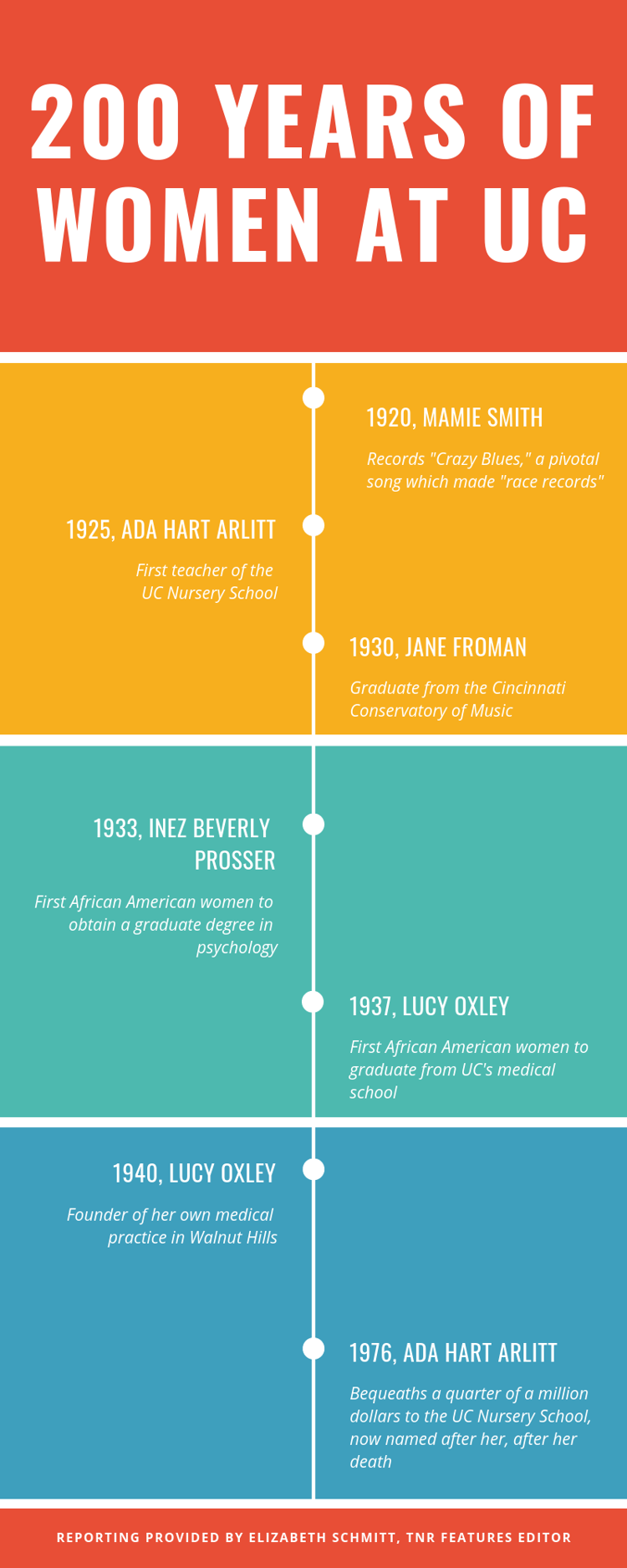 Jane Froman (1907-1980)
Though she is best known for her career in show business, Jane Froman did it all. She sang on the radio, acted on Broadway and starred on both the silver and big screens in Hollywood. Born in Missouri, Froman was the daughter of a music teacher, according to UC Magazine. However, she developed a stutter by the time she was 5 years old, and it impacted her onstage presence throughout her career. Despite her speech impediment, Froman worked hard and graduated from a local community college with a degree in French. She later went on to the University of Missouri with the intent to earn her journalism degree. But her life plan changed after she participated in a school musical, and she soon found her way to the Cincinnati Conservatory of Music, which eventually became UC's College-Conservatory of Music (CCM). There, Froman focused on vocal training, and she even voiced commercials for radio stations. After graduating in 1930, Froman was offered a radio job with NBC in New York City. From there, her career kicked off as she obtained movie roles, made nightclub appearances and earned a starring role on Broadway. She volunteered with the service during WWII, but her plane crashed on the way to Europe, leaving Froman with severe leg injuries. After the crash, she worked through 39 surgeries and wore a leg brace for the rest of her life. Despite the severity of her injuries, Froman continued to act in movies and starred in a TV show on CBS. After her entertainment career, Froman threw herself into philanthropy and volunteer work until she died in 1980.
Inez Beverly Prosser (1897-1934)
In 1933, Inez Beverly Prosser not only became the first African-American woman to earn a doctorate in psychology at UC, but also the first African-American female psychologist in the country. She grew up in a small town in Texas, according to a biography from Webster University. In 1912, she graduated as valedictorian from Yoakum Colored High School, then went on to graduate as valedictorian from Prairie View Normal College. She then moved on to Samuel Houston College, where she obtained a degree in education and later graduated from the University of Colorado in educational psychology. She spent much of her life working as a teacher. The experience led Prosser to pursue her Ph.D. in psychology, and her dissertation focused on the personality differences between black children attending segregated versus integrated schools. Her research proved influential in developing research on the connection between racism and psychology in African-American children. Tragically, Prosser was killed in a car accident in Louisiana in 1934.
Lucy Oxley (1912-1991)
As the first African-American woman to graduate from UC's College of Medicine, Lucy Oxley endured racism from not only her peers but her professors, according to a biography from the Cincinnati History Library and Archives. The Harrisburg, Pennsylvania, native was the daughter of a teacher and Episcopal minister who moved to Cincinnati during Oxley's youth. After graduating from UC in 1935, she interned at the Freedman's Hospital at Howard University because it was the only institution who would accept a candidate who was both African-American and a woman. Oxley was the only one of her classmates to pass the National Medical Board exams, according to the Walnut Hills Historical Society. After she finished, she launched her own medical practice in Walnut Hills on Dexter Avenue. After many years in private practice, Oxley co-established the American Academy of Family Physicians in response to her concern that physicians were not keeping up to date with medical practices. Her contribution to the medical field in Cincinnati made her the first woman to be named "Family Physician of the Year" by the Ohio Academy of Family Physicians in 1984.