This year, the University of Cincinnati celebrates its bicentennial. As the university embarks on its 200th year, let's take a moment to celebrate the many women who have worked hard to write UC's legacy. In the coming weeks, The News Record will take you on a tour through the decades to learn more about the bold women who have impacted UC.
Winona Lee Hawthorn (1856-1935)
In 1873, Winona Lee Hawthorn did something brave— she enrolled in classes at UC during a time where the sphere of education was dominated entirely by men. The Newport, Kentucky, native became the first woman to graduate UC in 1878, according to UC News. She was a member of UC's first graduating class, which was comprised of Hawthorn and seven men. Much of her academic excellence was documented by the Cincinnati Post and her hometown paper the Newport Local — both of which celebrate her literary rapport. Hawthorne later went on to marry U.S. Army lieutenant William Langdon Buck, with whom she had three children. She spent much of her life focusing on her family, and her three daughters went on to receive a college education as well. After her husband died, Hawthorne moved to San Diego, where she remained until her death. She was buried in Arlington Cemetery beside her husband.
Alice May Easton (Unknown)
Much of the university's early history surrounding the first African-American students remains vague. However, researchers Delores Thompson and Lyle Koehler identified Alice May Easton as the first black woman on record to graduate from UC. Thompson and Koehler describe Easton as a "math whiz" who was well known for her savvy calculations. Easton graduated with Bachelor of Science degree in mathematics in June 1897 in the auditorium of McMicken Hall, according to a city departmental document from that year. Easton later became a teacher at the Harriet Beecher Stowe School. Not much else is known about Easton, but her gumption to pursue a collegiate education in a field composed of almost entirely of white men makes her a truly bold woman.
Annie Laws (1855-1927)
For many, the fame of Annie Laws began in 1916 when the UC College of Nursing was officially established. But Laws' work began much earlier when she and six other women formed the Society of the Training School for Nurses in 1889. These women were motivated by the unsanitary conditions that doctors and nurses faced in Cincinnati hospitals at the time. Laws' contribution transformed training practices in Cincinnati, allowing for the legacy of nursing school to progress and flourish. Laws also founded the Cincinnati Kindergarten Association in 1879, which eventually became UC's College of Education. According to "Cincinnati Cemeteries: The Queen City Underground," Laws was often hardheaded and dismissive to those who doubted her, but her dedication and heart led her in the right direction.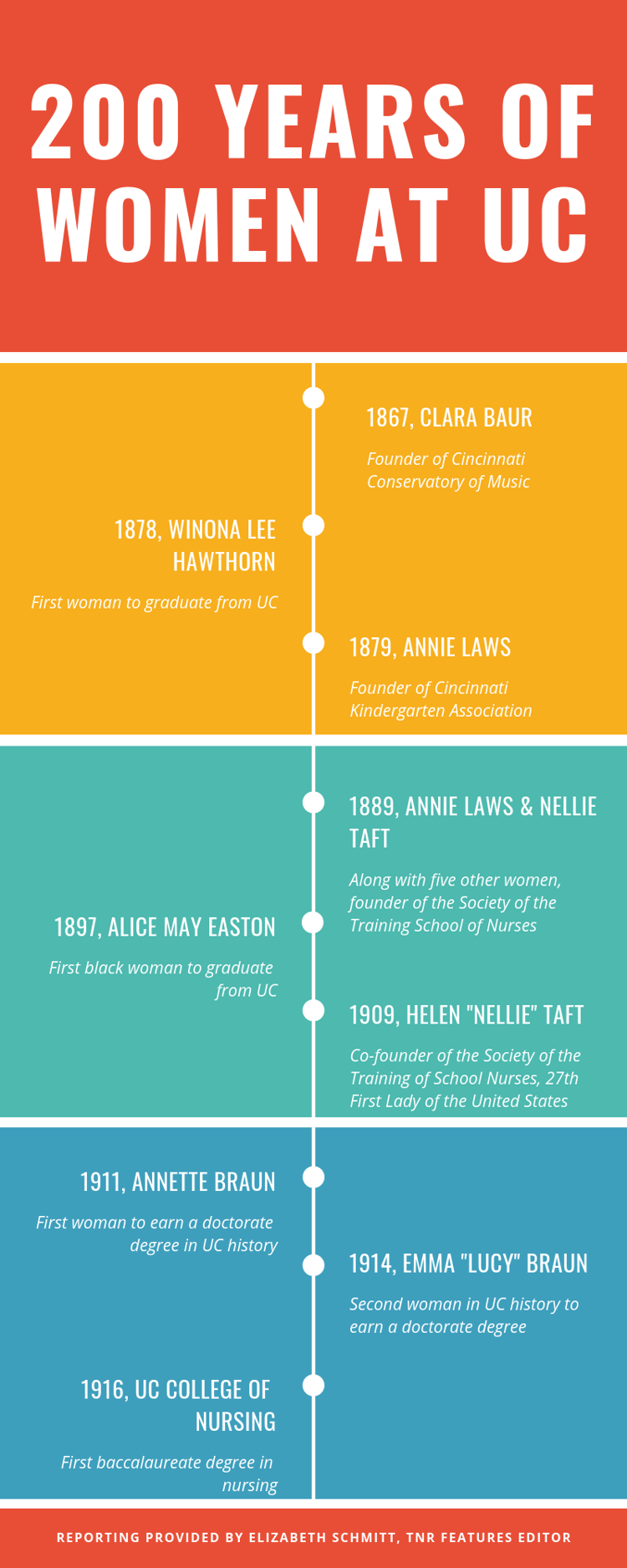 Helen "Nellie" Taft (1861-1943)
More than just the 27th first lady, Helen "Nellie" Taft was a co-founder of the Society of the Training School for Nurses alongside Laws. But unlike Laws, she dedicated much of her early life to education and worked as a schoolteacher at two private schools in Cincinnati, according to the National First Ladies Library. Additionally, Taft took courses in German and chemistry at UC, and she co-founded the Cincinnati Symphony Orchestra Association in 1893. When her husband's career led the family to Washington and abroad, Taft devoted her energy to his career, often channeling her own ambitions through him. She led campaign events supporting William, and when he won the presidential election, she became the first of the first ladies to ride in the inaugural parade. She also used her political power to advocate for healthier living and working conditions, and in 1912, the first federal act initiated by a first lady went into effect, permanently etching Nellie's name into history books.
Clara Baur (1836-1912)
At 14, Clara Baur immigrated from Wurttemberg, Germany, to Cincinnati. Her impressive vocal and instrumental skill was obvious from a young age, which led her to study music in Europe, according to a 2013 biography. Yet in 1867, she returned to Cincinnati and founded the Cincinnati Conservatory of Music. Baur taught her students — mostly women — a variety of subjects, including music, arts, literature, foreign language and health. Soon, opponents of her female-focused education techniques formed the College of Music of Cincinnati in 1878. Her rivals may have stolen her business, but they couldn't steal the lessons she imparted on her students. After Baur's death, her niece Bertha oversaw the conservatory. Both music institutions successfully merged in 1955, officially forming UC's College-Conservatory of Music (CCM). CCM is now one of the most prestigious university conservatories in the country.
Annette Frances Braun (1884-1978) and Emma "Lucy" Braun (1889-1971)
Known popularly as "The Braun Sisters," Annette and Lucy Braun are the first two women to earn doctoral degrees from UC, according to UC Magazine. Annette earned her doctoral degree in 1911, and Lucy followed her in 1914. As the children of naturalists based in Eastern Kentucky, the sisters spent much of their early lives learning about botany and nature firsthand. Their passion translated to their coursework, and both sisters became pioneering forces in science and botany. Their interests mingled, and the U.S. Department of Agriculture often relied on their research. Their well-documented botany expeditions around the country have left a lasting impact on UC's botany department, where Lucy once held tenure. The two never married, but both spent their lives in blissful pursuit of their research interests. They even converted the second floor and yard of their house into a laboratory where they experimented with different plants and documented insects.