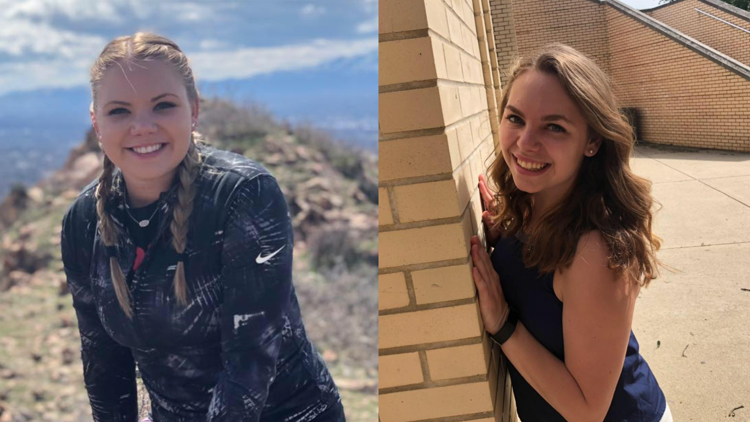 Two University of Cincinnati College of Nursing students will receive national honors from President Donald Trump and the American Red Cross for their life-saving efforts in assisting a victim of the drive-by shooting on Short Vine Street in April.
The Red Cross will present Mariah Collins and Hannah McJessy with certificates of merit – the highest level of life-saving award from the Red Cross – in early October at the American Red Cross in Cincinnati. The award will be signed by President Trump.
McJessy was on Short Vine Street, walking home after finishing her last exam of the spring semester at UC's medical campus April 29. She was waiting outside the Views on Vine apartments for a friend when she spotted Collins. They began to chat before going their separate ways for the summer.
Suddenly, they heard a loud bang. They looked across the street and saw that someone had been shot from a vehicle driving by.
"We looked at each other and knew we had to help with the situation," McJessy said.
They rushed toward the 36-year-old victim and assessed the incident with the best of their abilities, putting their nursing education to work.
The students instructed one bystander to call police while others ran across the street to the fire station to ask for help. They found the victim was shot in the leg and asked another bystander for their belt to tie around the victim's wound to slow the bleeding.
McJessy held the victim's belt as tight around his leg as she could. Collins took off her own belt and tied it around the wound to apply extra pressure. Both women remained calm during the situation and reassured the victim that help was on the way.
The two stayed with him until the emergency medical team arrived, and he was then transported to the UC Medical Center.
McJessy says UC's nursing program gave her the confidence to use critical thinking and apply what she learned in this very real-world situation.
"I would say my adrenaline kicked in as well," McJessy said. "I maintained my focus on helping the situation, which masked any feelings of fear."