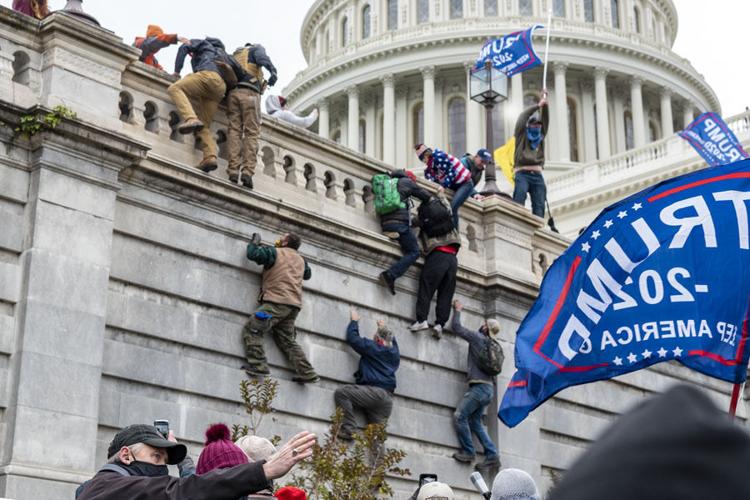 Many questions remain regarding politics in the post-Trump era following the Jan. 6 riot at the U.S. Capitol Building, which resulted in the deaths of five people and dozens of arrests.
The News Record spoke with political science professors at the University of Cincinnati (UC) to gain some insight into last week's events as well as what American politics could look like in 2021. 
Professor David Niven, who has authored a number of books on American politics, said the riot was "a shocking disruption of the American way."
"It's devastating to our own image of what the American democracy is," he said. "We kind of imagine that we invented this system." 
The riot broke out after thousands of right-wing marchers descended on Capitol Hill to halt Congress' certification of President-elect Joe Biden's victory in the Electoral College. 
Earlier that morning, President Donald Trump held a rally where he repeated falsehoods about the validity of November's election and urged his supporters to march on the Capitol, according to a report from Reuters. 
"They counted the votes, and that wasn't good enough for Trump. The courts ruled, that wasn't good enough for Trump. The electors voted, that wasn't good enough for Trump. And in a fit of rage against losing, he sought to send his followers in to disrupt democracy," Niven said. "And that's a pretty tragic turn of American elections."
With Trump's departure from the White House coming Jan. 20, it's unclear just how much of an impact his challenges to the democratic process will have on future elections. 
Trump and his allies have repeatedly spouted unsubstantiated claims of mass voter fraud during the 2020 election. 
"There's a very real question about whether the Republican Party will commit to respecting elections," Niven said, adding that Trumpism in American politics is likely here to stay. 
Stephen Mockabee, a political science professor who studies elections and public opinion, said there's "a very real danger" that challenges to elections will continue even after the current administration leaves office. 
"…The truth is that our election was very secure," he said. "I'm concerned that a lot of Americans will continue to buy into this false narrative about voter fraud."
Election officials will have to work well before the next election to restore the public's faith in the process, said Professor Richard Harknett, who has served as a scholar-in-residence at the United States Cyber Command. 
"And the goal there will be to build resiliency in the citizenry," he said. "So that if there are actors who do try to delegitimize an election that people start from a point of being more confident…so they can individually slow the information flow down." 
All three experts agree that going forward the Republicans will have to reconcile deep divisions within their own party. 
"I do think that the republican party has damaged itself," Niven said. "And I think that, you can look at the results in Georgia as the first clue that running against elections isn't a great way to win elections." 
The same day rioters took to the Capitol, Democrats took control of both Senate seats in Georgia. The party now has control over the House, Senate and White House. 
Given those losses, Harknett said the president's influence over Republican politics may have been weakened, adding "that a Trump party platform is not necessarily a foolproof way of winning."
Mockabee said Republicans will have to decide whether to continue following Trump's style of politics or lean towards a more traditional conservative view. 
"That intraparty battle will be waged here over the next couple of years," he said. "And it remains to be seen how much of a future there is for Trumpism without Donald Trump on the ballot."