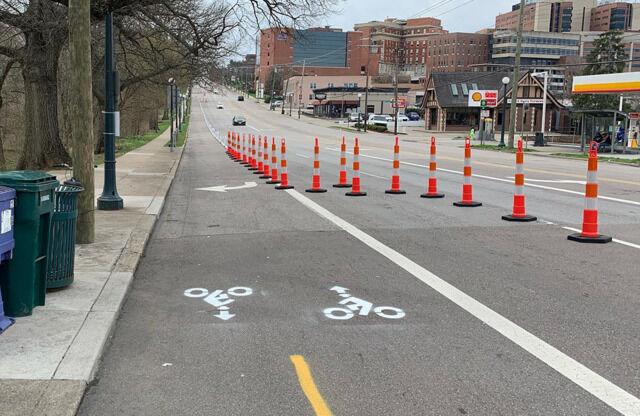 Officials at the University of Cincinnati (UC) are citing safety and congestion as their primary reasons for wanting to remove a protected bike lane on Clifton Avenue. 
Clifton Avenue's temporary two-way protected bike lane was unveiled March 27 as part of a pilot project coordinated by the city of Cincinnati, Clifton Town Meeting, the Devou Good Foundation, Tri-State Trails, Metro and UC. 
John Seibert, associate vice president for Planning + Design + Construction, recently told student leaders that the university is not against the bike lane but is concerned with its design and location. 
Clifton Town Meeting approached the university seeking support for the pilot program, which would shut down a lane of traffic for use as a bike lane and measure ridership and interest, Seibert said. 
The university signed a letter of support and agreed to use the data collected to work with various stakeholders to design more permanent modes of safe transportation for pedestrians and bicyclists Uptown, Seibert added.
"I think there's a lot of misinformation ... that we're not supportive of it," Seibert told Undergraduate Student Government during a Sept. 8 senate meeting. "We are, in the right way long term."
According to the city's website, the pilot program was supposed to last through July. But as August rolled around, the bike lane, which runs from Straight Street to Ludlow Avenue, was still there. 
That's when the university reached out to city officials to have the bike lane removed.
"This temporary installation exceeded the mutually agreed upon date of removal of August 1st. As it stands, these temporary lanes impact safety, traffic congestion, and campus operations," James Whalen, director of public safety at UC, wrote in an Aug. 30 letter to the city manager's office.
Whalen cited safety concerns stemming from the return of thousands of students to campus, increased congestion and construction on the $93 million Clifton Court Hall project.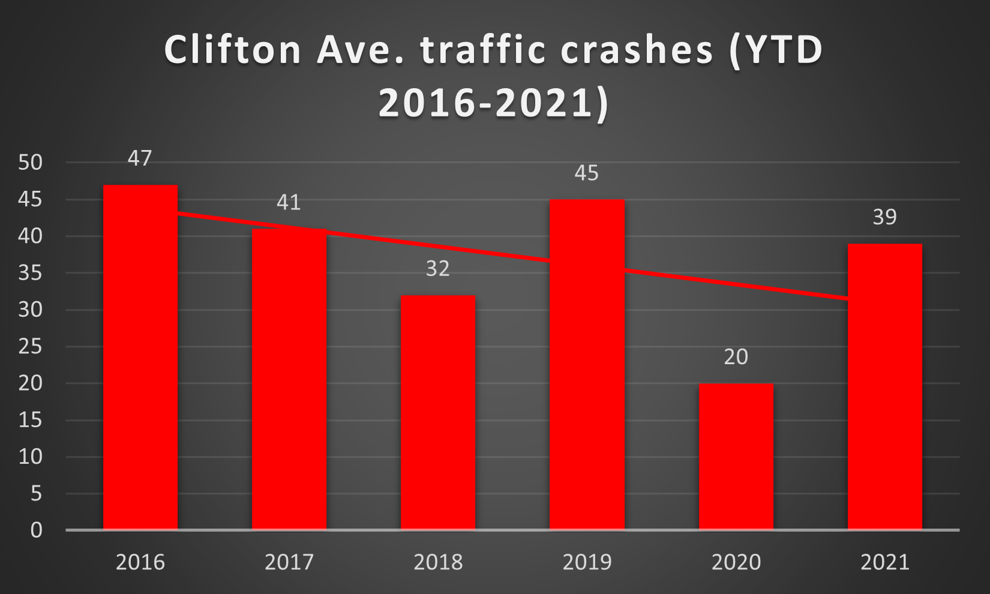 The bike lane's removal was postponed pending a meeting for public comment. That meeting is slated for Sept. 30 at the Clifton Recreation Center.  
"The university is not anti-bike lane," Whalen said in statement to The News Record. "With student safety in mind, we feel the current set-up creates safety and traffic flow issues that deserve attention, and we are working with city and community stakeholders on a solution."
In his address to student leaders, Seibert said traffic accidents are up 85% since the bike lane was installed, though he did not say where he got that statistic. A university spokesperson did not respond to a question asking where Seibert got his information. 
The News Record's year-to-date analysis of Cincinnati police traffic crash data shows an increase in traffic crashes of 95% along the bike lane's path from 2020 to 2021. However, traffic crashes dropped 13% from 2019 to 2021. 
From 2016 to 2021, traffic crashes have declined by 17%, the data shows. Four fatalities were recorded during that same period. 
In response to a request from The News Record, the city manager's office released data on traffic crashes along Clifton Avenue which shows a similar increase from 2020 to 2021. 
Assistant City Manager Kelly Carr said comparing crash data from 2020 and 2021 is "unfair" since there was not as much activity Uptown last year. 
In a letter to Councilmember Jan-Michelle Lemon Kearney, the CUF Neighborhood Association noted "major, and almost constant, disruption to the bike lanes due to construction that UC was doing at Clifton Court."
"Bicyclists and pedestrians, without warning, were forced into vehicular travel lanes. Often, at the end of the day, cones, barrels and other lane delineators were not put back in their original position per plans drawn up by the City," the letter states. "We put blame for that on UC's contractors and the City's construction inspectors. Both of whom should be required to maintain all traffic, or make real-time accommodations to handle that traffic." 
The neighborhood association says there should be an in-depth analysis of the pilot program's data before more money is spent to make the bike lane permanent. 
But supporters of keeping the bike lane in place argue bicyclists now have a safer mode of transportation. 
"What we've seen is a decrease in the excessive speeding, which is very important because most serious and deadly collisions occur when drivers are speeding," said Matt Butler, of the Devou Good Foundation. 
The foundation has invested $100,000 in the bike lane so far, with a commitment to invest an additional $350,000. 
According to Cincinnati's Department of Transportation and Engineering, there's been a 43% reduction in vehicles speeding over 40 mph. The speed limit on Clifton Avenue is 35 mph. 
The department is recommending that the temporary bike lane be replaced with a permanent one, which would cost an estimated $3 million. 
Claire Greweling, a fifth-year communication design major, said she feels much safer riding her bike with the protected bike lane in place. 
"I would not use Clifton Avenue to ride my bike there if there wasn't a bike lane," Greweling said. "People have died on Clifton Avenue – pedestrians and cyclists and motorists, too. It's [an] insanely congested space."
Greweling has been advocating to keep the bike lane in place, starting a petition on Change.org which has gathered more than 1,000 signatures. 
She sympathizes with the university's plight regarding the ongoing construction and increased traffic, but thinks the added congestion creates even more of a reason to keep the bike lane where it is. 
"Because ultimately, it's like, the cyclists and pedestrians, we're the little guys in this," she said. 
Butler said bike lanes offer a number of benefits to the community such as lowering the carbon footprint, reducing pollution and improving people's quality of life. 
"We want people to use alternative transportation," he said. "So, we see this as the start of something much larger."