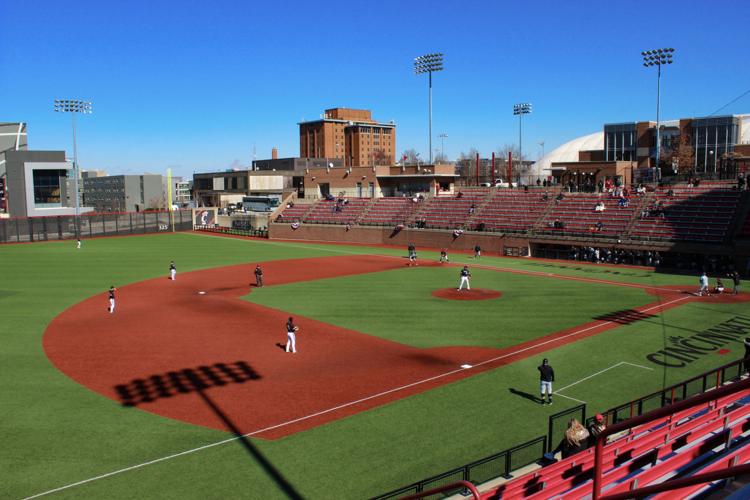 In the wake of the nationwide protests of systemic racism, concerns over Marge Schott Stadium grow within the Cincinnati community, given the unsavory reputation of Marge Schott herself.
The infamous Cincinnati figure left the University of Cincinnati (UC) a $2 million donation after her death in 2004, and as a tribute, the university named their baseball stadium after her.
"Marge Schott was a well-known Cincinnati philanthropist who held controlling interest of the Cincinnati Reds from 1985 to 1999," states UC's athletic site on Marge Schott Stadium.
However, the statement fails to mention what else Schott was known for and why she lost ownership of the Reds.
Schott was infamous for allegedly making numerous racist and anti-Semitic statements, which ultimately lead to Major League Baseball (MLB) banning her from the league.
Between racist slurs being directed towards both Black and Asian people, repeating anti-Semitic stereotypes, making homophobic complaints about her players wearing earrings, and even going as far as showing support for Adolf Hitler's policies and showcasing a swastika as part of her Christmas décor, Schott had developed an unfavorable reputation.
Having this polarizing figure be commemorated within the university has poised a problem for some within the Bearcat community.
"No, it's not appropriate," said Professor Matthew Kraus, interim head for the department of Judaic studies. 
Kraus believes that as an institution committed to higher learning, UC has an obligation to its community to be more transparent about Schott's reputation and take the valid concerns of the community into consideration.
Similarly to McMicken, there should be a process to evaluate the situation because it is an important conversation that must be had, says Kraus.
For 2020 graduates, Charles McMicken's name no longer appears on their diplomas after UC took an extensive look into his legacy and relationship to UC.
UC officials have decided to distance themselves from the McMicken name while becoming more transparent about their complicated relationship with the university's benefactor.
Seeing retribution over McMicken leads to rising concerns over Marge Schott Stadium and the woman it is named after.
UC had set a new standard with their handling of McMicken, but Marge Schott Stadium no longer reaches that standard.
Kraus' sentiments are not his alone; UC's Association of Black Journalists (UCABJ) shares this point of view.
"If the school thinks being transparent about having a racist anti-Semite representing not only the athletics department but the University is okay, then fine transparency should suffice," said Tai Sims, president of UCABJ.
"However, if the school cares about the feelings of minority and Jewish students, then they would change the name and become a more inclusive campus," said Sims.
As a Black student-athlete, Sims understands the connection Cincinnati has to the former Reds owner, but he also recognizes the harm that her name brings.
Some would rather overlook her reputation and blindly celebrate her legacy, Sims said.
"The people who would rather celebrate her Cincinnati legacy are usually not the ones affected by her rhetoric," he said.
The rhetoric often targeted members of Black and Jewish communities, and as an institution that preaches acceptance and diversity, UC has an obligation to listen to these communities' concerns.
Although he believes in following a process similar to what was done with Charles McMicken, removing Schott's name from the stadium would resonate with the Jewish community and be more aligned with their response, says Kraus.
"According to Jewish tradition, an anti-Semite's name is 'to be erased,'" said Kraus.
Marge Schott Stadium is a highly regarded part of the campus, but the legacy of the person it is named after has tarnished the stadium for some.
As discussions over racism in America have deepened after the death of George Floyd, Breonna Taylor, and other instances of racially-motivated police brutality, the idea of erasing Schott's name has gained traction.
On June 7th, a petition that represents current and former Bearcat players, students, staff and other community members' wish for UC to make the change to the stadium had been created.
After the petition launched and quickly amounted thousands of signatures, UC's athletic director, John Cunningham, released a statement to assure the Bearcat community that the Athletic Department was working with the university to address the issue.
"I couldn't be prouder of my team and the way they handle themselves," said UC Director of Baseball Operations Andy Nagel in the wake of the petition.
Nagel gave especial praise to Bearcats pitcher Nathan Moore after he posted a statement on Marge Schott Stadium via his Twitter account.
"I am proud of Nate Moore for using his platform to make his voice heard," said Nagel.
The rest of the university's athletic department could not be reached for further comments after multiple attempts, but as concerns become more vocal, some wonder how long the university can remain silent.
"We are a university committed to understanding and learning. This is an important conversation that I think we should have," says Kraus.
The university drew a clear line with their McMicken decision, but they must remain consistent.
Those who are not comfortable with the idolization of an accused bigot believe that Marge Schott Stadium needs to be the next change.
UC likes to claim that "Next Lives Here," but moving forward is a challenge when the university is glorifying a figure with such harmful, outdated beliefs like Marge Schott.