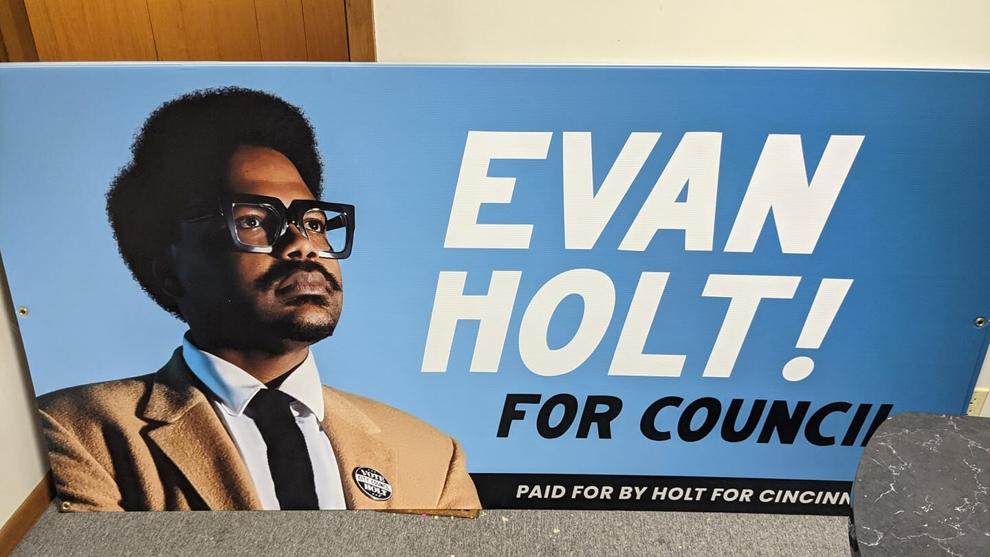 Walking down Main Street at the University of Cincinnati (UC), you may notice, amidst a number of posters advertising clubs and social events, a sticker telling you in bold red letters to "vote on November 2nd" for a man named Evan Holt.
You may never have heard of Holt, but since announcing his candidacy earlier this year Holt has become the polestar for leftist activism groups across Ohio. He is the only candidate for Cincinnati City Council who has been endorsed by the Democratic Socialists of America (DSA) and its regional branch—the Metro Cincinnati & Northern Kentucky DSA.
As you would imagine, Holt's platform is decidedly to the left of his peers, voicing support for "defunding" the Cincinnati Police Department, ending the practice of cash bail and raising the minimum wage for city employees to $15 an hour.
Despite such proposals rarely being heard in Cincinnati politics, public support for these and other left-wing policies have increased steadily both statewide and nationally over the past few years. 
Holt is a first-time candidate and describes himself as being "very political for most of my adult life, but mostly on the subject of national politics," encouraging "my friends who never really even had political views how important that politics is."
Holt may be an outlier in local politics, but his perspective is a direct result of personal experience, specifically in the case of affordable housing.
"As a lifelong renter and the son of a social worker mother who also spent her entire adult life as
a renter, I have made affordable housing the centerpiece of my platform," he said.
Many pundits have claimed Cincinnatians lost trust in City Hall as a result of recent corruption scandals. But Holt disagrees with that premise.
"For many, it's a foregone conclusion that politicians, local and national, engage in anti-ethical behavior for personal gain," Holt said, adding that "a way of potentially increasing trust in local government is through much more transparency and voter engagement."
He feels that the oversized influence of the wealthy is the main cause of political corruption, and he would "limit donor access" if elected to office.
"The mayor and council members should be unable to receive political contributions from persons who have business in front of council," he said.
Despite being such an outlier in city politics, Holt is undeterred, believing the younger generation will shift mainstream politics. "The millennials and Gen Z are much more open and accepting of socialism, likely because they've never seen capitalism work for us our entire lives," he said.
The Democratic Socialists of Cincinnati endorsed Holt on May 17, referring to him as a "working class candidate," who "will represent all voices, not developers."
The organization has never endorsed a candidate for office, and co-chair Dan Berger "personally did not believe that we'd end up endorsing a candidate."
"Evan Holt was one of the first candidates to seek our endorsement," Berger said, adding the DSA "put him through the ringer with an intensive vetting process."
Berger has campaigned personally for Holt and despite his weariness of Holt calling himself a socialist, Berger thinks he is an honest broker and operates in good faith.
"Do I wish Evan were waving a red flag with a hammer and sickle on it on fountain square? Sure, but that's not who Evan is and I wouldn't want him to pretend to be that person or candidate just for my or anyone's support," Berger said.
Fran Wilson was equally enamored with Holt's story. Wilson is the co-founder and co-executive director of Primary Ohio PAC, a political action committee which utilizes small dollar donations, refusing "oil, gas, and pharmaceutical money," to "recruit, train, and support young, marginalized insurgent progressives to run for office."
"We saw a pretty big gap in Ohio politics supporting young progressives," Wilson said, "specifically from marginalized communities."
Whether the values ascribed to by Holt, Primary Ohio and the DSA are or should be reflected by the Democratic party is a matter of debate.
Due to his aforementioned DSA seal of approval, the Hamilton County Democratic Party didn't endorse his campaign, as a result of their newly created rule which stated "we will not endorse candidates who have been endorsed by another political party."
Brain Calfano, a professor of political science and head of the journalism department at UC, is deeply skeptical as to whether progressives can accumulate the same kind of victories in Ohio as they've claimed with candidates like Alexandria Ocasio-Cortez and Cori Bush.
While Calfano concedes there is a leftist contingent in state politics, he's unsure of its strength and thinks "unless we're talking about some parts of Cleveland, I don't see AOC, Bush or others having success here."
Nevertheless, Wilson believes Ohio leftists should push on.
 "We, as a generation, need to reinvent things," Wilson said, adding Holt is a shining example of finding possibility for change in a seemingly rigid political realm. "We can only find hope if we can help reimagine it for ourselves."