Pictures can be worth a thousand words, but The Cincinnati Project (TCP), a research initiative in the College of Arts and Sciences, aims to flip that idiom in its latest exhibition, "What Is and What Can Be: Women of Color and the Struggle for Justice."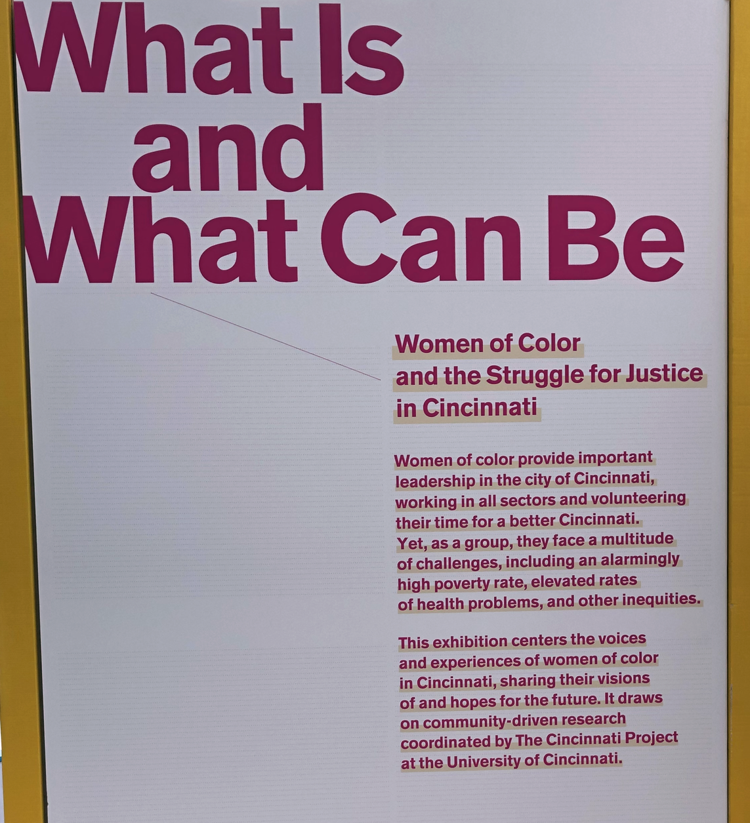 Its founders, director Jennifer Malat and sociology professor Earl Wright II, first conceived TCP in 2013. Through research, the organization works to promote equity throughout the city.
"We wanted to find a way for all the knowledge and resources we have as a university to help make our city a better place," Malat said.
This ambition led TCP to begin closely collaborating with several of its community partners. The initiative works with 30 community organizations and more than 400 University of Cincinnati students, faculty and staff at any given time.
Through research, TCP found a need to amplify the voices of women of color in Cincinnati. After three years, the initiative showcased its research to the public.
Turning research into an exhibition
Promoting women of color is a unifying point for the various research projects TCP conducts. It's what led the organization to focus its exhibition on amplifying voices.
The exhibition's curators, associate anthropology professor Stephanie Sadre-Orafai and assistant communication design professor Matt Wizinsky, worked with a team to brainstorm these five questions that frame three different TCP research projects into a single cohesive exhibit: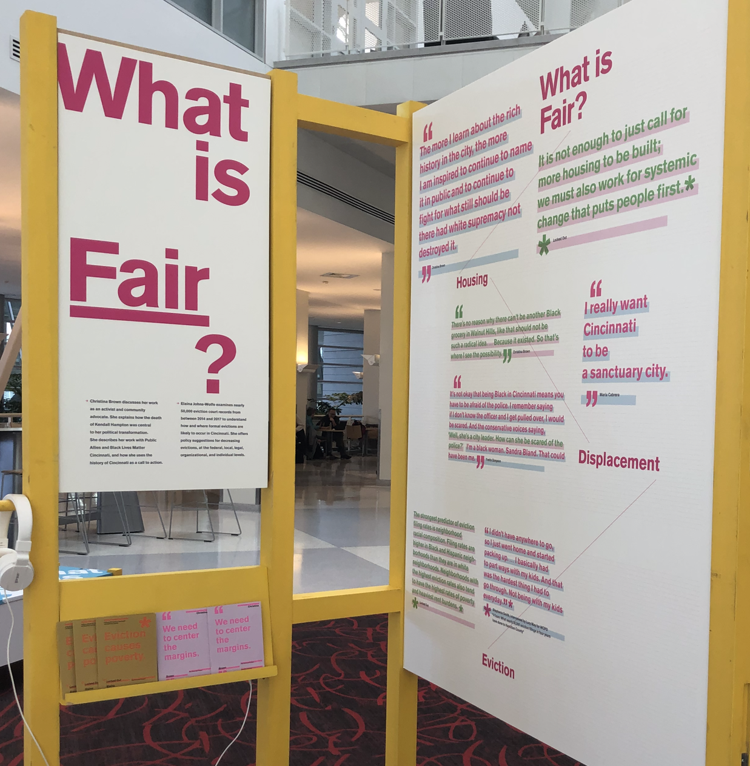 What is home?
What is community?
What is ours?
What is fair?
What is action?
Each of these questions are featured in large, bolded font on panels throughout the exhibition. The curators also created nine booklets for people to take home after visiting the exhibition — all of which can be viewed as PDFs on the TCP website.
These booklets encompass the work of Dr. J.T. Roane and Dr. Anjali Dutt's "Archiving Activism" project, which recorded the oral history of activists throughout the city. The booklets also contain Dr. Carolette Norwood's qualitative study "Place Matters," which chronicles the impact of violence on black women's sexual health in Cincinnati, and "Locked Out," a research project by Elaina Johns-Wolfe that tracks eviction in Greater Cincinnati.
The physical space, accented by structures with typographic illuminations and benches with bright pink headphones, allows attendees to sit down and hear these women's voices.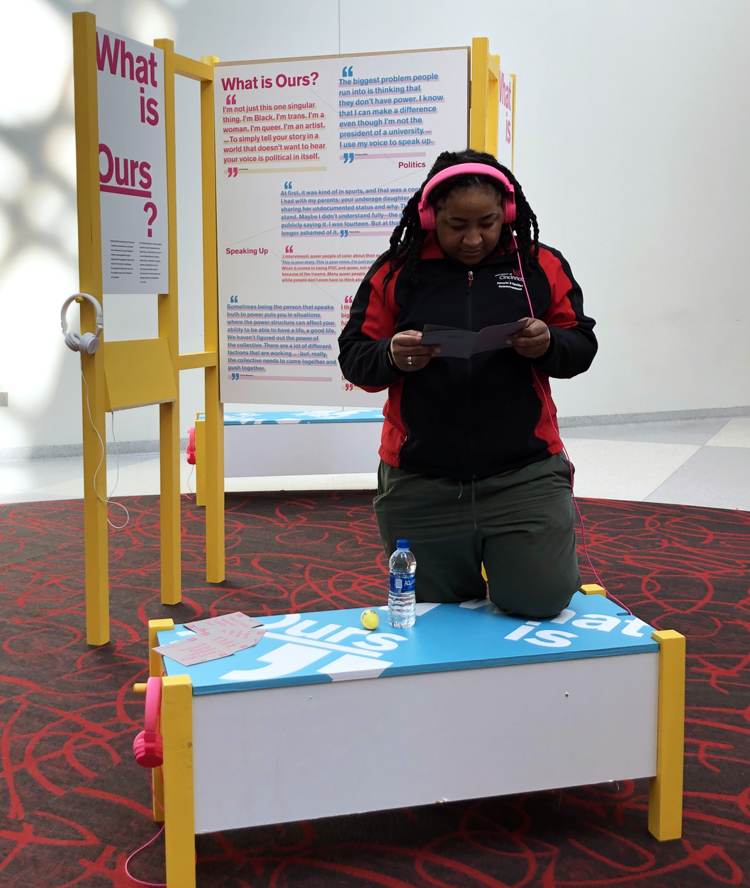 "We were [adamant] about putting women of color in the center," curator Sadre-Orafai said.
For Sadre-Orafai, the project was a labor of love — one in which she listened to and edited the oral histories featured in "Archiving Activism."
She particularly enjoyed curating the voice of Brittany Bibb, who now uses part of the main quote from her pamphlet — "You just need to start … It's gonna be hard, but you got it. You Black. You dope. It's all good" — as part of her brand by placing it on t-shirts in her online store.
Students were involved at every level to aid the collection of research, data and record voices, curators said. Munazza Aijaz, a fourth-year graphic communications student, created much of the design for the exhibition and booklets, said Wizinsky. The final production was handled by the Hot Take Press, a group of students who printed, colorized, cut and assembled the booklets.
"Locked Out"
TCP worked with two organizations — the Legal Aid Society of Southwest Ohio and Housing Opportunity Made Equal — to craft a database that maps evictions rates throughout Greater Cincinnati based on Johns-Wolfe's research.
Johns-Wolfe taught a TPC classroom course that allowed students to assist her research and define areas of the city with the highest eviction rates.
"Neighborhoods with the highest eviction rates also tend to have the highest rates of poverty and heaviest rent burdens," Johns-Wolfe said in her research. "The racial composition of neighborhoods is the strongest predictor of eviction rates, too."
"Archiving Activism"
In their Archiving Activism project, Roane and Dutt explored the power of oral history. From former councilwomen Yvette Simpson to Irate 8 co-founder Brittany Bibb, the researchers archived voices of women from the roots of their communities.
They recorded Maria Cabrera, an immigrant from Mexico who created Casa de Paz — a temporary home for Latina migrant women and children who have experienced trauma and violence — in her native Spanish.
The complete oral histories of the women featured in Archiving Activism can be found on Soundcloud through TCP's website.
"Place Matters"
In Norwood's research about violence, women's health and well-being, she evaluates the daily lives of African-American women in Cincinnati and their elevated risk to HIV and other STIs.
Her study carefully examines the impact of societal social arrangements, actions and policies to see how those structures may bring harm to social groups.
"Black women's experiences in Cincinnati are compounded by poverty and drug and alcohol use," Norwood said in her research. "Much of the violence that women in the sample endured went unchecked and un-punished."
Where to see it
The exhibition was previously hosted in the atrium of the Tangeman University Center from Feb. 17 to March 1. Now, it is on display at the Cincinnati Public Library downtown until March 25.