It's 8:55 a.m., and students have just been released from the grueling mental challenge that epitomizes an 8 a.m. class at the University of Cincinnati's Uptown campus.
With a full day ahead, students already struggle to keep their eyes fully open, and their bodies ache with fatigue.
The travel mug full of fresh coffee (as fresh as a Keurig can produce, at least) has run dry. Students are craving their next fix. They need caffeine, and they don't care how much it costs.
Inevitably, students meander toward the Starbucks at the College-Conservatory of Music (CCM) and jump in line. They hope to grab a double-shot macchiato with extra whip and 2 percent milk before their next class, but with a line that extends out the door, not everyone is optimistic.
Moving as quickly as possible, baristas at the CCM Starbucks work hard to meet the needs of the endless wave of students and faculty.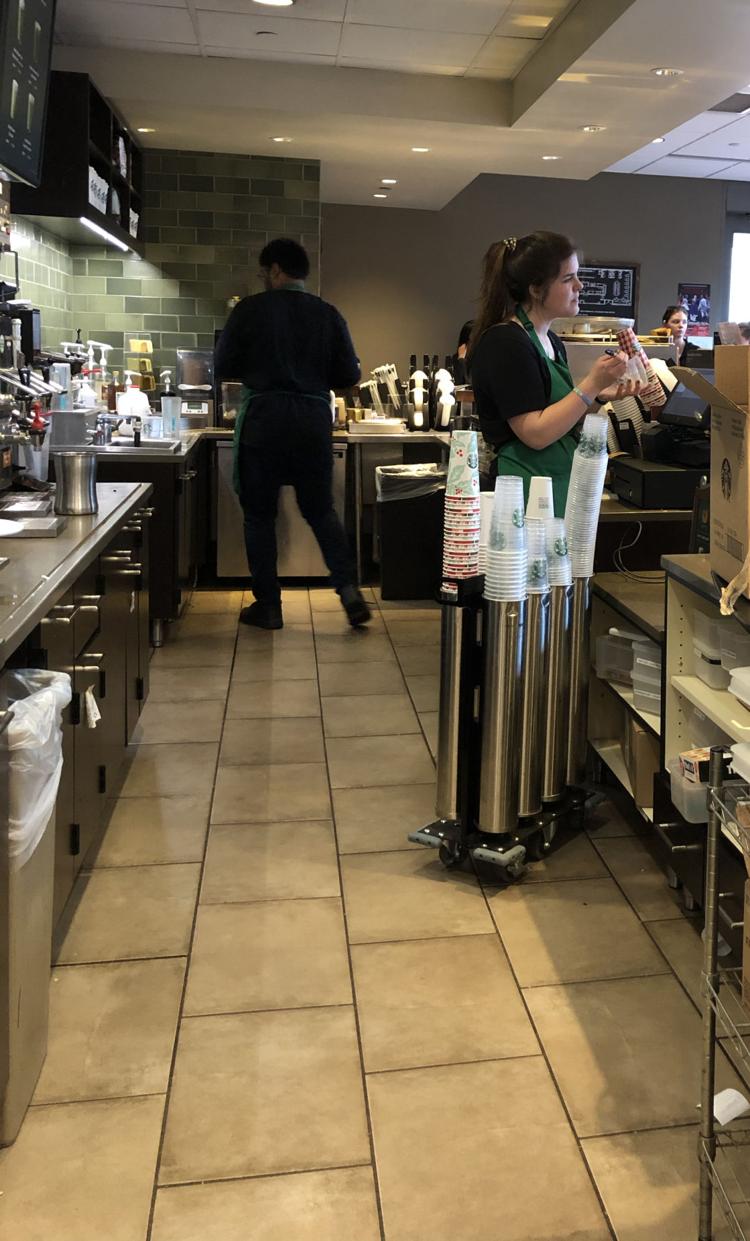 "Working at this location is nice," says barista Hannah Geiger, a second-year secondary education student. "Generally, it's all students, and they understand when the lines are long."
Geiger, 20, says those who are not deterred by long lines will sometimes wait for 40 minutes or more to get their morning drinks. Despite the constant stream of people, Geiger says she enjoys working for Starbucks on campus.
"The hours are super flexible, and because we are students, I can choose my own hours," she says.
Geiger has been working for Starbucks on campus for just over a year. She has rotated between all three locations — CCM, MainStreet and Langsam Library — each semester, but she prefers working at the CCM location.
"I work mostly afternoons and evenings now, and it's not as bad," she says.
Like the constant flow of her job, Geiger is busy. When she isn't on campus, she's usually leading the Young Life youth group at Indian Hill High School or catching up on schoolwork.
As Geiger mans the register, a timid student reaches the front of the line and shoots her a panicked look, profusely apologizing for holding up the line. The student has no idea what to order.
Geiger brushes a piece of her hair from her face, haphazardly stuffing it back into her messy ponytail. "Really, no one is in that much of a rush here," she says. "Do you want something cold or something hot?"
Geiger works with the student to diagnose exactly what they want to drink. When people aren't sure what to order, they often ask Geiger what she prefers. "They think that because I work here, my taste is refined," Geiger says.
The student finally settles on a tall iced chai latte.
Geiger is a people person. She chats with her co-workers as she pulls a bacon and cheese sandwich out of the oven and calls out the name written sloppily on bag to find its owner. It hardly seems like work. She's in her element.
No matter how hard it gets between the constant flow of people and the coffee chain's ever-changing menu (remember the blonde espresso craze?), Geiger says she's glad to be a barista.
"I love when I get to know my customers' names," she says.
She enjoys how excited her customers get when they realize she took the time to remember who they are, she says. And she always enjoys a good laugh when customers utter an embarrassed "I come here too much" after she writes their name correctly on their cup without bothering to ask for it first.