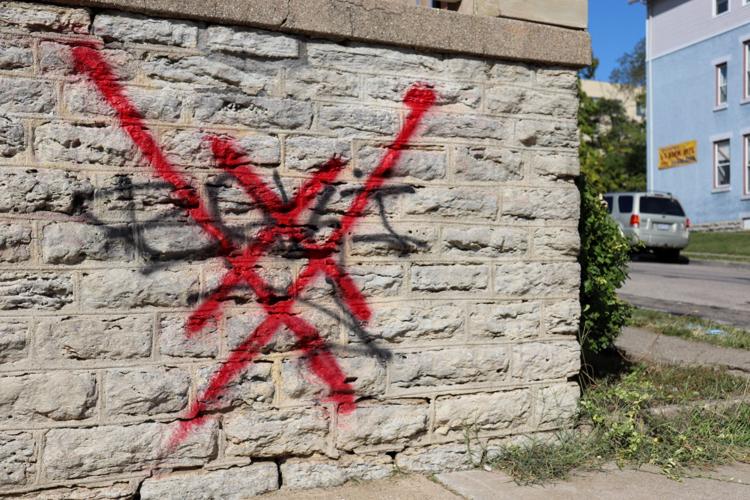 An anonymous graffiti artist has left their mark on and around UC's campus with spray-painted symbols on landmarks, campus buildings and even in bathrooms.
A Sept. 4 post on Reddit shows the graffitied symbol resembling the letter W on a bathroom wall inside the College-Conservatory of Music (CCM). Spray-painted underneath the tag was an Instagram handle for a local graffiti artist who goes by the moniker "White Rabbit" — seemingly a reference to the character in the classic Lewis Carol book "Alice in Wonderland."
And just like Carol's titular character, with each post the viewer is begged to "Follow the White Rabbit." 
Scrolling down White Rabbit's Instagram profile provides a veritable collage of tags and stickers that discreetly dot Cincinnati's landscape, often near beloved landmarks. The White Rabbit has tagged multiple structures around Cincinnati at Newport Aquarium, International Friendship Park and in Over-the-Rhine.
"Whenever you put up a new slap, sticker, tag or piece, you're adding to that bread crumb trail of your name and your work," the artist told The News Record via social media on the condition of anonymity. "You put stuff where the most people will see it, so campus and Clifton are perfect for that." 
So, who is White Rabbit? 
The artist began their graffiti career when they were young and cited punk rock as a major influence.
"I developed interests in music, photographic illustration and making s--- in general," White Rabbit said. "Years of photographically documenting everything I saw soon turned into constantly seeking out new places around the city, more pictures of writers (graffiti artists) I hadn't seen before. After that, I just got lost in it and started writing."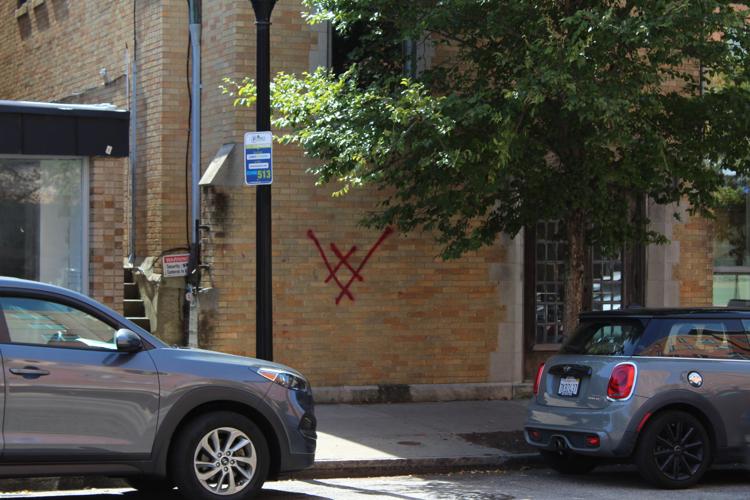 In an email to The News Record, UCPD Chief Maris Herold said graffiti is not a chronic problem on campus. However, serial taggers can become problematic as graffiti removal is both expensive and difficult, she said. 
Herold cited a collaborative effort with the Department of Facilities and business partners such as Keep Cincinnati Beautiful — a local nonprofit dedicated to getting Cincinnatians more involved in upkeeping their neighborhoods — to prevent and quickly remove graffiti as soon as it happens on campus. 
"Our main focus is to decrease litter, promote sustainability, decrease blight and really just cultivate community pride through education and beautification," said Alistair Probst, greenspace program manager at Keep Cincinnati Beautiful.  
The organization claims to have removed over 7,000 tags throughout the city since it was founded in 1978. It works with volunteers and local law enforcement to remove graffiti all around the city. In addition to litter and graffiti cleanup, the organization also uses murals and street art to beautify neighborhoods and cover up graffiti hot spots.  
Probst said keeping a database of known taggers is crucial for law enforcement to tamp down on graffiti, and the White Rabbit is definitely on the organization's radar.  
"Obviously, I'm aware that what I'm doing is in a legal gray area, but you can't let that stop you," White Rabbit said. "If you're not getting up in visible spots nobody's going to see it. At the same time, the repetitiveness of it and idea of getting caught is a lot of what makes it addicting."  
Even though graffiti is a legally sanctioned practice, that doesn't exclude it from being considered an art form, said Derrick Woodham, professor emeritus at UC's school of Design, Art, Architecture and Planning (DAAP).  
"Once you accept that it can be an art-form, the issue is up to interpretation," Woodham said.  
Woodham noted that practitioners of graffiti should be willing to accept the consequences of their actions.  
"Any street art or art in general, anything from the big murals downtown to the little throwups in OTR, all begin with a tag or something small," White Rabbit said. "Tagging is [graffiti] in its most distilled form, so if you value any of that art, see a tag and can't recognize that they're one in the same, you're a hypocrite."