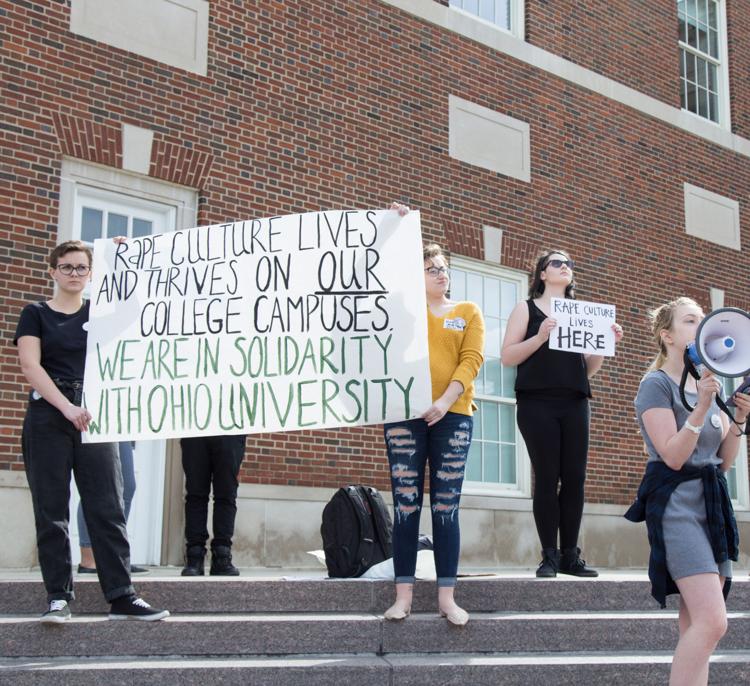 Incidents of sexual assault at the University of Cincinnati (UC) are following a national trend, with many survivors reluctant to report crimes to authorities.
So far this semester, 11 incidents of sexual assault have been reported to the University of Cincinnati Police Department (UCPD), according to the university's daily crime log.
While these survivors may have been willing to seek help from authorities, data reveals that as many as 59% of sexual assaults at UC go unreported.
An analysis of university crime data shows that 135 incidents of sexual assault were reported to authorities from 2016 to the end of spring semester 2020.
Women Helping Women (WHW), an on-campus group that provides confidential advocacy services to student survivors, recorded 63 incidents of sexual assault in 2018. Those statistics were provided to the university's Department of Public Safety for its annual security and fire safety report.
These incidents were left out of The News Record's final analysis, however, as it is unclear how many of those survivors reported to police.
According to a survey conducted by the university in spring semester 2020, approximately 13% of the 2,545 students who responded said they had experienced "non-consensual sexual contact" since attending UC.
That means at least 326 students have experienced some form of sexual assault during their time at the university.
Other surveys have reported similar results. A 2019 survey of 181,752 college students by the Association of American Universities also found 13% of students experienced non-consensual sexual contact.
This reluctance of survivors to come forward may not come as a shock to some, as federal crime statistics have found an even lower rate of reporting.
According to data from the Bureau of Justice Statistics, approximately 75% of sexual assaults nationally were not reported to police in 2018.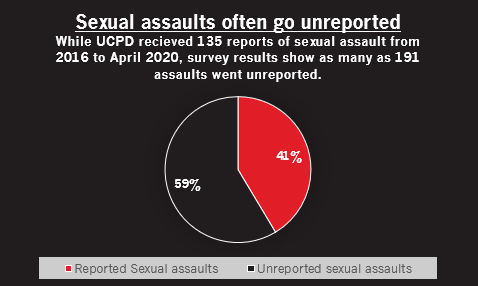 "It's really normal for survivors to not come forward right away, or ever come forward to police at all," said Megan Thomas, a spokesperson for the National Sexual Violence Resource Center.
One reason for this is that survivors often do not have any assurances that coming forward will be beneficial to them, Thomas said.
"Public Safety and the UCPD always encourage victims of any crime to come forward," UCPD spokesperson Kelly Cantwell said in an email.
Initial reports of sexual assault are taken by patrol officers and handed off to the department's investigations team, Cantwell said. "Investigators will have to ask questions that may be uncomfortable, but they are trying to build a case and details are important."
Ultimately, it is up to the prosecutor's office to file criminal charges, she added.
Cantwell said UCPD's jurisdiction in investigating these crimes is relegated to incidents that occur on campus. Off-campus incidents need to be reported to the authority with jurisdiction, such as the Cincinnati Police Department, she added.
Regardless of where the incident occurred, the university's victim services coordinator is able to assist students throughout the criminal legal process, Cantwell said.
But just because a crime is reported does not mean the perpetrator will face criminal charges.
Only 20% of reported sexual assaults lead to arrest, according to statistics from the Rape, Abuse & Incest National Network.
Though it may seem counter intuitive, a higher rate of reported sexual assaults demonstrates that survivors are comfortable enough to come forward, Thomas said.
"One of the big underlying reasons why survivors don't report is because we as a society have not proven to them that we're going to take that seriously," she said.
An alternative to the criminal justice system for student survivors are university procedures for handling allegations of sexual assault and harassment.
Advocates for survivors of sexual assault on college campuses have expressed concern that recent changes to Title IX, the federal civil rights law that prohibits sex discrimination in education, has created an adjudication process that mirrors the criminal justice system.
"Title IX is about creating equitable procedures, and the burden is really on the school to investigate what happened," Shiwali Patel, director of justice for student survivors at the National Women's Law Center told The News Record in September.
However, the new policy "is holding complaints of sexual harassment to a higher, more burdensome standard than any other type of student or staff misconduct," she said.
Proponents of the Title IX changes argue that regulations are needed to bolster due process rights for the accused.
Prevention of sexual assault is not just a responsibility at the bystander level, but also in policymaking, Thomas said. "Institutions play a huge role in creating a culture that survivors feel comfortable coming forward."