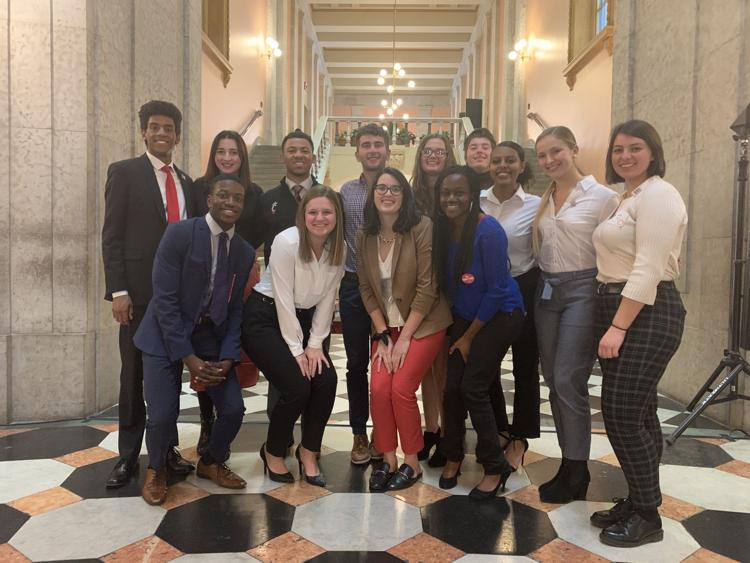 The University of Cincinnati Undergraduate Student Government (SG) is collaborating with the Ohio State University's student government to voice student desires for tax exemptions on textbooks, medical amnesty on campus and the general accessibility of higher education.
15 members of UC's student government traveled to Columbus Nov. 13 for Advocacy Day, a revitalized version of previous annual Take the State initiatives. The UC and OSU students scheduled meetings with 25 Ohio representatives and legislators to lobby for action that would directly affect college students. The lobbying topics were solidified by the governmental affairs teams at both UC and OSU.
"We did our best to make sure that we were advocating for issues that every student could get behind," said Josh St. Pierre, chair of UC's governmental affairs committee, "Keeping in mind that affordability and accessibility in higher education are already at the forefront of discussion in the statehouse and across the country, we decided to capitalize on that."
The student governments at UC and OSU have collaborated for years to hold events each semester in hopes that the combined efforts of two large public universities would be more effective that tackling the issues individually.
"Overall, I am pleased with the progress that was made through this collaborative effort to put student voices at the forefront of legislation and conversation on these issues." said Chandler Rankin, UC student body president. 
UC has medical amnesty for students, which means they are protected from legal punishment in the event they go to the hospital for alcohol or drug-related medical help. While OSU's student government is working to get a similar protection established on their campus, SG is collaborating with them to get this type of protection enacted across the entire state.
St. Pierre said the meetings were very successful in bringing the concerns of students to the desks of representatives. After a meeting with Reps. Bride Rose Sweeny (D) and Niraj Antani (R), they introduced House Bill 410, which would remove the sales tax on student textbooks in Ohio. 
House Bill 9 was another topic of discussion that legislatures were receptive of hearing student concerns about. The bill involves the transfer of credits among universities in Ohio and would allow for the establishment of universal general education degree requirements.
 "It was very exciting to see our efforts be immediately recognized," said St. Pierre. "We are confident and looking forward to the next steps in the process to try and get this bill passed."
SG will likely return to the statehouse in the coming months to testify on H.B. 410 and is planning another Advocacy Day for next spring, which will be open for any UC student to attend.
"We want to ensure that we continue to advocate for the best interest of students on statewide issues and policies that will directly impact us," Rankin said.