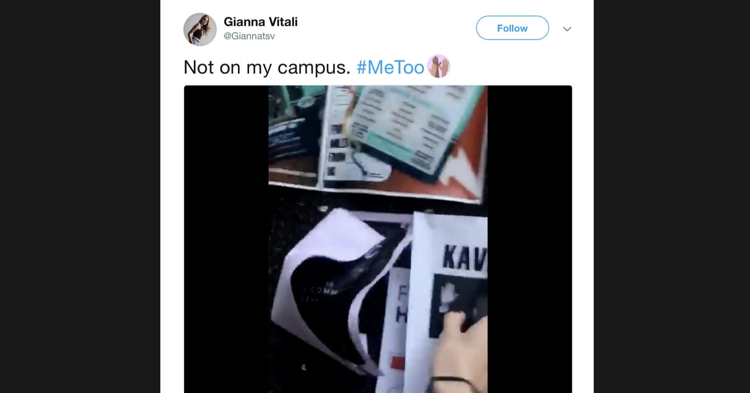 A majority of the University of Cincinnati Undergraduate Student Government (SG) student senate voted against a student court candidate Wednesday — a largely uncommon occurrence in SG confirmation hearings.
Gianna Vitali, a third-year student majoring in journalism and international affairs, did not receive the required number of votes to be confirmed as an associate justice at the weekly student senate meeting Nov. 6.
Vitali served last year as executive director of public relations for SG. She sparked controversy last year in the wake of the sexual assault allegations coming out against then-unconfirmed Supreme Court justice Brett Kavanaugh.
In October 2018, Vitali posted a video to Twitter that showed her ripping a pro-Kavanaugh sign off a bulletin board on UC's main campus. She received backlash from many people online who accused her of censorship because of her direct association with SG.
During her confirmation hearing, senators brought up this previous controversy and questioned her on her ability to stay unbiased in her position on student court. Vitali affirmed her only motives behind tearing down the sign were to show support to fellow survivors of sexual assault and the "Me Too" movement. 
"I didn't want survivors to see that and feel like their campus doesn't care about them," Vitali said. "There was absolutely no political motive behind it. It didn't matter that [Kavanaugh] was a conservative judge or that he was nominated from Trump, it was the fact that he had these allegations against him and was going to be confirmed to the Supreme Court."
Vitali said that if she had never posted the video, she would have been confirmed to student court, and that she doesn't regret her actions. During Vitali's hearing, she said she felt like she had to defend herself as a survivor when senators were questioning her motives in taking down the sign. 
"It's hard to stay level-headed when talking about sexual assault," she said. "I feel like I'm reliving the entire thing every time I have to talk about the poster, it makes me feel like I'm in the wrong for being a victim."
Vitali further explained that she would recuse herself from a case in the event the student court handled a case regarding assault, but those usually remain under the jurisdiction of the university's Title IX office.
"The post of student court is to be fair and just and that's exactly what I intend to be," she said. 
SG has confirmed six students to serve on student court. Eight students were selected from a pool of applicants to go through the confirmation process — six to be chosen for the position of associate justice and two for judicial aid positions.
After the candidates complete the interview process with student body president Chandler Rankin and Chief Justice Maddie Bruening, they must be voted in by two-thirds majority in the student senate. 
Six out of the eight candidates attended to present themselves before the legislative body to be confirmed. Joshua St. Pierre, Zofia Pittman, Noor Ghuniem and Vedant Soni were all confirmed as associate justices, and Aaron Bialon was confirmed as a judicial aide. 
Vitali can return to senate once more to try and receive the majority votes to be confirmed as an associate justice, according the SG press secretary Makayla Stover. Vitali will likely join the two other nominated candidates who could not attend Nov. 6.