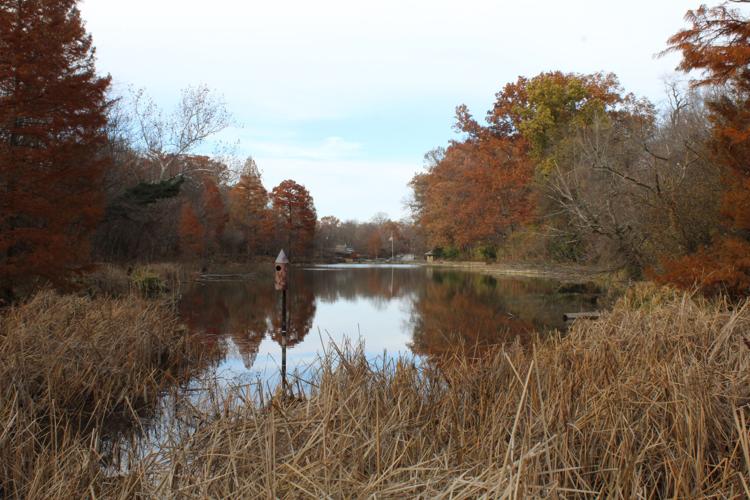 As the city of Cincinnati prepares for phase two of a massive renovation of the city's outdated sewer system, University of Cincinnati students are expressing concern over a proposal to replace sewer lines in the nearby park of Burnet Woods. 
On Nov. 19, a group of UC students attended a meeting of the Cincinnati City Council's Education, Innovation and Growth Committee to address their concerns over an approximately $12 million proposal by the Metropolitan Sewer District of Greater Cincinnati (MSD) to reduce overflow in and around Burnet Woods by renovating the sewer system there. 
As part of the "Green New Uptown" interdisciplinary course series, which debuted this semester, students from departments across campus have investigated key ecological problems pertaining to the university as well as the neighborhoods and parks that surround it. 
In reporting its findings to city council, the group noted that renovation of the existing sewer at Burnet Woods is necessary due to its age and inadequacy, coupled with potential for increased incidence for intense rainfall caused by climate change. At the same time, the group also found that construction of a new sewer line in the park could disturb an area of old-growth forest approximately three times larger than the area of where the sewer line is being installed. 
"Construction itself can cause a lot of issues," said Mallin Blaxall, a fourth-year environmental studies student who is part of the group analyzing the MSD's proposal. She also noted the environmental footprint of construction is often larger than the project itself. 
While it may be hard to monetize the value of an old-growth forest like Burnet Woods, it does offer a number of benefits to both wildlife and the surrounding communities, Blaxall said. 
"Just from a social perspective, green space is really important for individuals and for communities," she said.
As parts of the city's sewer system date back roughly 180 years, some sewer lines still combine stormwater with sanitary sewage from residences, businesses and schools. 
When this system is overwhelmed by excess rainfall, it leads to combined sewer overflow, which causes sewage to spill out into waterways, homes and parks, said MaryLynn Lodor, deputy director of the MSD. The sewer's capacity can be thought of as a glass of water, she said. 
"However big your glass is, is how much water that glass can hold," she said. "You can always try to pour more water into that glass, but it's going to overflow." 
Besides flooding, overflow can contribute to the pollution of waterways. 
Due to a federal mandate from the Clean Water Act, the City of Cincinnati and MSD are in the midst of a multi-billion-dollar initiative to reduce the prevalence of overflows, dubbed "Project Groundwork." MSD has completed nearly a decade's worth of improvements totaling approximately $1 billion worth of renovations and is gearing up for the second phase of this project beginning in 2020. 
The city has already managed to reduce overflow by approximately 6 billion gallons per year, said Lodor. 
The stormwater coming from UC is all collected in a combined sewer just upstream of the park, according to Lodor. The Burnet Woods proposal aims to reduce overflow by separating the combined sewer beneath Martin Luther King Drive and creating a storm infrastructure leading from UC to Burnet Woods — revitalizing a stream in the process. 
Work also needs to be done on the existing sewer in the park, as parts of it are undersized and outdated. Water from the stream in Burnet Woods will be routed through another storm line to Mill Creek, said Lodor. 
While she notes that MSD's planned stream revival and other green infrastructure projects are positive additions to the park, Blaxall wants the city to be mindful of its impact on the ecosystem. 
"It's going to be a huge undertaking," she said of the project. "In some aspects this seems like a really cool project, but you also have to remember that Burnet Woods is a very unusual gem in a very urban area."
As much of this project will directly service the UC community, she said she hopes to see the university take more of a leadership role.  
The university along with MSD, Cincinnati Parks and the Mill Creek Conservancy District is currently in the process of trying to secure roughly $2 million in federal grant funding to assist with the stream revival project. 
Blaxall said, despite this engagement, the university still has a larger part to play and that it should take a larger level of responsibility. 
Reactions from city council to the group's findings appeared to be positive. 
"We're undergoing the largest public works project in the history of our city with 'Project Groundwork,'" said councilman Chris Seelbach at the Nov. 19 meeting. "Billions of dollars are going to be spent and are spent on replacing our sewer system. So, I think if we can find ways to do it more environmentally sound and with less impact on parks, we'd all be better for it." 
While acknowledging the park has difficulties with community engagement, Blaxall still encourages students to pay attention as the project unfolds in the coming years. 
"In all, I think a lot of UC students don't utilize the park," she said. "I know plenty of people that have been her for four or five-year programs and have never set foot in there, but community engagement and due process is very important and students being involved with that can create a pretty large voice."