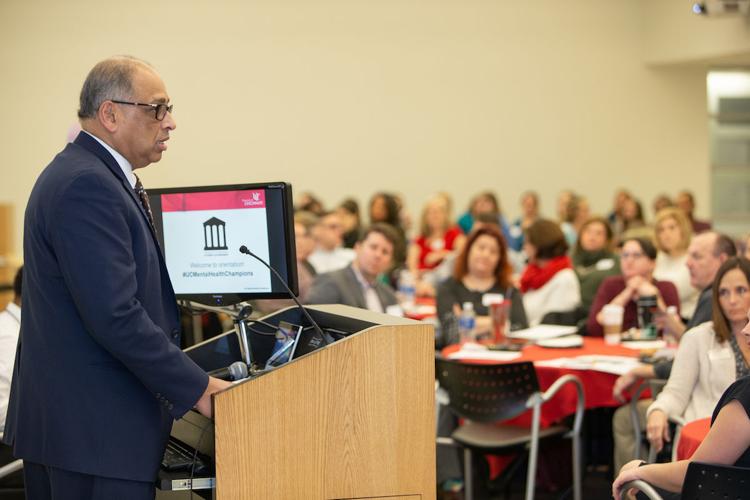 Kicking off the second half of the 2019-2020 school year, the University of Cincinnati Undergraduate Student Government's (SG) student body president and vice president, Chandler Rankin and Abbie Smith, lay down their focus for the last three months of their administration.
Following SG's first meeting of the semester Jan. 15, Rankin and Smith caught up with The News Record to share their hopes for the remainder of the school year, as well as what they'd like to implement to ensure that they live up to their campaign promises.
One thing Rankin wants to do during the second half of his term is to reassess "where we are, what's still on the table and honestly just be realistic with ourselves," he said.
Rankin cited a number of issues he and Smith are looking to focus on this semester including their Mental Health Champions initiative, the rollout of the Langsam Charger Rental program and centralizing resources for sexual assault survivors on campus.
They are also excited to launch their Survivor SAFE Fund this semester and will be asking the SG senate to allocate funds for the initiative, Smith said.
The fund is aimed at covering the medical costs associated with sexual assault, such as emergency room visits, so that survivors don't have to pay anything out of pocket, she said.
Smith also acknowledged that while the administration has run into some complications in delivering its promise to introduce composting on campus – a key piece of their campaign's platform – a small task force has been put in place to work on other environmental initiatives.
Rankin and Smith also touted their successful launch of the Mental Health Champions initiative, during which approximately 130 faculty and staff were in attendance during the Jan. 7. orientation.
"There was better response than we anticipated, we expected to maybe have 30 to 40 people go through our initial training," Rankin said. "Really just an inspiring day."
The "champions" are still required to go through follow-up training sessions, with participants hopefully being certified by the end of May, he said.
The two are still exploring ways to sustain the program beyond the end of their administration and plan to make a proposal to university administration regarding the future of the program next month.
Smith says they have already received "overwhelmingly positive" feedback from faculty and staff who attended the orientation session.
"Even within a week of our orientation session we're already seeing the benefits," she said.
But this is not the solution to mental health problems on campus, said Rankin, noting that they had to find something they could tangibly accomplish in the 12-months of their administration.
"It's a piece of the puzzle," added Smith.
During the meeting, Rankin also touched on UC's volatile relationship with Title IX coordinators in recent years and how he hopes to work with UC President Neville Pinto's office to ensure the next coordinator is here to stay.
"Four people in four years is unacceptable," he told the student senate, adding that he is already in talks with Pinto and provost Kristi A. Nelson about the issue.
The university went almost two years without a full-time Title IX coordinator after the departure of Jyl Shaffer in 2016. Shaffer's replacement, Andrea Goldblum, stayed in the position only 10 months before her controversial ouster last year.
Matt J. Olovson is the university's interim Title IX coordinator until a full-time replacement can be found.
"It's a tough question we've been grappling with," Rankin said. "The need on campuses across the country when it comes to survivors and sexual assault prevention is huge – we are no exception to that."
High turnover in the Title IX office has not allowed for issues of gender-based violence to be adequately addressed, he said, adding that students need to be an integral part of the hiring process.
Looking ahead, Rankin and Smith want to ensure that by the end of their term they can offer a smooth transition for the next administration.
"This is a really important time for us to make sure that we're setting up the new administration for success," Smith said.