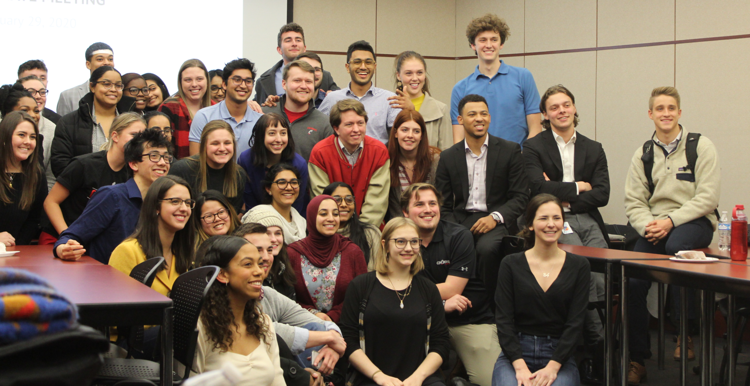 The University of Cincinnati Undergraduate Student Government (SG) held its weekly senate meeting at UC Blue Ash, bringing together representatives from all the university's campuses.
Held in room 100 of Walters Hall, the Jan. 26 SG meeting saw a rare gathering of student representatives from Uptown, UC Blue Ash and UC Clermont.
While it proceeded with the same order and structure of a typical senate meeting, UC Blue Ash Dean Robin Lightner made an appearance to greet the Uptown representatives and give a brief introduction to the college, as well as deliver a message: remember UC's regional campuses.
Though much smaller in size compared to Uptown, the university's regional campuses in Blue Ash and Clermont County housed approximately 17% of UC's total student population in 2018, according to university data.
As a regional campus, Lightner said UC Blue Ash's role is creating an "open-access" entry for prospective students with lower test scores.
"When you have an ACT cut off of 25 [or] 26, you're cutting off a large part of the population who really could benefit from high quality higher education experiences," she said.
Another reason prospective students find UC Blue Ash so attractive? Cost, said Lightner.
Last year full-time in-state students could expect to pay $11,000 in tuition at UC's main campus. However, students at UC Clermont and UC Blue Ash could expect to pay $5,000 and $6,000 respectively. These costs are more than double for out-of-state students.
With a considerable size difference between UC's Uptown and regional campuses, Lightner says that transitioning to Uptown poses some daunting changes for her students. Approximately 600 to 700 students transfer from UC Blue Ash to Uptown each year, she noted.
"I think anytime someone goes from a smaller school to a bigger school they feel kind of anonymous," she said.
As UC Blue Ash students are enrolled in primarily two-year programs, there have been difficulties finding representatives that will continue to stay involved with SG and Uptown, said Lightner.
"First, remember that we exist," she told the cramped room of senators, urging them to be mindful of UC Blue Ash students when organizing initiatives.
That sentiment was echoed by the student representatives from UC Clermont, who said they feel that their campus is often forgotten by the rest of the university because of a lack of engagement from their student body.
"It's such a fast turnover rate, people are there a year or two and don't really get involved in the campus," said Sarah Francis, second-year business communications major and UC Clermont student body vice president.
Part of the blame also lies with previous student government administrations at the college who were not as concerned with being actively involved with their Uptown counterparts, said Alex Mullen, second-year pharmacy major and UC Clermont student body president.
So far, the two say that they have been encouraged by their interactions with SG this semester and hope to continue working together in the future.
"It's been amazing, honestly, being able to see a larger campus [and] how they function as a whole," Francis said. "The things that we've learned we can take back to our campus."