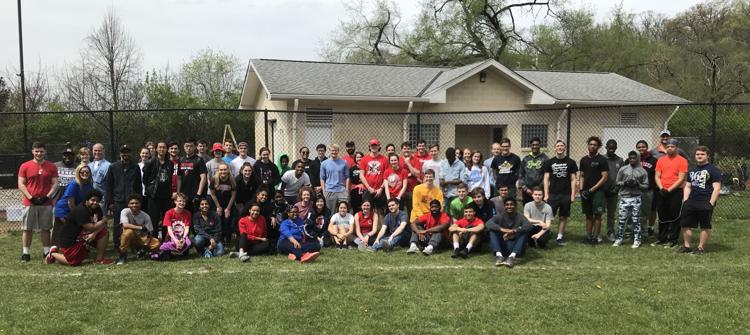 A University of Cincinnati student is organizing his second event aimed at beautifying a local park and helping more UC students to engage with the surrounding community.
The Coy Field Care Day initiative was started last year by Karthik Sakthivel, a third-year medical student at UC, as a way to make Coy Field more appealing to the surrounding communities through beautifying the landscape and facilities.
Located just north of UC's main campus, Coy Field is a three-level park surrounded by greenspace complete with a playground, football field, baseball field and a basketball court.
This year's event aims to expand on the group's previous work by including a kickball tournament as well as additional service opportunities for UC students and community members to get involved with, said Sakthivel.
"We're really trying to promote the event overall as a community event this time," he said.
The park is mostly used by families and as a practices field for the local Hughes High School's sports teams, said Nathan Hess, president of the CUF Neighborhood Association. However, the park has suffered from a number of problems such as plant overgrowth, graffiti, litter and disrepair of some of the facilities, he said.
While searching for a "community project" to get involved with, Sakthivel initially heard about Coy Field through UC's Center for Community Engagement (CCE).
"[I] thought that'd be something that I could make an impact on," Sakthivel said. "The project's just kind of grown ever since."
Funded through grants from the university, last year's event saw approximately 60 UC students attend, as well as a total of 20 students and staff from Hughes High School, according to Sakthivel. The event also received a positive reception from the community.
"Last year, it was really successful — everyone involved head great things to say about it," Hess said. "The park looked really good after the event and people said that they would like to do it again this year."
While he thinks Coy Field Care Day is a great initiative, Sakthivel also wants to find a way to keep the park clean long-term.
"We're trying to find the best way to make sure that we're maintaining this area throughout the year," he said.
This year's event has already partnered with the CCE, Cincinnati Public Schools, the Cincinnati Recreation Commission, the Club Sports Board, UC Undergraduate Student Government, the UC Faculty Senate and Student Activities and Leadership Development.
The kickball tournament will feature teams from both UC and Hughes High School.  
Given Coy Field's status as a "community hub," Sakthivel believes it's important that UC students — as members of the larger Uptown community — do their part to take care of the park.
"I think it's important that we take the time to really care about the different locations and things that are in the community," Sakthivel said. "Coy Field being one of those things that's kind of been forgotten about."
"It provides more of a bond to the community if you put something into it yourself," he added.
This year's Coy Field Care Day will be held April 4 at 10 a.m., with kickball beginning at 1:30 p.m.