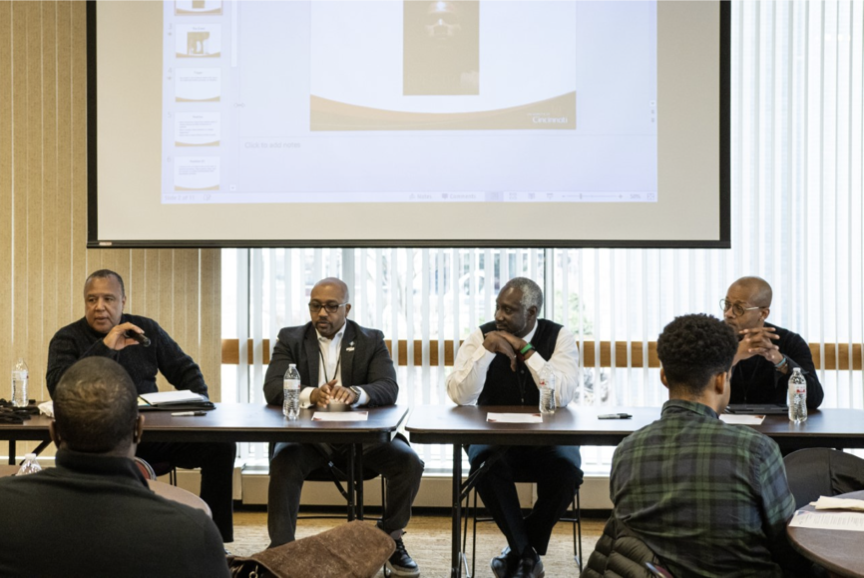 The African American/Black Male Staff (AABMS) hosted its inaugural Black Male Summit on Saturday at the University of Cincinnati (UC) to gather community members to discuss topics relating to the progression of Black males in higher education.
Students, faculty and staff were invited to the Black Male Summit, which discussed the importance of higher education, the Black male experience, academic and professional development, mental health awareness and other topics.
The event was hosted by the African-American/Black Male Staff, a UC organization that strives to implement strategies to create opportunities for the recruitment and retention of AABMS to serve the university and extended community, according to the group's website.
The organization's summit was funded by the UC Office of Equity & Inclusion and Dr. Bleuzette Marshall, current Vice President for Equity, Inclusion & Community at the university.
In addition, the summit was intended to establish and promote unity in the community, according to Kalen Butcher, the current Vice President of the employee resource group at AABMS. Butcher also served as the Conference Committee Chair of the recent summit.
"One thing that we really wanted to show ourselves, the UC community, as well as the Cincinnati community, is that there is power and growth through unity," said Butcher. "The topics that were presented and discussed at the summit were important as well, however, there is so much more meaning and movement behind Black males at the university and the local community coming together as one to tackle issues that have long plagued our community."
For attendees of the summit, the day consisted of speeches, panel discussions and networking opportunities, as many distinguished members of the UC community, such as the previous UC Director of Student Affairs/Director of the AACRC, Dr. Eric Abercrombie, participated in the event.
Abercrombie helped establish the African American Cultural & Resource Center (AACRC), where this very summit took place on UC's uptown campus. 
Other notable participants include Kenneth Simonson, retired UC CEAS director; J. Phillip Hollman, a UC Trustee; James Mack, the associate dean of the UC College of Arts and Sciences; and Guy Whembolua, associate professor of UC Department of Africana Studies.
Following the summit's theme of unity, prominent Cincinnati community members also helped to lead breakout sessions, including Mike House of Fifth Third Bank, Christian Bradley of TriHealth, and Vernon Rawls of Cincinnati Pan African Coalition/eXclusive Services.
Butcher and the AABMS have made it a goal to turn this inaugural event into an annual summit for the UC community.
"The AABMS Black Male Summit is an event that was built to bring the community together. We have identified and will continue to identify issues that pertain to the Black Male regardless of whether you are a student, staff, or faculty member here at the university," said Butcher. "This is an event where ALL of us can come together to work towards solutions needed yesterday, today, and tomorrow. We fully anticipate to grow this event next year, with more involvement and participation available to students, staff and faculty."