In February 2014, then-University of Cincinnati President Santa Ono announced that he had chosen Mike Bohn as the school's new athletic director.
"To recruit a leader of Mike's caliber and national standing only reaffirms the strength, promise and pride of UC Athletics," Ono said during Bohn's introductory news conference.
Bohn was awarded a five-year contract. In 2015, Ono extended his contract through 2021, prompting the UC athletic director to promise a "seismic transformation" within the program.
"We want national respect and the ability to play on the biggest stage possible," Bohn told Fox19 in October 2015. "It's really fun to be a part of. I feel like this is our time."
While the UC Athletic Department has experienced a profound transformation under Bohn, it is not the one he intended. Deficits have soared and students are paying the price.
Between 2014 and 2017, the athletic department's deficit totaled almost $102 million — a 33 percent increase over the prior four years, records show.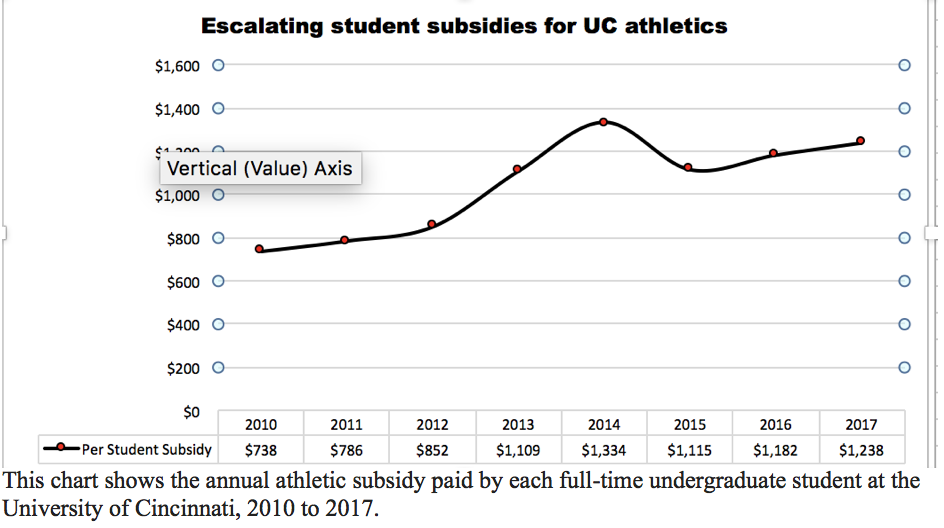 UC officials have covered the deficit with student fees and money from the school's general fund, which is primarily funded by student tuition. For a full-time undergraduate student, the four-year price tag to cover the athletic department's deficit was almost $4,900, records show.
Several students were surprised to learn UC officials have been quietly forcing them to pay thousands of dollars each to subsidize the athletic department.
"I'm obviously not happy about it," fourth-year social work student Drew Jennings said.
Before coming to UC's uptown campus this year, Jennings had previously attended UC's Blue Ash location where he was the 2016-17 Most Outstanding Student in Social Work.
"That money could — and should — be allocated towards things that would be useful for the student body as a whole," Jennings said. "The deficit isn't our fault. I would still attend this great university if they did tell us about it, but it just makes it even more shady on their part that they don't let us know at all."
David Ridpath, associate professor of sports administration at Ohio University, said students at most schools are unaware that their pockets are being emptied by the athletic department.
"You look at schools that aren't in the Power Five conferences, [including] Cincinnati," he said. "These are schools that are obviously heavily subsidized by student fees and their institutional subsidies."
Ridpath said the fee isn't the problem; rather, the lack of transparency with students poses issues.
"I think that paying a student fee for athletics is not inherently wrong in a sense that we are all a part of a community," said Ridpath, who recently completed a research study on student perceptions of the athletic fee in the Mid-American Conference — one of the most highly-subsidized Division I conferences in the NCAA. "My issue is the amount, and the fact that students don't have a real voice in this at many institutions, and not many know about it."
The News Record attempted on numerous occasions over six weeks to schedule an interview with Bohn through a UC Athletic Department representative. Despite their assurances that a meeting with Bohn was forthcoming, they were unable to arrange the interview.
"It's an investment, and it's an investment in the enterprise on campus," Bohn said of athletic subsidies in a 2015 interview with CityBeat. "It's a strategic investment with a high return."
He said he hoped to decrease the deficit.
"Our current strategy on our budget is to continue to generate as much revenue as we can externally," Bohn said.
Since 2015, the athletic department's deficit has increased by more than $3.5 million, and each student paid $123 more in 2017 than they did in 2015. Bohn did not see the decrease he said he had hoped for.
Bohn stated that a successful athletic department serves as an attractive "front porch" for UC, boosting applications from prospective students and contributions from donors.
Jimmy Dirr, a fourth-year accounting student at UC, said he wonders where the money comprising the deficit is going.
"It's unfair to students who don't go to these sporting events," Dirr said. "Half of this money is probably going towards luxury items that athletes don't necessarily need, such as alternate uniforms and warmups."
The department's total expenses for 2017 were $62.8 million, meaning student subsidies covered nearly 43 percent of their expenses, records show.
So, how is the department spending their money?
The head coaches of the football and men's basketball teams and their 16 assistants received a shared total of $8.76 million in 2017 — an average of $486,674 each, according to UC's NCAA Revenue and Expense report. By comparison, the university's 381 student-athletes received scholarships totaling $9.31 million — roughly $24,442 per athlete.
"Coaches are being paid in an artificial market because we aren't paying in labor," Ridpath said. "You're paying coaches who would be able to do this for a lot less. I just have an issue with somebody who is coaching and making more than the university president. John Wooden at UCLA couldn't make more than the highest paid professor … I do think that money to the coaches should be used for the athletes and more important things."
During a 12-year period as head basketball coach at UCLA, Wooden won 10 national championships.
UC's athletic department spent $2.1 million in severance payments in 2017. Approximately 90 percent of payments went toward one person — former UC head football coach Tommy Tuberville.
In October 2016, Tuberville signed a two-year contract extension with a $2.4 million buyout — more than double the buyout under his original contract, according to the Cincinnati Enquirer. Less than two months later, Tuberville and UC parted ways.
In the end, the university paid Tuberville $1.9 million — over $900,000 more than payments owed in his original contract.
"It's ridiculous," fourth-year construction management student Ryan Burch said. "After the position Tuberville left the program in, he shouldn't have gotten much of a buyout at all."
Cincinnati finished 4-8 in Tuberville's final season as head coach.
Conversely, second-year design student Jamie Cole understands the athletic department's need for the money, but wishes it was lower than the current annually-charged amount.
"I struggle to make $1,500 a semester," Cole said. "UC tried to join the Big 12 [Conference]. If we would have got into that, it definitely would have helped us out in the long run. I'd be all right with them taking money as long as it was under $1,000 and came with even more sports-related benefits [for] students — something that lets the athletic department show their appreciation."
The former treasurer for UC's College Republicans, Burch blames the administration for students' lack of awareness about their contributions to the athletic department. He also questions how the money has benefited UC teams.
"It's not showing in [their] performance on the field," Burch said.
Covering deficits with student funds is not unique to UC. When comparing athletic department student payments to other schools within the American Athletic Conference (AAC), Cincinnati students are near the top.
The News Record collected financial reports from every public university in the AAC except for the University of Memphis, due to Tennessee's public records laws. Records show that Cincinnati students contribute the second-highest proportion in the AAC — trailing only students from the University of Connecticut.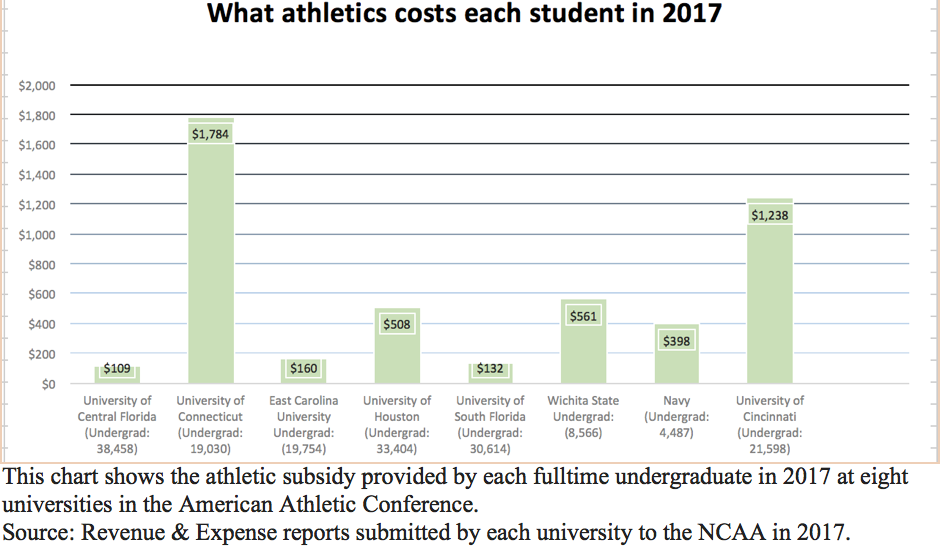 In 2017, the University of Central Florida received $4.2 million from the university to cover their deficit, but only $109 came out of each student's wallet. By comparison, UC students paid more than $1,200 that year.
Despite steady growth in athletic subsidies, it does not look like the fees will slow down anytime soon, according to Ridpath.
"We estimated athletic fees were rising 13 percent faster than the growth of tuition," Ridpath said.