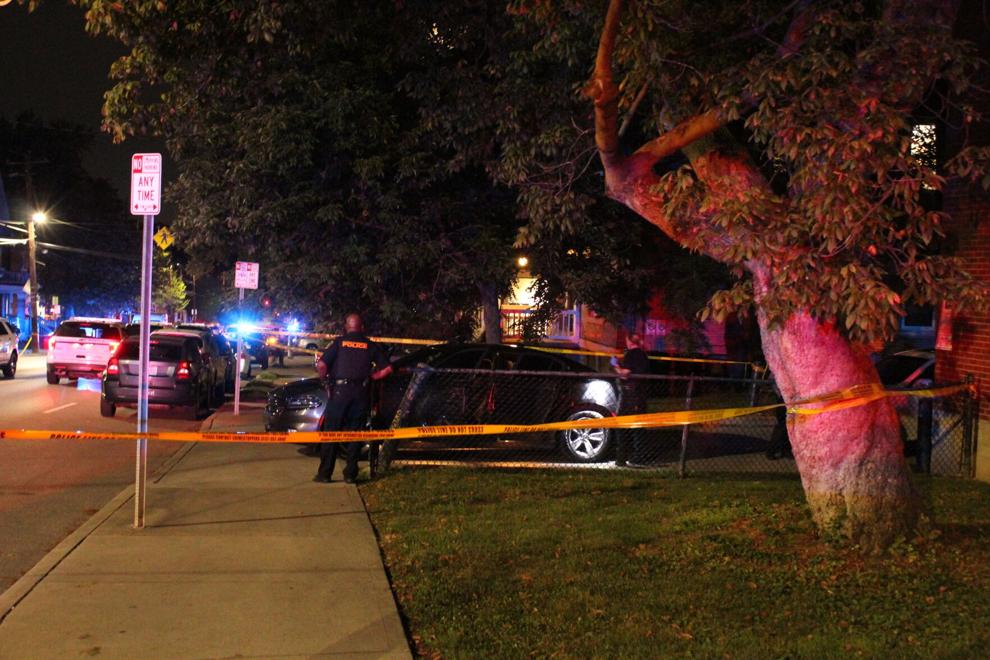 Some neighborhoods surrounding the University of Cincinnati's (UC) main campus have experienced an uptick in shootings in recent years. 
There have been a total 84 shootings, 13 of those being fatal, in the neighborhoods of CUF – an acronym for Clifton Heights, University Heights and Fairview – Clifton, Corryville and Mount Auburn over the past six years, according to data from the Cincinnati Police Department (CPD). 
Overall, 104 people, some as young as 16 years old, have been injured or killed. 
The neighborhood with the most shootings since 2015 was CUF – the city's largest college student enclave – with a total of 41, the data shows. Clifton has the second greatest number of shootings, with 26, followed by Corryville at 16 shootings. Mount Auburn only had one shooting.
According to the Cincinnati police data, CUF also had the highest number of fatal shootings, accounting for 85% of shootings deaths in the four neighborhoods over the last six years. 
Just days before the start of fall semester, a 20-year-old man – not believed to be a UC student – was shot and killed merely blocks from the university's main campus. 
Cincinnati police have previously cited a nearly 200% increase in shootings from 2019 in CUF with 17 shooting victims last year. CUF had the 10th highest number of shooting victims in 2020, Cincinnati's deadliest year on record, when compared to the city's other neighborhoods, according to data presented to Cincinnati City Council in January. 
Though not quite at the same level as last year, the city has experienced an uptick in violence this year as well – driven in part by an increase in juvenile gun violence, Chief Eliot Isaac told reporters during a press conference last month. 
"There's a lot of reckless, senseless violence taking place right now," Isaac said. "And until we get those responsible, everyone needs to take that extra precaution."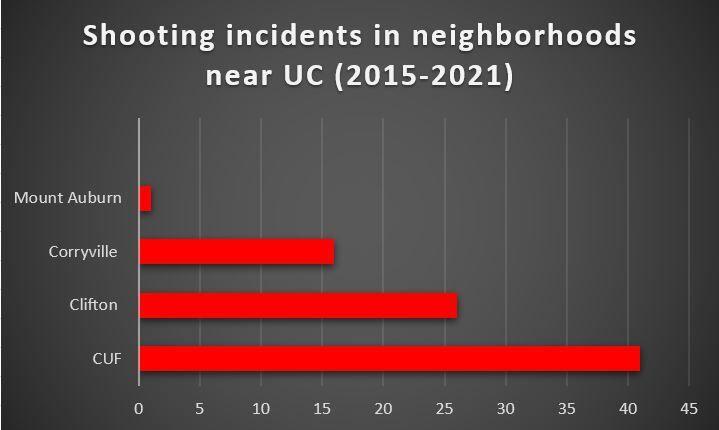 Isaac said Cincinnati police are working with federal authorities and putting additional resources in neighborhoods where there's been increased violence. 
"As I hear and talk to chiefs from around the country, they are dealing with a very similar issue," Isaac said. "This is a national issue what's happening with gun violence in our neighborhoods." 
Last year, the U.S. experienced its highest single year increase in homicides in over a century – with the number of murders rising 30% from 2019. According to the FBI, firearms were involved in the vast majority of those murders. 
It's not clear why there was such an increase in violent crime, specifically homicides, last year, but there are a few theories, Cory Haberman, an associate professor of criminal justice and director of the Institute of Crime Science, told The News Record. 
Some possible explanations floated around attribute the rise in violence to the coronavirus pandemic and to a lessened police presence due to nationwide sentiments toward police reform, Haberman said. 
"I have not seen any evidence to suggest that the Cincinnati Police Department or the University of Cincinnati police department are doing anything differently," he said. "You know, typically, when you see an uptick in violence, they're doing more." 
Violent crime is largely concentrated in certain areas in a community and within a small proportion of a population, according to Haberman. 
"When you look at violent crime, particularly shootings, you may see that roughly 1% of the neighborhood's population is involved in violent crime," he said. "... I think another thing to think about gun violence is that it's very rarely random. It's most likely amongst people who know each other, [or] have some type of connection." 
There are also issues like poverty and negative health outcomes that overlap with violent crime, according to Haberman.
Increased police presence and enforcement in crime hotspots are effective at reducing crime, he said, adding that collaboration with the community is key in combating crime.
"The best solutions are going to be those that work hand in hand with the community to basically understand what the gun violence problem is and then come up with solutions that are tailored, together, that will address whatever those explanations be," Haberman said. 
Cincinnati police use a strategy of community problem-oriented policing which involves defining a problem; using data to analyze that problem; searching for solutions that may fall outside the realm of law enforcement; and determining whether "problem-solving efforts" have been effective. 
Under this strategy, the department entered approximately 433 problem solving projects into its Problem-Solving Tracking System between 2007 and 2017. However, many of these projects aren't considered legitimate due to a mandate by CPD administration that pushed a mindset of "quantity over quality," according to a city report.  
There's also the Cincinnati Initiative to Reduce Violence (CIRV), which was founded in 2007 in an effort to reduce gun violence and homicides. The initiative is a collaboration of law enforcement agencies, social service providers and community members.
Though the initiative has recently received criticism from one of its earliest proponents for not doing enough to curb youth gun violence. 
"... It would be short sighted to think that there's only one strategy that's needed," Haberman said. "Again, police, city government, local community organizations, residents all working together to come up with holistic strategies that really try to minimize the amount of enforcement that's going on in a neighborhood and doing other things to lift people up and help positive pro-social activity, I think that's going to be probably the most successful."